Monday January 17th, 2000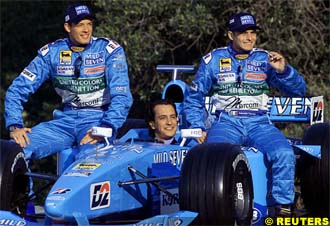 Benetton launched their B200 Formula One car on Monday hoping for a change of fortune after a disappointing 1999 on the track.
The Italian team also announced it had signed 29-year-old Japanese Hidetoshi Mitsusada as their official test driver.
The 1995 world champions have been sliding steadily down the constructors' rankings in recent seasons, from third place in 1997 to fifth in 1998 and a disappointing sixth at the end of last year with just 16 points.
Italian Giancarlo Fisichella provided the bulk of the points, 13 in all, after finishing second in Canada.
"We are starting this season determined to put the difficult times of the past few years behind us," said the team's chief executive Rocco Benetton at the launch at Barcelona's National Museum of Catalan Art.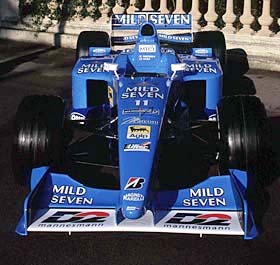 "1999 was a tough season and everyone in the team was very disappointed with our performance. Benetton Formula One is a team with a top technological capability but we did not deliver the results we had targeted."
Austrian Alexander Wurz and Fisichella remain the drivers for next season, which starts in Australia on March 12.
Rocco Benetton took over a year ago and gradually implemented major changes to the team structure.
Chief designer Nick Wirth resigned in November and was replaced by Tim Densham, formerly with Honda.
Benetton said Densham had "brought a new energy and sense of direction" and had joined early enough to play a strong role in the design of the new car after working with Wirth for several months to ensure a smooth transition.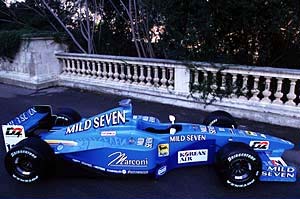 Technical director Pat Symonds said the B200, which is powered by a tailor-made Supertec engine, would show improvements in weight and aerodynamics.
Mitsusada, who comes from Osaka, finished third in last year's Formula Nippon championship with two race wins and one pole position and will be competing in Formula 3000 this season.
"Combined with my racing programme, it will allow me to gain valuable experience of competing at the highest level on European tracks, with the ultimate goal of racing in Formula One," Mitsusada said.
---