M.Schumacher Still Fastest at Barcelona
Testing - Day Three
Thursday April 27th, 2000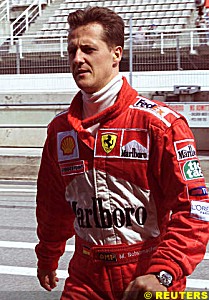 Michael Schumacher was again fastest on the third day of testing in Barcelona today.
Schumacher and teammate Rubens Barrichello finished the day at the top of the times, and Schumacher was glad to see this. "I am very happy with what we have done today," said the German at the end of the day. "It has been a really positive test and I must say we have made a major step forward in the development of the car." Schumacher worked mainly on set-up, as well as doing some tyre testing, while Barrichello completed a race distance test. "Today's weather was pretty similar to what we had here for last year's race," said Barrichello. "The strong wind has contributed to our finding a better set up for next race weekend. All in all this has been a good day. Even though we did a trouble free GP distance, there is still much to be done to the set-up of the car for next week."
Heinz-Harald Frentzen was third fastest for the Jordan team, working on tyre testing but suffering a wheel bearing failure. A new gear rack system has been installed in the gearbox to cure recent gearbox/electrical problems, and it seems to have fixed the recent problems the team has suffered. Meanwhile Jarno Trulli tested with a heavy fuel load, concentrating on race set up.
Testing at Barcelona will continue tomorrow.
Today's times:

Pos  Driver        Team                Time      Laps
 1.  M.Schumacher  Ferrari             1:20.866   97 
 2.  Barrichello   Ferrari             1:21.496   97 
 3.  Frentzen      Jordan-Mugen Honda  1:21.681   65 
 4.  de la Rosa    Arrows-Supertec     1:21.805  114 
 5.  Coulthard     McLaren-Mercedes    1:21.821  110 
 6.  Herbert       Jaguar-Cosworth     1:21.985   90 
 7.  Panis         McLaren-Mercedes    1:22.390   69 
 8.  Wurz          Benetton-Playlife   1:22.515   38 
 9.  Fisichella    Benetton-Playlife   1:22.539   39 
10.  Salo          Sauber-Petronas     1:22.631   76 
11.  Trulli        Jordan-Mugen Honda  1:23.381   49 
12.  Button        Williams-BMW        1:23.574   36 
13.  R.Schumacher  Williams-BMW        1:23.632   45 
14.  Alesi         Prost-Peugeot       1:24.441   42 
15.  Heidfeld      Prost-Peugeot       1:24.811   47 
16.  Villeneuve    BAR-Honda           1:24.872    7 
17.  Burti         Jaguar-Cosworth     1:25.289    5 

The 2000 fastest testing time is 1:19.633 (P. de la Rosa)
The 1999 fastest testing time is 1:20.591 (R. Barrichello)
---