Sunday April 23rd, 2000
By Alan Baldwin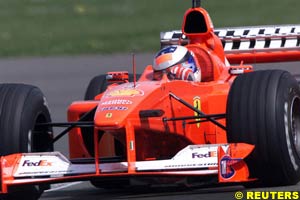 Michael Schumacher showed some brotherly consideration at the British Grand Prix on Sunday by backing off in an early duel with his determined younger sibling Ralf.
The German, whose skill and uncompromising approach has won him two world championships, then left his other Formula One rivals in no doubt that he would have behaved differently with them.
Ralf repeatedly closed the door in his brother's face as the Ferrari driver -- who has famously collided with opponents in the past -- attempted to push past after dropping back to eighth place after the start.
Michael eventually found a way ahead as a result of his Italian team's one-stop strategy, compared to Ralf's Williams team's two-stops, and finished the race in third place with Ralf crossing the line fourth.
The points ensured the older brother remained 20 points clear in the championship after four races.
"We were tough to each other but actually I enjoy these things," said the Ferrari driver, whose title hopes vanished at Silverstone last year when he crashed and broke his leg on the first lap after the race had been flagged for a re-start.
Pragmatic Approach
Schumacher, who missed six races as a result of that accident, has said repeatedly that the memories of last year have no bearing on his state of mind at this season's race at Silverstone.
But, with three wins in the first three races of the season, he had clearly decided to stay calm and adopt a pragmatic approach to protecting his comfortable lead.
"I had a good fight with him (Ralf) for the first couple of corners. Then I really had to back off as we were going through Bridge because it would have been very, very tight and he seemed very keen to close the door," he said. "So I didn't want to risk having an off with my brother.
"Not being my brother, I would probably have reacted differently.
"But I didn't want to see my brother running into me. That would have caused some damage probably to me or to him. I didn't want to risk that. So obviously I backed off and gave him the run."
Slippery Start and Anger at Diniz
Schumacher said he had made a good start from the third row of the grid but had made a mistake in trying to cut through on the grass.
"I had the opportunity to go through the middle but there were so many cars they didn't seem to be opening any door.
"So I tried the opportunity to go through the grass which normally should have worked but after so much rain in the last days the grass was so wet that I was just slipping there with wheelspin and going nowhere."
The German was then blocked successfully by Canada's former world champion Jacques Villeneuve in the BAR.
"I remember the race that (Jean) Alesi did for Ferrari being in ninth place and fighting, fighting and nothing happened at the end. I was wondering whether I was going to experience a similar thing," he said.
That threat eventually evaporated but Schumacher was critical of other drivers who he felt had baulked him when he tried to lap them.
"I had a very bad time in traffic. There was a couple of guys, in particular Pedro (Diniz)...I don't know how many blue flags he got and no reaction at all.
"It cost me a lot of time this period because it was about six cars I was fighting with and trying to get by.
The Brazilian Sauber driver said later that he had not seen Schumacher because he had lost his mirror on the first lap.
---