Sunday April 23rd, 2000
By Julia Hutton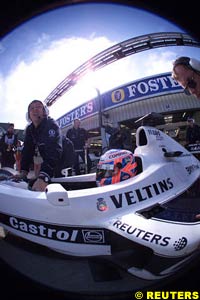 Briton Jenson Button on Sunday continued to cause a stir on the Formula One circuit by finishing a strong fifth in his home Grand Prix for the Williams team.
Just 24 hours after grabbing his best qualifying position in his four races so far, the 20-year-old newcomer delivered another stunning performance.
"It is amazing to get two points on my first F1 race here," said an estactic Button, who became the youngest driver to claim a championship point after finishing sixth in Brazil last month following the disqualification there of fellow Briton David Coulthard, the winner of Sunday's race.
"To think that a year ago I was camped out in a motorhome in the middle of the circuit and only went down to Stowe to watch the last couple of laps -- it is pretty amazing.
"I remember thinking that I might be testing in the week leading up to the race, but that was it."
The Somerset-born driver overcame his nerves as he made a blistering start from the grid to head Michael Schumacher, his boyhood hero who started beside him on the third row, at the first corner.
"The best bit was the start, getting in front of Michael on the first corner and then going three abreast," said Button who now has three championship points. "Michael was on the outside, then Mika (Hakkinen) and then me.
In Between Two Champions
"It was a great feeling to be there, sitting in the middle of the two double world champions. Hopefully we will have some more of that! Following Mika for so long was awesome and I was definitely learning things all the time."
Button's only shaky moment during the 60-laps race was when he entered the pits for the second time complaining of an exhaust problem.
"I was a bit worried, but after the pit stop, the exhaust finally blew. It deafened me, but then it all felt better. I didn't stop looking behind me after that."
Button thanked the thousands of fans who flocked to the Silverstone circuit for the race after Saturday's qualifying day was washed out by horrendous weather conditions.
"The crowd definitely helped. I was really aware of them, especially in the last couple of laps. I was easing off then and I could hear all the commotion. It was an amazing feeling and after the chequered flag, with David winning as well, everyone was on a high."
---