Sunday April 9th, 2000
by Timothy Collings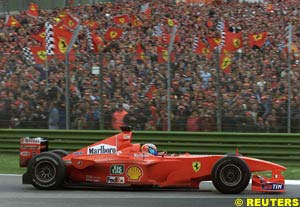 Double world champion Michael Schumacher of Germany delivered another crushing demonstration of his and Ferrari's current superiority on Sunday when he completed a season-opening hat-trick of victories in the San Marino Grand Prix.
The 31-year-old Ferrari driver capitalised on his team's excellent strategy to move into the lead during a critical four laps following defending world champion Mika Hakkinen's second pit stop. Once ahead, he stayed there.
As he crossed the line ahead of Hakkinen, the huge crowd around Ferrari's home Autodromo Enzo e Dino Ferrari circuit erupted in a celebration of flag-waving rapture.
Schumacher won both the previous two races this season in Australia and Brazil and this success made him clear early-season favourite to win his third world title and Ferrari's first drivers crown in 21 years.
He boosted his total of points to a perfect 30 after the first three races on this year's 17-race calendar and has a comfortable 21-point lead over his second placed Ferrari team mate Brazilian Rubens Barrichello.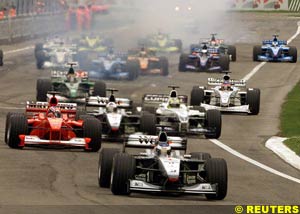 Hakkinen, whose McLaren was hampered by damage to its floor during the race, finished 1.1 seconds behind in second place ahead of his team mate Briton David Coulthard. Barrichello was fourth.
Canadian Jacques Villeneve finished fifth after a superb drive for the BAR-Honda team and Finn Mika Salo was sixth for Sauber.
Schumacher's win was the 38th of his career and his third at Imola in the last six years and it gave him a 24-point lead over defending champion Hakkinen who is joint fourth in the title race.
"That's a hell of a gap, I know," said Hakkinen. "But at least I finished. It is up to me to try and stay with Michael now and try to win some races."
Schumacher, who made his usual joyous leap on the winners' podium, said he was delighted by his victory, particularly as he had left Ferrari fans disappointed on Saturday by failing to grab pole position through a mistake of his own making.
"I promised myself I would do better today and I did so I am delighted for that reason and for the tifosi," said Schmacher who added that his start was as bad as his getaway at Suzuka in last year's Japanese Grand Prix.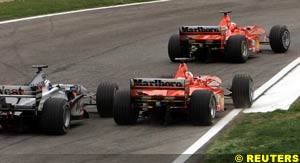 He also said he nearly hit Pedro Diniz's Sauber during the race when the Brazilian braked unexpectedly to let him by. "I lost two seconds there and it was a very near thing," he said.
The race itself was mostly processional once Hakkinen had made a perfect getaway from his 24th pole position but McLaren's tactics in bringing Hakkinen in for his second stop when he led Schumacher by only 2.6 seconds after 44 of the 62 laps left him vulnerable.
Schumacher cruised past and opened up a 22.5 seconds gap before pitting a second time himself and coming out in front. He stayed there to the delight of the massed fans and drove comfortably home to win.
---