Sunday April 7th, 2000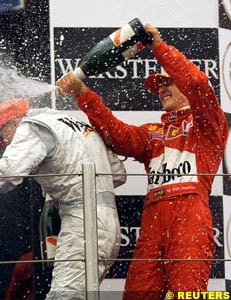 For 44 of its 62 laps, the San Marino Grand Prix seemed destined to become the perfect McLaren riposte to Ferrari's early-season successes. Mika Hakkinen won the battle to the first corner and then opened just enough of a lead on Michael Schumacher.
After two inconclusive previous encounters, Ferrari and McLaren seemed pretty evenly matched on performance. But, ultimately, reliability issues once again decided the outcome.
Hakkinen finished a race for the first time this season, but without seeming to know how he could possibly have finished second. Schumacher completed his hat-trick and sent the tifosi -not to mention Ferrari - home deliriously happy.
Both had chosen two-stop refuelling strategies. Their respective team-mates, David Coulthard and Rubens Barrichello, opted for one. The pit-lane entry at Imola is sufficiently quick to allow for this choice, although stops were generally slower this year due to the revised pit-lane speed limits.
Hakkinen and Schumacher both stopped on the 27th lap. While the McLaren was stationary for 7.6s, and the Ferrari for 9.9s, by the time the gap had stabilised again on the track, Schumacher's superior entry and exit speed had lost him only one second.
The possible seed of Hakkinen's downfall was sewn on the 43rd lap, when a sudden onboard computer glitch cut the Mercedes engine momentarily and lost him 2s on his lap time. That loss of time came a lap before his second pit stop and coincided with Schumacher narrowly avoiding running into the back of Diniz's Sauber Petronas in a hairpin. Even though Schumacher had to brake hard to avoid contact, he still managed to reduce the deficit to the McLaren by almost a second.
The Finn's middle stint was notably short. He did only 17 laps to Schumacher's 21, and was cagey about the reason afterwards. Hakkinen's hiccough was critical, and may have necessitated caution when he resumed the chase of the Ferrari.
He refused to discuss it in meaningful detail. "The car just stopped running at the end of the straight," he said. "I don't know how much time that cost me."
The race really turned Schumacher's way when his second stop occupied only 6.2s, and he emerged from the pits still comfortably in the lead. Hakkinen didn't appear to come back on full song until the closing laps, and by then it was too late. By that stage the Finn's floor was damaged after he had run over debris earlier in the race. Although he claimed, as one might expect, that the handling was affected adversely, he was nevertheless able to set the fastest laps of the race in a chase that cut Schumacher's advantage down from 3.7s on lap 49, to only 1.1s at the finish.
Schumacher had actually made a poor start, but he was able to cut ruthlessly across Coulthard and in doing so cost the Scot a place to Rubens Barrichello. The two of them were nose-to-tail in third and fourth place when both pitted for their single stops on the 46th lap. In one of the race's better moments, Coulthard swept out of his pit ahead by such a narrow margin that Barrichello had to brake sharply to avoid ramming the McLaren.
The speed with which Coulthard was able to pull away suggested that Barrichello's early laps might have been run under orders to protect Schumacher, but in any case from the 50th lap the Brazilian dropped away as a broken part on his seatbelts caused him to shift around in the cockpit.
Undoubtedly, the best race start had come from Jacques Villeneuve, who sprinted his BAR-Honda from ninth place to fifth and then kept it there for the entire 62 laps despite the closest possible attentions of Ralf Schumacher and Mika Salo. After a bad start, in which he dropped from fifth to ninth in hectic traffic, Ralf Schumacher had moved ahead of the battling duo of Jarno Trulli and Eddie Irvine after the first stops. He was closing on Villeneuve until his Williams BMW stopped on the 46th lap with a fuel pick-up problem.
Salo quickly closed in, setting laps bettered only by the Ferraris and McLarens, but there was nothing he could do. "Jacques is very experienced and he doesn't make mistakes," the Finn said. "And at Imola, the only real way to pass anyone is in the pits or if they screw up. Jacques wasn't about to do that."
While Irvine made the finish for Jaguar despite a misfire that had lost him his initial seventh place, it was a lousy day for Jordan. Frentzen ran seventh, right behind Trulli, after a near-miss between the pair of them at the start. But Frentzen dropped out when his gearbox stuck in sixth gear on the fourth lap. Trulli seemed set for a disappointing seventh, when his car also quit with gearbox trouble with two laps to go.
Schumacher's third victory placed him 24 points ahead of Hakkinen, and left McLaren scratching their heads trying to figure out just how they lost this race. Was it because Schumacher was quicker coming into and leaving the pits? Because of the momentary engine problem? Because intransigent drivers such as Pedro de la Rosa lost Hakkinen a whole 1.2s on the 32nd lap? Or because, whisper it, McLaren got its strategy wrong again and the Finn simply wasn't pushing hard enough in the laps leading up to his second stop?
"It's as if this is a familiar book that we've read before," one McLaren insider said. "But this time round there was a page missing..."
For Schumacher, who scored Ferrari's 128th victory, it was also a familiar tale. "Our strategy was just right," he beamed. "That was an exciting race and I hope the tifosi are happy with the result! We did not know what Mika would do and we had to guess. Those four extra laps before my second pit stop were crucial, the decisive moment when I pushed very hard. It was great fun, like qualifying laps almost from the start to the finish. We have a good lead in the championship, but we have now seen that it will be a tight fight and we must continue pushing."

PROVISIONAL RACE RESULTS

San Marino Grand Prix
Imola, Bologna;
62 laps, 305.443km
Weather: sunny.

Classified:

Pos  Driver         Team                  Time        
 1.  M.Schumache    Ferrari               1h 31:39.776
 2.  Hakkinen       McLaren Mercedes      +    1.168  
 3.  Coulthard      McLaren Mercedes      +   51.008  
 4.  Barrichello    Ferrari               + 1:29.276  
 5.  Villeneuve     BAR Honda             + 1 Lap     
 6.  Salo           Sauber Petronas       + 1 Lap     
 7.  Irvine         Jaguar Cosworth       + 1 Lap     
 8.  Diniz          Sauber Petronas       + 1 Lap     
 9.  Wurz           Benetton Playlife     + 1 Lap     
10.  Herbert        Jaguar Cosworth       + 1 Lap     
11.  Fisichella     Benetton Playlife     + 1 Lap     
12.  Zonta          BAR Honda             + 1 Lap     
13.  Mazzacane      Minardi Fondmetal     + 2 Laps    
14.  Verstappen     Arrows Supertec       + 3 Laps    
15.  Trulli         Jordan Mugen-Honda    + 4 Laps *  

* Retired with Gearbox problems


Fastest Lap: M.Hakkinen, 1:26.523 (205.249km/h), lap 60


Not Classified/Retirements:


Driver         Team                On Lap  Reason             
de la Rosa     Arrows Supertec       50    suspension/spun off
R.Schumacher   Williams BMW          46    fuel pressure      
Alesi          Prost Peugeot         26    hydraulics         
Heidfeld       Prost Peugeot         23    hydraulics         
Button         Williams BMW           6    engine             
Gene           Minardi Fondmetal      6    spun off           
Frentzen       Jordan Mugen-Honda     5    gearbox            


Lap Leaders: Laps 01-44: M.Hakkinen
             Laps 45-62: M.Schumacher


World Championship Standing, Round 3:                

Drivers:                     Constructors:             
 1.  M.Schumacher  30        1.  Ferrari             39
 2.  Barrichello    9        2.  McLaren             10
 3.  Fisichella     8        3.  Benetton-Playlife    8
 4.  Hakkinen       6        4.  Jordan-Mugen Honda   7
 =   R.Schumacher   6        =   Williams-BMW         7
 6.  Villeneuve     5        6.  BAR-Honda            6
 7.  Frentzen       4        7.  Sauber               1
 =   Coulthard      4                                  
 9.  Trulli         3                                  
10.  Button         1                                  
 =   Zonta          1                                  
 =   Salo           1                                  

All timing unofficial

---