---
Jaguar Announces Formula One Plans

Tuesday September 14th, 1999

Jaguar is to enter the FIA Formula One World Championship. This was announced today at the Frankfurt Motor Show by Jaguar's Chairman Dr. Wolfgang Reitzle. Jaguar's first race as Formula One entrants will be the first round of the FIA World Championship - the Australian Grand Prix in Melbourne in March next year.
"Jaguar has a long and distinguished record in motor sport," said Dr. Reitzle. "We have won Le Mans seven times and we have twice been world sports car champions. We have also won the Monte Carlo rally as well as countless other events. The next logical move is Formula One."
"The move into Formula One will undoubtedly benefit Jaguar technologically. It will also clearly promote a wider global recognition of the Jaguar brand as we significantly expand our product range over the next few years."
Jaguar's decision to enter Formula One came after Ford Motor Company purchased the Stewart-Ford Formula One team in June. Prior to purchasing the team Ford had a long-standing technical relationship with the Milton Keynes-based Stewart team. The team will now be renamed Jaguar Racing.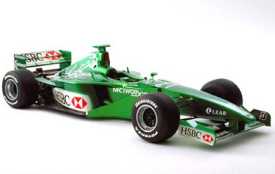 Neil Ressler, Ford Motor Company Vice President and Chief Technical Officer, with ultimate responsibility for all the Company's motor sport programmes said: "Jaguar's technical input to the Formula One programme will begin immediately The Coventry-based engineering teams can certainly contribute to the racing programme and I also believe that Jaguar's production car engineers can learn a great deal from the racing team. The need to solve problems quickly breeds a nimble and innovative culture which we will be able to transfer to the road car development programmes. I regard the technology transfer as one of the biggest single benefits of Jaguar's decision to enter Formula One. "
Engines for the team will continue to be designed, developed and built by Cosworth Racing. Cosworth Racing, which is based in Northampton, U.K. is wholly-owned by Ford Motor Company. Trevor Crisp, Jaguar's Group Chief Engineer for power train engineering has been appointed Managing Director of Cosworth Racing and will head up the Formula One engine development programme. Trevor Crisp will take over from Dick Scammell, who has made a major contribution to the development of the Ford Cosworth racing engines over many years. Dick has announced his intention to retire after a lifetime in the motor racing industry.
Jonathan Browning, Jaguar's Managing Director said: "Our previous involvement in motor sport firmly convinced us that a successful racing programme brings major marketing benefits. Formula One is a massive global sport watched by many millions of motoring enthusiasts at the race circuits and on television. It can be a valuable showcase for Jaguar technology as we expand our product range."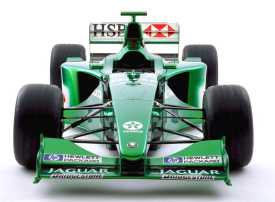 The team will continue to race in its current livery until the end of the season, when the name of the team will be formally changed to Jaguar Racing.
Jackie Stewart, founder of the Stewart-Ford team will continue as Chairman and Chief Executive Officer.
"Jackie is a legend in motor racing," said Dr. Reitzle. "And I am delighted that he will remain with the team. His invaluable experience will be of enormous benefit to Jaguar Racing."
Jackie Stewart said: "When Ford bought the Stewart-Ford Team, I had always hoped that Jaguar would become involved in the Formula One programme. My family were Jaguar dealers in Scotland, my brother Jimmy raced for Jaguar and some of my earliest racing successes were with the lightweight Jaguar E-Type and several other models. I have a great fondness for the company and I look forward to helping Jaguar Racing achieve its very clear ambitions in Formula One."
Paul Stewart, currently Chief Operating Officer of Stewart Ford, will continue in that role at Jaguar Racing.
---