FIA warns teams; French GP gets go-ahead; Tests: F1 Coverage in Florida
©
---
Wednesday March 18, 1998
The FIA has warned the Formula One teams that the staging of results, like during the last Grand Prix, will be severely punished.
A FIA statement said: "The World Motor Sport Council has noted what happened at the 1998 Australian Grand Prix and during certain World Championship rallies. The World Council is informing the stewards of all future international events that 'any act prejudicial to the interests of any competition' should in future be penalised severely in accordance with article 151(c) of the International Sporting Code."
Article 151(c) states: a breach of the rules will be: "any act prejudicial to the interests of any competition or to the interests of motor sport generally."
What a possible penalty will be was not said.
---
French GP gets go-ahead
The FIA has reinstated the French Grand Prix on this year's calendar. The race was dropped because of a dispute about television rights. The FIA stated that the French government has cleared the matter. The race will take place on June 28.
The FIA also announced that the ban on racing in Jerez (Spain) is lifted. The FIA had banned the circuit forever because certain individuals had disrupted the 'winners ceremony' last year.
---
Tests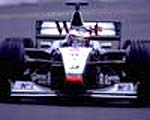 The McLaren's were flying again at Silverstone this week, so no problems there, except for the spin Coulthard had wrecking the front of the car. There were problems for Arrows and Tyrrell. Both teams had a lot of problems with the engine. Arrows saw some of there own engines blow up while Tyrrell had one blow up and air pressure problems with two other Ford engines. The Stewart team was happy that they had solved the problems with the heat of the exhaust, which caused problems with the rear-wing.
Hill took over from Ralf Schumacher at the Barcelona track today. Schumacher had been faster than the Williams cars almost all week but Hill did not manage a better time than fourth.
Irvine was tested the new Goodyear tyre on the Mugello circuit. Redon had a test in the Minardi, but he was well of the pace of the Ferrari.
---
F1 Coverage in Florida
Not everybody in North America is able to receive Speedvision. One of our readers has sent us an email with the following data: The Sunshine Network in Florida will have the Brazilian Grand Prix live.
---
[ Previous | News Index | Next ]