And suddenly, just like that, it's all over. The engines have gone quiet until the end of the testing ban; the drivers that are changing teams no longer have to pretend that they like their 1999 teammate/race engineer/team owner/caterer. World-wide, hundreds of thousand of Formula One fans, having been deprived of any F1 racing until next March, are walking the streets gibbering and clawing at the air. For the first time in months, people are leaving the house for more than two Sundays in a row.
Every year seems to end with Formula One observers everywhere chattering away excitedly about how 'season19**' was a year like no other. This is perhaps a bit bizarre - of course every year is different, otherwise we all would have given up and started watching golf long ago. Nevertheless, I'm going to say it again. Even by Formula One standards, 1999 was one of the strangest seasons for quite a while. Until Silverstone, it seemed that we were in for a year much like 1998, but the picture changed significantly the instant Michael Schumacher's Ferrari kissed the wall in England.
From there, things became progressively stranger. Ferrari and McLaren both seemed to spend the second half of the year doing their best to hand the title to each other. Some top drivers turned to jellyfish. Some less-rated drivers performed like stars. Almost nobody, team or driver, were able to find any real consistency. Baring all that in mind, it is time to sit back and take stock of what we saw between the Austrian and Japanese Grands Prix. This report is the follow up to a mid-term report that appeared in Atlas F1 after the British Grand Prix and is focused completely upon the performance of the drivers between Rounds 9 and 16.
For those who might have missed the mid-term report, here's a quick explanation of how it works:
After every Grand Prix, drivers were assigned a grade from A+ to F, based upon their performance in the race. The grades were then averaged out to produce an overall score, and both qualifying and the race were taken into account. Allowances were made for mechanical failures or other retirements for which the driver was not directly responsible. The most important thing to realise is that the grades are simply a reflection of the extent to which the drivers were able to maximise their potential, both mechanical and personal. To a lesser extent, it also indicates how they performed in comparison to their teammate. Generally speaking though, it is NOT a comparison of one driver against another. That's why we have the World Championship. So, here is the Season 1999 Second-Term Report: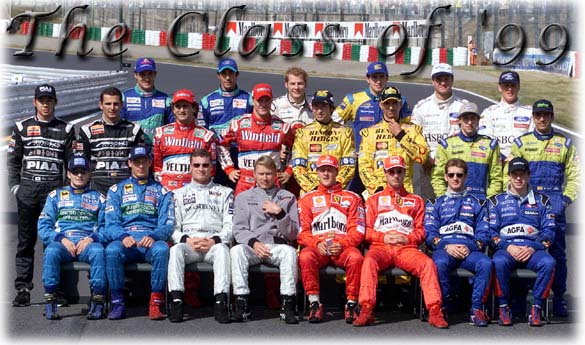 MCLAREN
MIKA HAKKINEN Grade: B+,
Highest: A (Hungary, Japan), Lowest: C (Europe) Mid-Term Score: A-
The second half of the year ran very hot and cold for the Finn. Was outclassed in Europe, where he lost out in qualifying and then panicked when it started to rain during the race. The subsequent poorly timed switch to wet tyres ruined the rest of his afternoon. Other races saw Mika display the type of go-to-whoa dominance that we are becoming so accustomed to - Hungary and Japan were brilliant; Monza would have been were it not for the infamous extra blip of the gear-change lever. Despite the inconsistencies, Hakkinen emerged as the class of a very up-and-down field this year, and deserved to retain his title. Emotional resilience was not taken into account for these evaluations; had they been, Hakkinen's score may have been a little different. Mika is not on the verge of being a quivering wreck just yet, and to finish things up so well in Japan will do him no end of good, but the second half of the year certainly revealed some previously unseen elements of the Finn's character that both Hakkinen and the team will no doubt be keen to sort out before Melbourne 2000.
DAVID COULTHARD Grade: B-,
Highest A- (Belgium), Lowest C- (Germany, Italy) Mid-Term Score: B+
The first thing that has to be said about Coulthard is that to finish the Championship down in fourth in a McLaren, particularly in a year where Schumacher was missing for so many races, must have been sorely disappointing for both himself and his team. The most frustrating thing about the Scot is that his ability is evident - Belgium, for example, was great - but he never seems to utilise more than 70% of it at any given time. He's also far too prone to making silly mistakes. A good example was Germany, where the only thing missing was the circus music. Coulthard has had a charmed life as far as machinery goes, having driven for Williams and McLaren. Ironically, it seems that his best chance of being a real contender may lie in other pastures. Just ask Heinz-Harald Frentzen.
FERRARI
MICHAEL SCHUMACHER Grade: A-,
Highest A (Malaysia) Lowest B+ (Japan) Mid-Term Score: A-
Obviously, Schumacher's score is warped a bit by the fact that he was only present for two races in the second half of the season. The German was sensational in Malaysia, manipulating the race as if it were made of clay, and emerged as the clear winner in every way other than the record books. Japan was also good, though it was evident that he could have made life far more difficult for Hakkinen had he really wanted to. This attitude cast something of a shadow over what was otherwise an excellent race.
EDDIE IRVINE Grade: B+,
Highest: A- (Austria), Lowest: C (Italy). Mid-Term Score: B+
All up, the Ulsterman should be pretty pleased with his year. Most Championship contenders spend the pre-season preparing themselves psychologically for the task ahead. Irvine, meanwhile, had the protagonist role thrust upon him when Schumacher crashed at Silverstone, and he did an admirable job of carrying the fight. Drove particularly well in Austria. Irvine owes a lot of his success to either McLaren mishaps or helpful teammates, but given the job he has done for Schumacher in the past it is hard to criticise him for it. Irvine's main problem was that he was often unable to capitalise on errors made by his opponents.
MIKA SALO Grade: B-,
Highest: A- (Germany), Lowest: C- (Hungary, Europe), Mid-Term Score: C+ (with BAR)
Salo did a fairly good job, though in all honesty it was probably not quite what Ferrari were hoping for. He was great on the quick circuits; particularly Germany, where Irvine's title aspirations saw the Finn sacrifice his maiden win. As soon as he hit a circuit with a few corners though, he was in trouble.
JORDAN
DAMON HILL Grade: C-,
Highest: B- (Hungary, Belgium), Lowest: D (Germany, Japan) , Mid-Term Score: C+
Damon Hill's final season was not the Kareem Abdul Jabbar - style farewell tour that everybody was expecting.. That his previously less-highly-rated teammate was able to finish the Championship in third place overall, while Hill notched up the same points tally that he achieved with Arrows in 1997 pretty much sums things up. On top of that, the second half of the season saw Hill commit the cardinal sin of abandoning a healthy car against the wishes of his team - twice. Hill was OK in Hungary and Belgium, but otherwise he was simply making up numbers.
HEINZ-HARALD FRENTZEN Grade: A-,
Highest: A (Italy, Europe), Lowest: B (Austria, Germany, Hungary), Mid-Term Score: A-
In terms of consistency, nobody held a candle to Frentzen during the second part of the year. At his worst, he was solid and workman-like; at his best he was the class of the field. Followed a brilliant win at Monza with another excellent drive at Europe, where he was finally let down by his Jordan. Depending on the quality of the Honda engines that will sit inches from the German's head next year, 2000 could prove to be a very interesting season indeed for the man from Monchengladbach.
WILLIAMS
ALEX ZANARDI Grade: C,
Highest: B- (Belgium, Italy), Lowest: D+ (Austria), Mid-Term Score: C+
There's not much that can be said about Zanardi's year that has not been said many times already. Spent too much of the season wandering around the mid-field, while his younger, less experienced teammate was doing his best to wrench every last bit of performance out of the Williams. Spent the whole weekend in the top ten at Belgium, and was running strongly until his car gave up in Italy. But he did his reputation no favours by making elementary mistakes like running out of fuel in Austria.
RALF SCHUMACHER Grade: B,
Highest: A (Europe), Lowest: C (Austria, Malaysia), Mid-term Score: B
The young German was sadly robbed of what could have been a great first win in the rain at the Nurburgring when his tyre gave up on life. Other excellent performances in Belgium and Italy reinforced the fact that Ralf is just getting better and better. Still spins out of more races than he really should, although this is something that he should be able to sort out over time. The second half of the year for Schumacher was essentially the same as the first then, with a generally good, consistent effort to maximise the sometimes questionable potential of the 1999 Williams.
BENETTON
GIANCARLO FISICHELLA Grade: C+,
Highest: B (Hungary), Lowest: C- (Germany, Italy), Mid-Term Score: B
The little Roman seemed to go a bit flat in the second half of the year. The Benetton was fraught with all sorts of handling problems, which did not make Fisichella's job any easier, but the car cannot be held completely responsible for the number of times that saw the Italian ruin his race by either falling off the track., or getting tangled up in another car. Still a very handy driver, Fisichella should be able to recover well in 2000 if his machinery is a little more up to the task.
ALEXANDER WURZ Grade: C+,
Highest: B (Austria), Lowest: C (Belgium, Italy, Europe), Mid-Term Score: C
It's quite surprising that Wurz managed to improve upon his mid-term grade, given that the second half of the year was not particularly remarkable for the Austrian. Did well at his home race in Austria, where he out-qualified his teammate and went on to finish in the points. That, though, was really the only time that Wurz came close to his form from past years; most of 1999 simply seeing the Austrian lucky to hold his own in the midfield. Wurz simply has to find a few extra tenths during the break.
SAUBER
JEAN ALESI Grade: C+,
Highest: B (Japan), Lowest: D (Austria), Mid-Term Score: B-
The only consistent thing about Alesi is that he is so damned inconsistent. Drove well to score a point in Japan, and came close in Malaysia, but also managed to do some really dumb stuff like run out of fuel in Austria. Also inconsistent over a race distance - he can spend an entire Grand Prix hanging around in the midfield, yet still post a 3rd (Hungary) or 5th (Italy) fastest lap.
PEDRO DINIZ Grade: C,
Highest: B+ (Austria), Lowest: C- (Hungary, Belgium, Italy, Malaysia), Mid-Term Score: B-
A bit of a rollercoaster period for Diniz. Didn't quite maintain the momentum that he was picking up in the first half of the year, but still did a fair job. Drove exceptionally well in Austria, dragging the car from 16th on the grid to 6th, and scoring the 5th fastest lap. Far too many retirements came out of simple driving errors or lapses in concentration. Diniz has proved that he has the ability to be a solid F1 driver, but he has to work harder on keeping the car pointing forwards.
ARROWS
TORANOSUKE TAKAGI Grade: C-,
Highest: C+ (Belgium), Lowest: C- (Italy, Europe, Malaysia), Mid-Term Score: C
Takagi struggled a lot with his machinery during the second part of this year, but still made more mistakes than should be expected. One does not necessarily have to win to drive impressively, but the Japanese driver rarely gave the impression of being anything more than an also-ran.
PEDRO DE LA ROSA Grade: C,
Highest: C+ (Malaysia, Japan), Lowest: C- (Austria, Italy), Mid-Term Score: C
It is not easy to impress in an Arrows, but for the most part the Spanish rookie did a good job. He remained close to his teammate is qualifying, even managing to beat him on occasion, and also seemed to have the measure of Takagi during the race. Some decent outings toward the end of the year indicate that the de la Rosa is not short on talent.
STEWART
RUBENS BARRICHELLO Grade: B,
Highest: A- (Europe), Lowest: C+ (Belgium, Japan), Mid-Season Score: A-
First it was Hakkinen. Then it was Irvine. Now Rubens is the official F1 'done everything except win' guy. The second half of the season was a fairly good one, but maybe not quite as productive as the first eight races. Drove really well in Europe, and put in other reasonable runs in Germany (although his engine eventually let go), and Italy. Was a bit off the pace in Belgium and Japan though. Has he made the right decision to climb into the saddle of the Prancing Horse? Time will tell.
JOHNNY HERBERT Grade: B-,
Highest: A (Europe), Lowest: C (Belgium, Italy), Mid-Term Score: C+
Obviously, the highlight of the second half of Herbert's year was the great victory at the Nurburgring; a first for the team, and the first in a long time for the driver. The Briton rarely had the measure of his teammate in qualifying, and was also the unfortunate victim of most of the team's mechanical problems. Nevertheless, Herbert drove well in Malaysia and Germany, and the battle for superiority between himself and Irvine at Jaguar will be one of the key features of season 2000.
PROST
OLIVIER PANIS Grade: C+,
Highest: B (Germany), Lowest: C+ (almost everywhere else), Mid-Term Score: C+
When he was in form, Panis was as good as anybody. He was still capable of flashes of this during the latter part of 1999, as was illustrated by his great efforts in Germany, which saw a point-scoring finish and 2nd fastest race lap. The Frenchman was also great in Japan, where he spent the early stages of the race amongst the frontrunners. More often than not, though, the car was simply not up to the task, leaving Olivier to slug it out somewhere back around 15th place.
JARNO TRULLI Grade: B-,
Highest: A- (Europe), Lowest: C- (Malaysia), Mid-Term Score: C
It would be hard to accuse the Italian of overexerting himself this year. The Prost wasn't a great car, the relationship between Trulli and team owner Alain Prost was not particularly warm, and as a result Jarno spent most of the second part of the year waiting to end his tenure with the team. His run to second in Europe suggested that if he gets along well with his new family at Jordan then he could be in for a very good 2000 season. For the most part though, the latter part of Trulli's year was a lot like that of his teammate.
MINARDI
LUCA BADOER Grade: C+,
Highest: A- (Europe), Lowest: C- (Malaysia), Mid-Term Score: B-
The Italian was desperately unlucky to be miss out on what would have been a fantastic fourth place in Europe when his gearbox gave up. Otherwise, the latter part of his year was the typical story of an uphill battle against some mighty opponents armed only with a Minardi. Even so, Badoer's results were not quite a good as perhaps could have been expected, given his previous experience with F1. Whether he could have done any better than Salo in the second Ferrari will remain one of the hot off-season topics for pub debates.
MARC GENE Grade: B-,
Highest: A (Europe), Lowest: C (Hungary, Italy), Mid-Term Score: C
All up, 1999 was a surprisingly good year for the Spanish driver. He scored a memorable point for his team in Europe, and also drove well in Austria, Germany, and Malaysia. Despite the mechanical handicaps, he performed well on the track in race trim; regularly outracing a number of his more highly rated opponents.
BAR
JACQUES VILLENEUVE Grade: B-,
Highest: A- (Europe), Lowest: C (Germany, Belgium), Mid-Term Score: B
Well, if nothing else, then season 1999 will at least guarantee that we won't see any more of those silly 'Tradition of Excellence' advertisements. Villeneuve's risky move to BAR backfired in a huge way, the only record falling being the one for the most consecutive DNFs. Still, the second half of the year saw Villeneuve wrenching everything out of the car that he could (and sometimes more, as was the case at Eau Rouge in Belgium), and was frequently doing a reasonable job in the races until something on the car invariably fell off or blew up. The French-Canadian was also quite good in qualifying. I'd be surprised if he isn't brushing up on the escape clauses in his contract though.
RICARDO ZONTA Grade: C+,
Highest: B- (Austria), Lowest: C (Germany, Belgium, Italy, Malaysia, Japan), Mid-Term Score: B-
A quiet, somewhat unspectacular end to 1999 for the Brazilian. The biggest surprise was qualifying, where many expected Zonta to outperform his teammate - between Austria and Japan, Zonta was outqualified 0-8 by Villeneuve. He drove a decent race in Austria, and managed to post the seventh fastest lap in Hungary, but otherwise seemed to be simply making up the numbers. His talent is beyond doubt though, and if BAR can come up with something a little more reliable and quicker (like, say, an Austin 1800) next year, then the results will surely follow.