The British Grand Prix was the halfway point for the 1999 season. The new cars, new drivers, and new teammate pairings have, in most cases, overcome the routine early-season hiccups and should now be operating at something close to their full potential. The World Drivers and Constructors Championships, too, are starting to take shape. That said, there are still eight races to go, which means eight opportunities for any number of bizarre events to occur.
None the less, It is a good time to stop and reflect on the first eight rounds of the season; to evaluate the extent to which each driver and team has lived up to their pre-season expectations, and maybe look for some clues that can suggest what we might expect from them in the second half of the year.
In preparing this report, I kept a log of driver's progress through the first half of 1999, covering both their qualifying and race performances. I also assigned each driver with a grading for each round, ranging between A+ (for an absolutely brilliant race weekend) and F (for an absolutely woeful one). The final grades given to each driver represents their average rating between Australia and Britain. Drivers were not penalised for problems beyond their control, such as mechanical difficulties. It is important to reiterate that each drivers ranking is a measurement of how well he has lived up to his own potential (including talent and machinery), and to a smaller extent, how he has fared against his teammate. It is NOT a measurement of one driver against another. That's what the World Championship is for.
I was originally going to limit the report to drivers who had started at least 4 races, but finally decided that the efforts of some of the understudies also warranted a mention. So, without further ado, here is the 1999 Mid-Year Report: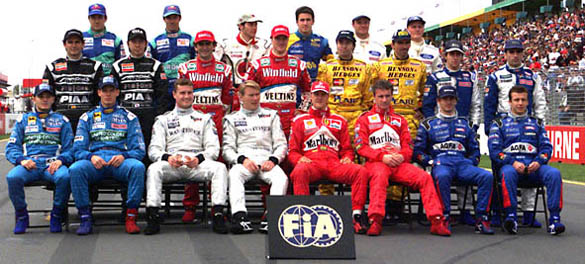 MCLAREN
MIKA HAKKINEN Grade: A- Highest: A+ (Brazil), Lowest: C+ (San Marino)
The first half of 1999 has seen the Finn continue the form that won him the championship last year. Stupid mistake at Imola aside, Hakkinen's driving has been almost flawless. He has been helped out to some degree by good luck, such as Schumacher's crash in Canada which gifted Mika with a win, but this has been balanced out by some bad fortune too - as anybody who saw his rear wheel bouncing along through the Luffield complex at Silverstone will verify.
DAVID COULTHARD Grade: B+ Highest: A+ (Britain), Lowest: C+ (Canada)
A look at the championship standings would suggest that Coulthard is still struggling to haul himself out of the mini-slump that killed his title hopes two-thirds of the way through 1998. But stop and think for a minute. Exactly half of his races this year have seen the Scot suffer from terminal mechanical difficulties and the other four races saw him finish second, second, seventh, and first. Not too bad at all. While he has been outqualified 1:7 by his teammate, the gap between them has often been little more than a few hundredths of a second.
FERRARI
MICHAEL SCHUMACHER Grade: A- Highest: A+ (Australia), Lowest: C+ (Canada)
Until Silverstone, Schumacher's season had been remarkably similar to Hakkinen's. Although McLaren have once again produced superior machinery, the performance gap between them and Ferrari in the early stages of the year was far smaller than in 1998. The new car was pretty good straight out of the box, a fact that Michael was quick to take full advantage of. There have been low points - the last three races saw the German throw away what should have been an easy win in Canada, follow it up with an uncharacteristically quiet race in the rain at Magny Cours, and then of course cap it off with the shunt at Silverstone. These are balanced out though by some sensational performances, particularly at San Marino, Monaco, and Australia. The extent to which he can continue his form through to the end of the season, though, will depend completely upon how quickly he recovers from his accident at the British Grand Prix.
EDDIE IRVINE Grade: B+ Highest: A+ (Monaco), Lowest: C (France)
It is amazing what a win can do. Hakkinen went almost 100 races without a victory, finally shook the monkey off his back at Jerez in 1997, and went on to win damned near everything since. Irvine probably won't take the 1999 Championship Trophy home at the end of the year, but the effect that his win in Melbourne has had upon his confidence behind the wheel is awesome. Present form suggests that the Ulsterman has well and truly grown out of his role as Schumacher's rear gunner - this guy needs a number one drive in a top team, and soon. Probably for the first time ever, Eddie's bite is becoming worse than his bark.
JORDAN
DAMON HILL Grade: C+ Highest: A (Britain), Lowest: D- (Monaco)
Where has it all gone wrong? His new teammate, with whom Hill was quietly confident of wiping the floor, has blown him out of the water, both in qualifying (1:7), and in race trim. His motivation and confidence has see-sawed all season. And on top of all that, he has ended far more races in the gravel trap this year than should be expected from a driver of his experience. There have been some good points, particularly Britain and San Marino. Overall though, one can't help but feel that Damon's mind has not been 100% on the job in 1999. There is every possibility that he can still turn his season around if he does decide to stick out the remaining eight races. If he can just string a couple of good results together, anything can happen.
HEINZ-HARALD FRENTZEN Grade: A- Highest: A+ (France), Lowest: B- (San Marino)
One of the revelations of season 1999. Three years after he displaced Hill at Williams, we are finally starting to get some idea of what the fuss was all about. Frentzen is truly in his element at Jordan, and it is reflected in the quality and consistency of the performances that he has produced so far this year. Of the races that the German has finished, his lowest position has been 4th.
WILLIAMS
ALEX ZANARDI Grade: C+ Highest: B (Monaco, Canada), Lowest: D (Australia)
Everyone was expecting Zanardi to have a couple of rough races while he re-adapted to Formula One. But nobody, probably least of all Frank Williams, expected adjustment period to be as prolonged as it has been. In fairness, the Italian has had some bad luck with his equipment, and there is no doubting that he is trying - gritty performances in Monaco and Canada can attest to that. Nonetheless, while the 1999 Williams is not the class of the field, Zanardi is still not getting the most of his machinery. Until that changes, Frank Williams will not have to worry about his car getting written off in victory doughnut mishap on the main straight.
RALF SCHUMACHER Grade: B Highest: A (France, Britain), Lowest: C- (Monaco)
Ralf copped more than his fair share of flak during his first couple of seasons in Formula One, but his steady, consistent improvement over the past twelve months has proved his detractors wrong. Schumacher is obviously well suited to the environment at Williams, and this is reflected in the performances that he has managed to draw out of the car. The only real blemish on his record so far was Monaco. Measured against two podiums and a number of minor points finishes, one small mishap is more than forgivable.
BENETTON
GIANCARLO FISICHELLA Grade: B Highest: A (Canada), Lowest: C+ (France)
Despite having a heavy, awkward car powered by an engine that redefines the term 'horseless carriage', Fisichella never stops trying. He has outqualified his highly-rated teammate 8:0 and scored a podium finish in Montreal. When it comes to the little Italian, Benetton have little cause for complaint.
ALEX WURZ Grade: C Highest: B (Monaco), Lowest: C- (San Marino, France, Britain)
Another of the season's surprises, but for a different reason. It is depressing enough see a Benetton driven by a man of Wurz's talent fighting for position with an Arrows - and losing - but his failure to come to grips with his teammate is one of the season's great mysteries.
SAUBER
JEAN ALESI Grade: B- Highest: A (San Marino), Lowest: D (Australia)
1999 has been a bit of a rollercoaster ride for Jean Alesi. A man of extremes, the French-Sicilian is rarely average - he either puts in a very good performance, or a very ordinary one. Sometimes he manages to do both in the same race. Alesi has had some great qualifying results, particularly in Spain and France, but has only managed to finish two races; with accidents and mechanical problems sharing equal proportions of responsibility for his DNFs. The possibility of seeing Alesi in a Ferrari for a few races was certainly an intriguing one, though sadly not one we shall get to meet.
PEDRO DINIZ Grade: B- Highest: A- (Canada), Lowest: C (Brazil)
By now, Pedro should have well and truly shaken off the talentless-rent-a-driver tag. The Brazilian's performances have improved out of sight since his days with Forti, and his efforts at Sauber have been at least as good as anything that a number of his more highly regarded contemporaries would have produced. His brief is simple - keep your head down, try to keep the car on the track, and be ready to pick up any points that might go begging. Diniz has performed his task quietly and efficiently. He has also done a reasonable job of keeping Alesi honest in qualifying, too.
ARROWS
TORANOSUKE TAKAGI Grade: C Highest: B (Australia, Brazil, Canada), Lowest: D (Spain)
Showed a lot of promise in 1998 but has not really built upon it. Produced solid performances in the first two races of the season, but has been fairly quiet ever since (a disqualification for using his teammate's tyres in France notwithstanding). The jury is still out.
PEDRO DE LA ROSA Grade: B- Highest: A (Australia, Spain), Lowest: C- (Britain)
Possible contender for rookie of the year? The young Spaniard is showing all the signs of developing into a very, very good driver. He has kept Takagi in sight during qualifying - the two teammates split the honours 4:4. Also scored a point in his debut Grand Prix - no mean feat at the best of times, but particularly impressive when achieved behind the wheel of an Arrows. The best yardstick against which Pedro can be measured is his teammate, and de la Rosa has proven to be more than a match for the young though more experienced Japanese driver.
STEWART
RUBENS BARRICHELLO Grade: A- Highest: A+ (Brazil), Lowest: B- (Spain, Britain)
Stewart have made some amazing steps forward with their 1999 car, and Barrichello has exploited his new machinery to the full. Each race has seen Rubens giving 110% on every lap, and it is starting to pay dividends; the young Brazilian having picked up two podiums and a Pole Position. Barrichello has not driven a really poor race this season (although the car was not quite up to speed in Spain and Britain), but his brilliant efforts in the wet in France stand out as a highlight. Twelve months ago, a win seemed out of the question. Now it seems to be just around the corner.
JOHNNY HERBET Grade: C+ Highest: B+ (Canada), Lowest: C (Australia)
Johnny Herbet must have broken a lot of mirrors somewhere along the line, because his racing career is rapidly turning into one big carnival of bad luck. Six out of eight races have seen the Englishman stop with mechanical problems. The team can't be held completely responsible for Herbet's poor results though. In qualifying, for example, Herbet has been outgunned by his teammate 0:8.
PROST
OLIVIER PANIS Grade: C+ Highest: B+ (Brazil), Lowest: D (Monaco)
Panis has always struck me as the classic F1 journeyman. He is very talented and capable of some great racing, but you just know that he is missing that one special quality that sets the Michaels, Mikas, and Jacques' apart from the rest. He has put in a couple of good races - Brazil and San Marino for instance - but there have also been occasions when he has looked very amateur. The Frenchman has also developed an odd tendency to suffer from periodic 'blue flag fever'. Maybe he is confusing the flags waved by the marshals for those waved by French fans!
JARNO TRULLI Grade: C Highest: A- (Spain), Lowest: C- (San Marino)
Trulli's motivation seems to be driven by his results. Give him a good car, and you can expect a good result. Just think back to some of those performances in 1997. But uncompetitive appears to make him sulky. Trulli has his moments - such as Spain, where he drove his heart out all day to bring home one point - but he also has a disturbing habit of planting himself in the scenery. Worse still, he usually takes someone else with him for good measure. Few would doubt his ability, but perhaps Prost is not the right environment to nurture it. Either way, I expect the second half of 1999 to be much like the first.
MINARDI
LUCA BADOER Grade: B- Highest: B (Britain), Lowest: D- (Spain)
It is really hard to evaluate anybody who drives a Minardi. Unfortunately, the cars are usually just not quick enough to allow a driver to demonstrate just how good he is. For the most part, Badoer seems to have done as well as he can in such uncompetitive equipment. He is consistently quicker than his teammate, although his testing work with Ferrari means that he is far more accustomed than Gene to being behind the wheel of an F1 car.
MARC GENE Grade: C Highest: B+ (Canada), Lowest: D (Monaco, Australia)
Pre-season expectations of Gene were not high. While he has not really taken the world (or even Minardi) by storm, he has proven to be a bit better than most of us expected. The Spaniard has managed to outqualify his more experienced teammate on a couple of occasions, and drove good races in Canada and Britain. That said, short of holding up a frontrunner who is trying to lap him, it is hard to imagine Gene having any real impact upon the remainder of the season.
STEPHANE SARRAZIN Grade: B+ Highest: B+ (Brazil), Lowest: B+ (Brazil)
It is a little absurd perhaps to evaluate a driver on the strength of just one race, but one cannot help but be impressed by Sarrazin's efforts in Brazil. He produced what was probably the best performance in a Minardi all year, completely outclassed Marc Gene and drove a fantastic race until he suffered the shunt of the season at the Arquibancadas corner. If the 31 laps that the Frenchman did manage to complete before spinning (and spinning and spinning) into retirement are anything to go by, this is one guy who needs a full time drive, and fast.
BAR
JACQUES VILLENEUVE Grade: B Highest: A (Australia, San Marino), Lowest: C- (France)
The Tradition of Excellence has been shoved right to the back of the cupboard now that BAR have succeeded in getting just two cars past the finish line in eight races. I don't think Jacques was expecting an easy ride with his new team, but nor do I believe that he imagined anything like this. While Villeneuve makes no secret of his frustration with the team's poor results, he still drives the wheels off the car every time he hops in. There have been a few glimmers of hope, such as qualifying in San Marino, or his efforts in Spain. The most positive prospect, though, is the simple fact that things can't really get much worse. After eight DNFs from eight starts, Jacques' fortunes can only improve. Just how much he can turn things around is completely dependent upon what BAR can do to solve their chronic unreliability.
RICARDO ZONTA Grade: B- Highest: A (Australia), Lowest: C- (Canada)
Missed some races with an injury, but Zonta's basic talent and speed is already apparent. The rookie Brazilian outqualified Villeneuve in the wet at Magny Cours, and backed it up with a good effort on race day. He was also impressive in his debut in Melbourne. Zonta needs more time to settle in, but should have little trouble taking the fight to the other Supertec drivers in the second half of 1999.
MIKA SALO Grade: C+ Highest: B- (Monaco, Spain), Lowest: C- (San Marino)
Like many people, I was really excited by the prospect of seeing Mika Salo and Jacques Villeneuve in equal machinery. Like many people, I was disappointed. Jacques belted Salo in qualifying (the one aspect of racing which many thought the Finn would dominate), and also out-raced him without any real difficulty. Of course, on the other hand, Salo has the distinction of being one of only two men in the world to have driven a BAR past the finish line. However, Salo has a far better chance to make amends with his tainted image - he now gets a chance to slide into the cockpit of none other than Michael Schumacher. Few drivers get a such chance to prove what they are really worth and watching Salo in the next few races will be interesting, no doubt.