---
The F1 FAQ
---
By Marcel Schot, Netherlands
Atlas F1 Magazine Writer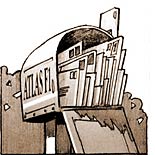 Have a question about Formula One statistics or history? Well you're not the only one, and it's about time someone came up with the answers to F1's most Frequently Asked Questions. Send us your questions to faq@atlasf1.com - we may not know everything, but we'll do our best to find out
"This is Michael Schumacher's 7th season with Ferrari. I would like to know, how many races did Ferrari win in the last 10 years prior to 1996? The reason I ask is to find out just how much was done to bring Ferrari to being so dominant again. Thanks, Hans"
In the period 1986-1995, Ferrari won 14 races. Alain Prost and Gerhard Berger both won five races, Nigel Mansell won three and Jean Alesi one. Of these victories, only two came after 1990 - Berger at Hockenheim in 1994, and Alesi's emotional victory in Canada in 1995, which ironically came after leader Michael Schumacher suffered a gearbox problem.
"Which driver who finished in last place won the race? Oscar"
There would be only two ways to achieve this. Either only one car finished the race or there's a shared drive involved. In the old days it was allowed that whenever a driver had retired, a teammate could pit and let the retired driver continue the race. Scored points would then be split between the drivers. The 1951 French Grand Prix in Reims was one of the times this occurred. Juan Manuel Fangio ran into problems with the magneto, which dropped him far back. Just before half distance he switched cars with Luigi Fagioli, who had been running in the top four. As Alberto Ascari took over Froilan Gonzalez's car, this left Fangio's teammate Giuseppe Farina with a large lead.
However, Farina suffered similar magneto problems as Fangio had earlier and Ascari had to look after his brakes. This gave Fangio the lead and eventually the win. Some 18 seconds after Fangio took the chequered flag, Fagioli crossed the line in last place, no less than 22 laps behind. Only two more times in the World Championship was a win shared. The 1956 Argentine Grand Prix was won by Luigi Musso/Juan Manuel Fangio and the 1957 British Grand Prix was won by Tony Brooks/Stirling Moss. In both cases the other car didn't finish.
"Can you tell us why Nigel Mansell raced with the "Red 5"? Gary"
Mansell's connection with the red 5 is indeed as legendary as Gilles Villeneuve's connection with the number 27 Ferrari. However, Mansell's five wasn't always colored red. The first four races of 1985, both Williams cars carried white numbers. From a distance, the 5 and 6 looked quite alike, so it was decided to give the numbers different colors. Apparently BBC commentator Murray Walker made some remarks about this in his enthusiastic commentary, and thus the 'Red 5' name stuck.
"I've just been to Monte Carlo and seemed to remember there was a café on the Tabac corner there run by an old lady that was a favourite aunt for the drivers. She kept a collection of their pictures on the wall. I could find no trace of it nor anyone that remembered it (I can speak French). Was I right? If so exactly where was it? Was the tradition carried on somewhere else I didn't find? Gwynfor"
I think you're referring to Rosie's Bar, which used to be along the Beau Rivage straight. This cafe was opened in 1946 as the Chatham Bar, but soon after, Rosie Bernard took over the business from her father, and it was known as Rosie's Bar. Unfortunately the cafe was closed down in 1996 when the Monaco government, owner of the piece of land the cafe was on, had different plans for it. After the cafe closed, Rosie Bernard opened a souvenir shop in the Rue Comte Felix Gastaldi called Rosie's Memories.
"I would need a list of f1-races where the safety car was used. Can you send me some informations? best regards, Tom"
The safety car was first used in the 1973 Canadian Grand Prix. However, it would be a long time until it was to be used again. Possibly the resulting chaos in Canada was a reason for not repeating the experiment. For quite a while the driver of the safety car, former Formula One driver Eppie Wietzes, was unable to determine who actually was the race leader who had to queue up behind him. As a result, he stayed ahead of the Iso-Marlboro of Howden Ganley, who was all but the leader. Several cars ahead of Ganley were thus able to gain a lap on the field!
In 1992 the safety car was officially introduced into the rules, and from then on it was regularly used in cases of heavy rain and/or accidents.
Below is a list of the times the safety car has been used:

1973: Canada
1992: Great Britain
1993: Brazil, Great Britain
1994: San Marino, Japan
1995: Belgium
1996: Argentina, Belgium
1997: Argentina, Canada, Great Britain, Belgium
1998: Canada, Austria, Great Britain, Belgium
1999: Australia, Europe, France, Canada, Great Britain
2000: Australia, Germany, Italy, Belgium, Austria, Malaysia
2001: Australia, Malaysia, Brazil, Canada, Austria
2002: Australia, Austria, Canada

"Do you recall anything about the Ferrari Indycar built in '78 for Mario Andretti? Ciao, Franco"
Ferrari did build an Indycar, but that was much later. Mark Alan Jones covered it in a previous FAQ in 1999. See also this week's article by Thomas O'Keefe about Ferrari's assaults at Indianapolis.
"I am 6'6" and I was curious if I would fit in a racing car? Adam"
If we look at the active drivers, the average height is 5'9" (174 cm). Only three drivers break the 6 foot or taller barrier: David Coulthard and Jenson Button are both 6'0" (182 cm), while Mark Webber is the giant of Formula One this year at 6'1" (184 cm). There are a few test drivers as tall or taller as Webber, namely Andre Lotterer, who equals Webber, and Alexander Wurz who measures a slightly taller 6'2" at 186 cm. Officially, Minardi's aerodynamic tester Jirko Malcharek is the tallest driver in Formula One today at 6'3" (189 cm). In that respect you would be too tall for Formula One, but of course there are plenty of other racing categories where you would fit in.
---
© 2007 autosport.com . This service is provided under the Atlas F1
terms and conditions
.
Please
Contact Us
for permission to republish this or any other material from Atlas F1.