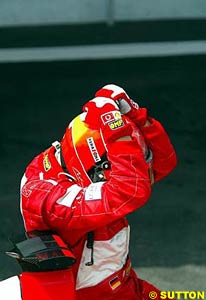 The French Grand Prix was perhaps a fitting end to this year's "battle" for the Drivers' Championship, in a season that has seen Michael Schumacher battle solely against himself. Sunday's race provided once more some of the typical examples that have characterised the German's Formula One career: superb driving skills, a luck that only himself has managed to enjoy and, of course, controversy, the almost always present controversy.
Controversy overshadowed Schumacher's first world title in 1994, when he crashed into Damon Hill in Australia. It happened again in 1997 at Jerez, when he deliberately tried to take Jacques Villeneuve off the race to secure his third crown.
And controversy, although definitely on a different scale, was close to marring the celebrations of the man who continued to re-write the history books with another win, his 61st in Grand Prix racing. Schumacher's overtaking move over Kimi Raikkonen with five laps to go, after the McLaren driver ran wide at the Adelaide hairpin when he ran over spilt oil, was hardly an action that deserved a penalty as the common sense indicated that both drivers had seen the danger in the form of Allan McNish's spun Toyota.
The race stewards of course knew, or sensed, the repercussions of a penalty to Schumacher nearly three hours after the Ferrari driver and his fans had began the celebrations for an achievement seen only once in the 53 years of history of Formula One.
The delay in revealing that there would be an investigation into the matter suggested that, despite not filling an official complaint, Ron Dennis' comments did the trick in calling the attention of the FIA stewards.
"Kimi entered a yellow flag zone and Michael overtook before there was a green one to let him pass," Dennis said after the race. "The regulation is explicit - and Kimi was overtaken under a yellow flag."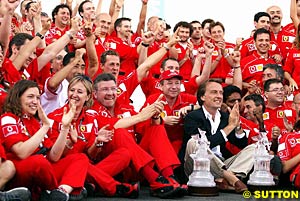 In the end, and perhaps as expected, Schumacher kept his victory, and with it he was able to celebrate the quickest ever Championship wrap-up and the Formula One fraternity was spared of another unwanted headline in Monday's newspapers.
A penalty would have also somewhat overshadowed Schumacher's unstoppable charge towards an historic fifth title in a season where the German and his team showed they were light years ahead of the competition. The ease with which the best driver of his era clinched this year's title has probably caused people not to realise the greatness of such an achievement, and only time will put Schumacher's dominance this year into the right perspective. That provided he doesn't win his sixth title next year, and it will surely be hard to find someone betting against that.
Schumacher's win on Sunday was also an example of how his rivals have done their best to pave the road for the German to turn the 2002 season into a real cakewalk, and also of how Lady Luck seems to have an exclusive agreement with the Ferrari star.
Again, when a Ferrari was hit by trouble, it was not Schumacher's but Rubens Barrichello's, and again, Juan Pablo Montoya's qualifying efforts went unrewarded due to the wrong tyre choice, according to his Williams team. No one however, could beat Raikkonen when it came to bad luck, and after driving a superb race, few people in the French paddock did not feel sorry for the young Finn.
As cool and collected as usual, Raikkonen settled for a career best second place, and if McLaren manage to give him a competitive car next season, he will most likely be able to get rid of the sour taste of his first victory slipping through his hands.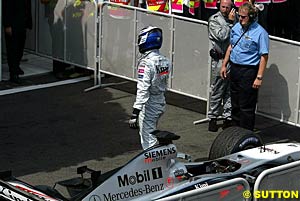 Although their performance had little to do with luck, Schumacher also benefitted from Williams' incapability of turning Montoya's fifth consecutive pole position into a good result, let alone into his first victory of the 2002 season.
The Colombian has done little wrong in the last five races he had started from the top spot, yet the FW24 seems to be suffering from serious problems to withstand their pace for a race length. The performance of their Michelin tyres was again the reason for their lack of pace, and although Williams opted for a different compound than McLaren, there seems to be a fundamental problem with the way their BMW-powered car treats the black rubber that seems to be forcing them to opt for the harder compound, something that is proving to be a handicap.
After eleven races of a year where Montoya and teammate Ralf were meant to give Schumacher Sr. a good run for his money, the Williams team have found themselves with the same number of wins that McLaren have and will surely have to fight hard to keep second place in the Championship.
But his rivals' incapacity to perform at their best without errors meant no demerit to Schumacher's win after the German completed another brilliant drive which saw him walk away with the title before he had expected. If not for a drive-through penalty for crossing the white line at the end of the pit exit, the Ferrari driver would have probably won the race easily, as he demonstrated once he was able to run in clean air after his first pitstop.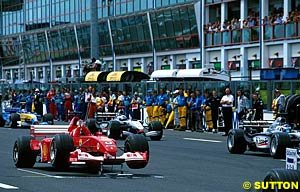 Raikkonen's misfortune with five laps to the chequered flag served, although in a cruel way for the talented Finn, to reward Schumacher for his endless motivation in his quest for perfection, allowing him to step up alongside the great Juan Manuel Fangio as the only man to have conquered the World Championship five times.
It is clear that the 2002 season will not be remembered as the most exciting, but every racing fan can at least find consolation in knowing that they have witnessed one of the most talented athletes that the world has seen. And that, as boring as a race can be, is something that no one should take for granted.
Qualifying
Juan Pablo Montoya's impressive qualifying form continued to be evident at the French Grand Prix on Saturday, when after another exciting hour-long session the Williams driver emerged on top of the Ferraris of Michael Schumacher and Rubens Barrichello and the McLaren of Kimi Raikkonen to clinch his fifth successive pole position, and the sixth in eleven races in 2002.
As it had been the case in the previous Grands Prix, the quick Colombian had to battle hard against the Ferrari drivers to maintain a streak that has seen him beaten in a qualifying session for the last time more than three months ago in Austria.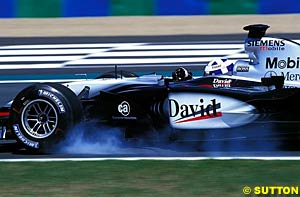 In one of the closest sessions of the year, the Williams driver beat Schumacher by a mere 0.027 seconds, finishing only half a second ahead of sixth-placed driver David Coulthard with the McLaren. Montoya benefitted from the high temperatures at the Magny-Cours circuit, which helped the Colombian's hard Michelin tyres, that seemed to have the edge over the Bridgestone runners.
At the end of the day, only three of the top ten runners were using tyres from the Japanese manufacturer, something rather common this season. Almost as common as Bridgestone - and especially Ferrari - turning the tables in Sunday's race.
"It has been a constant cause for investigation," said Michelin boss Pierre Dupasquier of their lack of wins. "The fact we are able to produce such consistent qualifying speed without always being able to repeat it in the race has taken us down some interesting technical paths and we are constantly analysing our products in an effort to improve."
As it turned out on Sunday, Michelin's efforts went unrewarded despite a very competitive showing from McLaren, while the Williams team struggled for grip.
As well as for the battle for pole position, the session was remarkable for the fact that the field was reduced to 19 drivers. Jordan's Giancarlo Fisichella suffered a heavy accident during Saturday practice when his car lost the front wing coming out of the Golf corner. The Italian crashed into the tyre barriers nearly head-on, and despite walking away nearly unscathed, he was forced to sit out qualifying.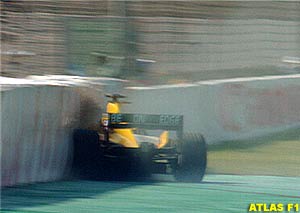 The other drivers absent from the grid were Arrows' Heinz-Harald Frentzen and Enrique Bernoldi, who after a no-show during practice, completed only three uncompetitive laps in order to keep their rights in the Championship and then headed to Germany while Tom Walkinshaw continued talks to secure the future of the Leafield squad.
The Cosworth-powered cars were the first to jump onto the track when the green lights turned on, but after a deliberately slow third split it was obvious what their intention was. With eight minutes gone, Barrichello came out and set the first competitive time of the day with a lap of 1:13.058. His lap would stand as the best for four minutes, the time it took Montoya to complete his first run and stop the clock on 1:12.714.
Michael Schumacher and the McLaren drivers left their garage moments later, and while David Coulthard and Kimi Raikkonen moved to third and fifth positions respectively, the Ferrari driver pushed too hard at the final chicane, going off the track before completing a lap that would be disallowed.
"I missed the apex at the last chicane, hit the kerb and ran wide, so my time did not count," he explained. "I thought it was so slow that they would allow it, but it did not matter."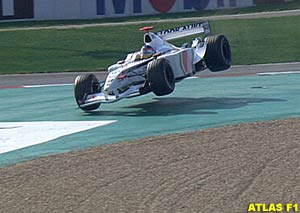 With Barrichello and then Montoya having improved on their seconds attempt - the Colombian posting a fastest lap of 1:12.346 to demote the Brazilian - Schumacher returned to the track with half the session gone and jumped to the top of the timesheets with a lap nearly a tenth of a second quicker than Montoya.
The rest of the top runners also managed to improve, with Raikkonen leapfrogging two drivers to move up to third ahead of Barrichello, Ralf and Coulthard. Jenson Button was the best of the rest less than a second off Montoya's pace. The Colombian was back in action with less than 20 minutes remaining in the session, and with another superb effort he managed to steal the top spot from Schumacher, stopping the clock on 1:12.257.
Despite setting the quickest time of the session in the second split, Michael Schumacher failed to beat Montoya with his third run, and he was even demoted from second place when teammate Barrichello completed his final attempt with some five minutes remaining in the session, the Brazilian only eight hundreds of a second off Montoya's time.
Raikkonen also was able to improve his time, relegating Schumacher to fourth place. But the German, Montoya, Coulthard and Ralf left their garage with little more than two minutes to go, setting the scene for a frantic showdown. Ralf was the first man to cross the line, the German failing to improve and having to settle for a somewhat disappointing fifth place.
Montoya was the next driver to complete his final flying attempt, and in a blistering lap that the Colombian later hailed as his best ever, he managed to set a 1:11.985 that Schumacher, despite the best of his efforts, was unable to better, finishing a fraction behind.
"I was a little surprised at our lap time, but we have made big progress with the tyres and during the race I think we can do a more consistent job," said Montoya after scoring the ninth pole of his short F1 career. We had a great battle together. It was very close. I had a very good last lap but I made a mistake in the last corner."
Schumacher too enjoyed the battle with his rival, despite missing out on pole position for the sixth consecutive race. "We have good battles together, all three of us, so I'm looking forward to having another one out there," said Schumacher, who jumped ahead of Barrichello and Raikkonen, the Finn completing his best ever qualifying performance.
"Fourth is my best qualifying performance ever, but I'm still a bit disappointed as I could have been third or perhaps even second," Raikkonen, who outqualified Ralf and Coulthard, claimed. Button and teammate Jarno Trulli occupied the fourth row of the grid for the Renault team at their home Grand Prix, while Eddie Irvine revived Jaguar's hopes after setting the ninth quickest time as the Ford-owned squad continued to get to terms with the revised R3B.

Pos  Driver        Team                   Time                   
 1.  Montoya       Williams BMW      (M)  1:11.985  212.594 km/h  12  
 2.  M.Schumacher  Ferrari           (B)  1:12.008    +    0.023  12  
 3.  Barrichello   Ferrari           (B)  1:12.197    +    0.212  12  
 4.  Raikkonen     McLaren Mercedes  (M)  1:12.244    +    0.259  12  
 5.  R.Schumacher  Williams BMW      (M)  1:12.424    +    0.439  12  
 6.  Coulthard     McLaren Mercedes  (M)  1:12.498    +    0.513  12  
 7.  Button        Renault           (M)  1:12.761    +    0.776  12  
 8.  Trulli        Renault           (M)  1:13.030    +    1.045  12  
 9.  Irvine        Jaguar Cosworth   (M)  1:13.188    +    1.203  12  
10.  Heidfeld      Sauber Petronas   (B)  1:13.370    +    1.385  12  
11.  Panis         BAR Honda         (B)  1:13.457    +    1.472  12  
12.  Massa         Sauber Petronas   (B)  1:13.501    +    1.516  12  
13.  Villeneuve    BAR Honda         (B)  1:13.506    +    1.521  12  
14.  Sato          Jordan Honda      (B)  1:13.542    +    1.557  12  
15.  de la Rosa    Jaguar Cosworth   (M)  1:13.656    +    1.671   8  
16.  Salo          Toyota            (M)  1:13.837    +    1.852  12  
17.  McNish        Toyota            (M)  1:13.949    +    1.964  12  
18.  Webber        Minardi Asiatech  (M)  1:14.800    +    2.815   6  
19.  Yoong         Minardi Asiatech  (M)  1:16.798    +    4.813   7  
20.  Frentzen      Arrows Cosworth   (B)  1:18.497    +    6.512   3 *
21.  Bernoldi      Arrows Cosworth   (B)  1:19.843    +    7.858   3 *

* Outside 107%

The Race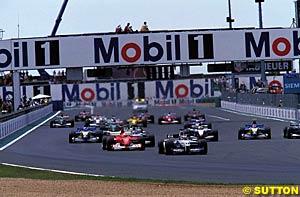 After a far fetched, and failed, attempt to take Heinz-Harald Frentzen back to Jordan in order to replace Giancarlo Fisichella for the race, Sunday's warm-up already showed problems for the Williams duo, with pole sitter Juan Pablo Montoya languishing down in 14th place after coming out of his garage with only five minutes of the session remaining. Ralf was only 12th quickest, with track temperatures of around 20 degrees Celsius proving to be less than ideal for the hard Michelin compound.
Come race time, and with a somewhat cloudy sky, the temperatures remained unchanged and the prospects of a strong race began to look rather dim for Williams. Not as bad as Rubens Barrichello's though, who for the second consecutive race saw his car refusing to move when the formation lap began. His mechanics tried it all to fire up his F2002's engine, but there was nothing they could do and the angry Brazilian jumped out of his car and out of the race.
"I don't know what happened," Barrichello said. "The engine never fired up, even though we tried everything we could. We changed the steering wheel, tried all the buttons but there was nothing we could do. I am very disappointed because I was very confident in my car and was sure I could have a good race."
The start took place with no big dramas - apart from Felipe Massa jumping it - and Montoya managed to stay ahead of Schumacher, Raikkonen, Ralf, Coulthard and Button, while further back Takuma Sato was over optimistic in his attempt to overtake BAR's Olivier Panis, crashing into the Frenchman and sending both cars off the track.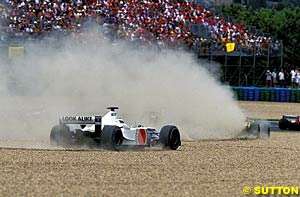 Sauber's Massa was penalised for his start infringement, and the young Brazilian was the first of many men to fall victim of the tricky pit exit, running over the white line separating pits from the track, receiving another drive through penalty.
In front, Schumacher was right behind Montoya's rear wing, and on lap two the German tried to overtake the Colombian at the Adelaide hairpin. His failed attempt allowed Raikkonen to take the best line through the tight corner and come out ahead of the Ferrari driver, but Schumacher forced his way back and moved up to second again at the Nurburgring corner.
After that, Montoya was able to open a very small gap that at least allowed him to breathe, and the laps went by quietly both at the front and at the back, with little action to entertain the French crowd. By lap 10, the Colombian was only a second ahead of Schumacher and two ahead of Raikkonen, while there was nearly a four-second gap to Ralf.
The gaps remained unchanged for the first 20 laps, and only Button, who was running in sixth, drifted back significantly before he became the first man to come into the pits for his first scheduled pitstop. Only one lap later, Ralf followed suit, returning to the track in fifth place ahead on Nick Heidfeld in the Sauber.
Montoya made his stop moments later, coming back out ahead of his teammate, and finally allowing Ferrari's Schumacher and Raikkonen to show their real pace. It only took the German driver two laps to be able to pit and return to the track ahead of Montoya, Raikkonen failing to do the same only a lap later. Schumacher, however, would cross the white line when exiting the pitlane.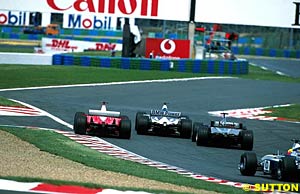 While the race stewards investigated the incident, Schumacher's lead over Montoya and Raikkonen increased at a rate of a second per lap, and when he finally received his penalty and came into the pits on lap 35, the German rejoined the race right behind the McLaren driver, all his chances of winning still intact.
Schumacher pushed hard to put pressure on the young Finn, and it almost paid off when both men were lapping Allan McNish, the German squeezing between the Toyota and the McLaren at the Adelaide hairpin. In the end, Raikkonen managed to stay ahead, inheriting the lead moments later when Montoya dived into the pits for the second time on lap 43, rejoining ahead of sixth-placed Button.
Ralf pitted next, and although his pitstop was smooth, the Williams driver was the new victim of the white line at the exit, receiving a drive through penalty that would leave him in a distant fifth place behind Montoya. After another few laps without the Colombian slowing them down, it was Schumacher's and Raikkonen's turn to pit, with the lead of the race at stake.
The Ferrari driver was the first man to do it, standing still for 8.8 seconds before coming back out, this time avoiding the problematic white line. Raikkonen pitted on the following lap, was stationary for 8.7 seconds, and returned to the track right ahead of Schumacher, both men behind Coulthard, who was the fastest man at that moment.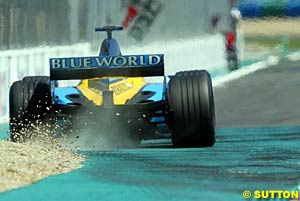 The Scot made his second scheduled stop on lap 54, and his chances of victory were looking good until he too crossed over the white line. Coulthard, in vain, put pressure on Schumacher for a few laps before coming into the pits again to serve his penalty, falling out of contention but still managing to emerge ahead of Montoya, who was struggling for grip.
Raikkonen continued unaltered in the lead, and although Schumacher managed to close the gap with 10 laps to go, the Ferrari driver was unable to pass the Finn or force him into an error, which meant his Championship celebrations would be delayed until the German Grand Prix.
But Schumacher's unstoppable run received another push with five laps remaining, as Raikkonen ran over the oil spilt by McNish's Toyota at the Adelaide hairpin, the Finn running very wide. Schumacher nearly followed Raikkonen, but the German managed to control his car and took the lead when coming out of the corner, a lead he wouldn't relinquish.
"There were yellow flags but obviously not any flags for the oil or slippery circuit," said a sad Raikkonen after the race."I think a Toyota or something had blown up their engine or something was there, just oil, and I locked up the front wheel, the front right and Michael got past."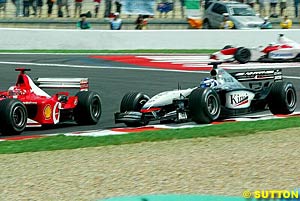 Five laps separated Schumacher from five titles, and the German held onto the lead despite admitting those were the worst laps of his career.
"Suddenly when I was leading and feeling it was for the Championship and it was probably the worst five laps of my career. The weight was suddenly on my shoulders not to make any mistakes," said a nearly speechless Schumacher. "I have never been good at finding the right words at these moments. It has overcome me. All weekend I didn't believe I would win it here, so I didn't feel any pressure."
Raikkonen and Coulthard completed the podium, as McLaren was able to beat Williams for the second time in three races, with Montoya and Ralf finishing more than 40 seconds off the leader in another disappointing race for the Grove-based outfit.
"I have been struggling a lot with the balance of my car, which was very difficult to drive," admitted Montoya. "Our tyre choice was good in yesterday's hotter conditions but didn't pay off today, in cooler conditions. As the race went on, we were losing grip more and more."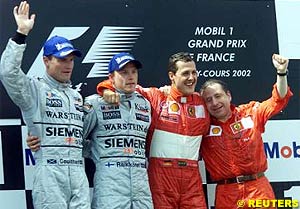 Button scored the final point for Renault to revindicate his exit from the French squad and as he starts thinking of his new era with the BAR team.
With hardly any time for celebrations, Schumacher and Ferrari travel to Germany aiming to edge closer to the Constructors' Championship and help Barrichello complete a season of total dominance by securing the runner-up spot. In the meantime, now five-time champion Schumacher is likely to continue to make records tumble like nine wins as he starts thinking of clinching an unprecedented sixth crown. Not that Schumacher understands about precedents anyway.

CLASSIFIED

Pos  Driver        Team                    Time    
 1.  M.Schumacher  Ferrari            (B)   1h 32:09.837
 2.  Raikkonen     McLaren Mercedes   (M)   +      1.105
 3.  Coulthard     McLaren Mercedes   (M)   +     31.976
 4.  Montoya       Williams BMW       (M)   +     40.676
 5.  R.Schumacher  Williams BMW       (M)   +     41.773
 6.  Button        Renault            (M)   1  Lap      
 7.  Heidfeld      Sauber Petronas    (B)   1  Lap      
 8.  Webber        Minardi Asiatech   (M)   1  Lap      
 9.  de la Rosa    Jaguar Cosworth    (M)   2  Laps     
10.  Yoong         Minardi Asiatech   (M)   4  Laps     
11.  McNish        Toyota             (M)   7  Laps     

Fastest Lap: Coulthard, 1:15.045, lap 62

NOT CLASSIFIED / RETIREMENTS                 
                                                    
Irvine        Jaguar Cosworth    (M)   52    Rear Wing
Trulli        Renault            (M)   49    Mechanical
Massa         Sauber Petronas    (B)   48    Mechanical
Salo          Toyota             (M)   48    Engine
Villeneuve    BAR Honda          (B)   35    Engine
Panis         BAR Honda          (B)   29    Mechanical
Sato          Jordan Honda       (B)   23    Spun Off
Barrichello   Ferrari            (B)   DNS   Engine

WORLD CHAMPIONSHIP STANDING, ROUND 11:

Drivers:                     Constructors:             
 1.  M.Schumacher  96 WC     1.  Ferrari            128
 2.  Montoya       34        2.  Williams-BMW        66
 3.  Barrichello   32        3.  McLaren-Mercedes    47
 =   R.Schumacher  32        4.  Renault             15
 5.  Coulthard     30        5.  Sauber-Petronas     10
 6.  Raikkonen     17        6.  Jordan-Honda         6
 7.  Button        11        7.  BAR                  5
 8.  Fisichella     6        8.  Jaguar-Cosworth      3
 =   Heidfeld       6        =   Toyota               2
10.  Trulli         4        =   Arrows               2
 =   Massa          4        =   Minardi-Asiatech     2
12.  Irvine         3                                  
 =   Villeneuve     3                                  
14.  Webber         2                                  
 =   Salo           2                                  
 =   Frentzen       2                                  
 =   Panis          2                                  


Pos  Driver        Team                  Lap  Time              
 1.  Coulthard     McLaren-Mercedes  (B)  62  1:15.045         
 2.  M.Schumacher  Ferrari           (B)  25  1:15.311  + 0.266
 3.  Raikkonen     McLaren-Mercedes  (B)  54  1:15.406  + 0.361
 4.  R.Schumacher  Williams-BMW      (M)  24  1:15.584  + 0.539
 5.  Montoya       Williams-BMW      (M)  26  1:15.697  + 0.652
 6.  Button        Renault           (M)  22  1:15.957  + 0.912
 7.  Panis         BAR-Honda         (B)   4  1:16.278  + 1.233
 8.  Trulli        Renault           (M)  20  1:16.300  + 1.255
 9.  Irvine        Jaguar-Cosworth   (M)  20  1:16.456  + 1.411
10.  de la Rosa    Jaguar-Cosworth   (M)  58  1:16.515  + 1.470
11.  Villeneuve    BAR-Honda         (B)  23  1:16.667  + 1.622
12.  Heidfeld      Sauber-Petronas   (B)  22  1:16.847  + 1.802
13.  Massa         Sauber-Petronas   (B)  46  1:17.029  + 1.984
14.  Webber        Minardi-Asiatech  (M)  26  1:17.087  + 2.042
15.  Salo          Toyota            (M)  28  1:17.295  + 2.250
16.  McNish        Toyota            (M)  47  1:17.304  + 2.259
17.  Sato          Jordan-Honda      (B)   6  1:17.565  + 2.520
18.  Yoong         Minardi-Asiatech  (M)  37  1:18.998  + 3.953


Pos  Driver        Team                   Time      Lap
 1.  Coulthard     McLaren-Mercedes  (B)    14.159  59
 2.  Massa         Sauber-Petronas   (B)    14.368   7
 3.  R.Schumacher  Williams-BMW      (M)    14.399  48
 4.  M.Schumacher  Ferrari           (B)    14.415  35
 5.  Massa         Sauber-Petronas   (B)    14.438  10
 6.  Coulthard     McLaren-Mercedes  (B)    24.069  54
 7.  R.Schumacher  Williams-BMW      (M)    24.312  22
 8.  Irvine        Jaguar-Cosworth   (M)    24.400  43
 9.  Villeneuve    BAR-Honda         (B)    24.580  20
10.  Button        Renault           (M)    24.850  59
11.  Raikkonen     McLaren-Mercedes  (B)    24.877  49
12.  Heidfeld      Sauber-Petronas   (B)    25.035  28
13.  Raikkonen     McLaren-Mercedes  (B)    25.121  27
14.  M.Schumacher  Ferrari           (B)    25.251  26
15.  Montoya       Williams-BMW      (M)    25.488  24
16.  M.Schumacher  Ferrari           (B)    25.569  48
17.  Massa         Sauber-Petronas   (B)    25.632  27
18.  Webber        Minardi-Asiatech  (M)    25.667  47
19.  Trulli        Renault           (M)    25.697  21
20.  Salo          Toyota            (M)    25.795  25
21.  Webber        Minardi-Asiatech  (M)    25.819  24
22.  Yoong         Minardi-Asiatech  (M)    25.996  20
23.  Irvine        Jaguar-Cosworth   (M)    26.040  21
24.  Trulli        Renault           (M)    26.230  46
25.  Button        Renault           (M)    26.501  20
26.  Salo          Toyota            (M)    26.520  44
27.  de la Rosa    Jaguar-Cosworth   (M)    26.551  24
28.  de la Rosa    Jaguar-Cosworth   (M)    26.552  39
29.  R.Schumacher  Williams-BMW      (M)    26.612  44
30.  Panis         BAR-Honda         (B)    26.660  20
31.  McNish        Toyota            (M)    26.665  45
32.  Coulthard     McLaren-Mercedes  (B)    26.795  28
33.  de la Rosa    Jaguar-Cosworth   (M)    26.908  56
34.  Heidfeld      Sauber-Petronas   (B)    27.059  49
35.  Yoong         Minardi-Asiatech  (M)    27.229  43
36.  Button        Renault           (M)    28.103  44
37.  Montoya       Williams-BMW      (M)    29.135  43
38.  McNish        Toyota            (M)    31.549  24
39.  Panis         BAR-Honda         (B)  1:39.131   1


The French Grand Prix, Lap by Lap
Michael Schumacher decides to race in his spare car deciding that it is handling better than his regular race car. Before the parade lap begins there is a problem for Rubens Barrichello. His car is left on the jacks and a Ferrari mechanic takes away the rear jack very close to the 15 second limit. The Ferrari is pushed into the pitlane but never starts the race.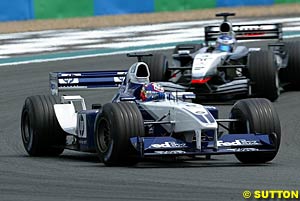 Lap 1: Felipe Massa anticipates the start in dramatic fashion, going from 12th on the grid to seventh place. At the front Juan Pablo Montoya takes advantage of his pole position to go into the lead, chased by Michael Schumacher, Kimi Raikkonen, Ralf Schumacher, David Coulthard and Jenson Button. Then comes Massa, Jarno Trulli, Eddie Irvine, Nick Heidfeld and Mika Salo. There is a contretemps in the midfield at the first corner when Olivier Panis and Takuma Sato collide and go off onto the gravel trap. Pedro de la Rosa also goes off in avoidance. Panis pits at the end of the lap to get a new nose section for his BAR. At the end of the lap Montoya is ahead by 0.4 sec with Raikkonen right behind Michael Schumacher.
Lap 2: At the hairpin Michael Schumacher tried to pass Montoya. He is pushed wide and Raikkonen tries to go inside the Ferrari to take second place. Schumacher cuts off the Finn as they dive into the Nurburgring corner.
Lap 3: The order is the same except that Alex Yoong drops from 15th to 17th being overtaken by de la Rosa and Sato, both recovering after the first lap incident.
Lap 7: Montoya is still ahead of Schumacher and Raikkonen but there is then a gap back to Ralf Schumacher, Coulthard and Button. Massa goes into the pits for a drive-through penalty for jumping the start. He falls from seventh to 15th place. As he exits the pits he drives across the white line and gets another drive-through penalty. Yoong has a spin.
Lap 10: Massa comes in for his second penalty and loses 15th place to Sato.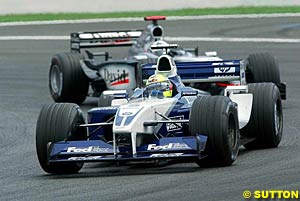 Lap 11: The gap between Montoya and Michael Schumacher goes out to one second for the first time.
Lap 12: Michael brings the gap back under one second.
Lap 13: Montoya opens up the gap again.
Lap 20: The pit stops begin with Button and Jacques Villeneuve coming in for new tyres. At the back of the field Yoong and Panis also pit.
Lap 21: Trulli and Irvine pit and Heidfeld moves to sixth place.
Lap 22: Ralf Schumacher stops and falls behind Coulthard as a result.
Lap 24: Montoya pits and Michael Schumacher goes into the lead. Montoya rejoins fourth. Further back Allan McNish, Mark Webber and de la Rosa all pit. Takuma Sato almost collides with de la Rosa and goes off, ending Jordan's involvement in the race.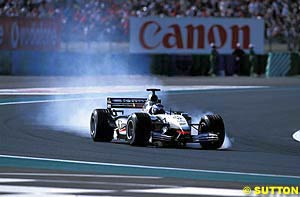 Lap 25: Michael Schumacher sets the fastest lap of the race and pulls over a second clear of Raikkonen. There is then a two second gap back to Coulthard. Montoya is fourth with Ralf Schumacher fifth and Heidfeld sixth. Mika Salo pits and drops from ninth place to 12th.
Lap 26: Michael Schumacher pits and so Raikkonen takes the lead. Michael rejoins behind Coulthard but ahead of Montoya. As he rejoins he drives over the white line at the pit exit.
Lap 27: Raikkonen pits, putting Coulthard into the lead. In the midfield Massa pits and falls from 10th place to 14th.
Lap 28: Coulthard pits and falls behind Michael Schumacher, Montoya, Raikkonen and Ralf Schumacher. Heidfeld also pits and so Button goes back into sixth place ahead of Trulli, Irvine and Heidfeld.
Lap 30: Schumacher has managed to build his lead over Montoya to just over five seconds and it is clear that Montoya is not as fast as earlier in the race. At the tail of the field Panis goes into the pits and retires.
Lap 35: Michael Schumacher has built his lead to more than eight seconds when he comes into the pits for a drive-through penalty. This means he drops behind Montoya and Raikkonen, who are running nose-to-tail.
Lap 36: Villeneuve's BAR-Honda suffers an engine failure and retires from 10th place.
Lap 39: De la Rosa has his second stop but maintains his 14th place.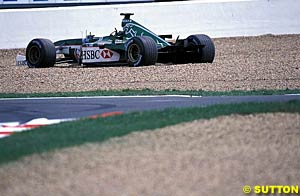 Lap 43: Montoya pits and so Raikkonen takes the lead again. Montoya rejoins in sixth place. Irvine also pits but is able to hold on to his eighth place.
Lap 44: Fourth-placed Ralf Schumacher and fifth-placed Button both pit. When Ralf comes out of the pits he crosses the white line. Also pitting is Salo who falls back from 10th to 13th.
Lap 46: Trulli pits and falls from sixth place to seventh, allowing Button back into the points.
Lap 47: Webber, who is running 10th pits for the second time.
Lap 48: Michael Schumacher pits and falls behind Coulthard. Ralf comes in for his drive-through penalty but does not lose a place. Massa also pits again but this time retires with a mechanical problem.
Lap 49: Raikkonen pits again and so Coulthard goes back into the lead again. Heidfeld also stops again.
Lap 50: Trulli goes out with a mechanical problem. This puts Irvine up to seventh place. At the same time Salo goes out with a fiery engine failure. Massa pits again and retires as he tries to rejoin.
Lap 53: Irvine loses his rear wing as he goes down towards the hairpin. He spins into the gravel trap.
Lap 54: Coulthard pits for the last time. Raikkonen goes back into the lead but Schumacher is right behind him. Coulthard is third but he has crossed the white line at the exit of the pits. The two Williams-BMWs have dropped back, unable to match the pace of the cars ahead. Button remains sixth. A lap down is Heidfeld, Webber, de la Rosa and McNish while Yoong continues to circulate at the back of the field.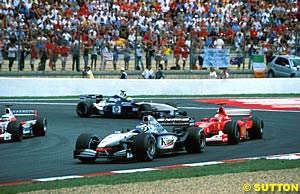 Lap 56: De la Rosa has a third pit stop and loses ninth to McNish.
Lap 59: Coulthard goes in for his drive-through penalty. Button stops for a third time but stays sixth.
Lap 61: Coulthard sets the fastest lap of the race as he tries to catch up.
Lap 62: Coulthard sets a second fastest lap but he is too far behind to be able to threaten the two leaders, battling for the win.
Lap 68: McNish goes out with an engine failure at the hairpin. Raikkonen arrives and goes wide allowing Michael Schumacher to go inside him and take the lead.
Lap 72: Michael wins the race and his fifth World Championship, equalling the record set in the 1950s by Juan Manuel Fangio. He also beats Carlos Reutemann's record of consecutive points finishes - this being his 16th consecutive finish in the points. Ferrari celebrates.