---
The F1 FAQ
---
By Marcel Schot, Netherlands
Atlas F1 Magazine Writer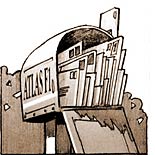 Have a question about Formula One statistics or history? Well you're not the only one, and it's about time someone came up with the answers to F1's most Frequently Asked Questions. Send us your questions to faq@atlasf1.com - we may not know everything, but we'll do our best to find out
"Would you know which constructor has led for the most laps in Grand Prix History? Thanks in advance, Sylvie"
Here are the top 5:

Ferrari       9535
McLaren       7671
Williams      7009
Lotus         5502
Brabham       2719

"Can you please tell me how much liquid does an F1 driver lose during a race? thanks, Azhar"
That depends on the weather. When it's very hot, drivers lose more body fluids and thus have to drink much more. In general, drivers lose anywhere between 2 and 4 litres of liquid during a race.
To make up for this, they drink about 1 litre during the race, as well as 1.5 litres before the race, going to the toilet at the latest possible moment - mostly after they parked the car on the grid. This is of course done to prevent any discomfort during the race. However, it can cause some occasional discomfort before the race, as David Coulthard found out two years ago at Imola. He was so anxious to start the race, that he accidently left his earplugs in the toilet after a last minute visit.
"I am a student doing research into Formula One. I need to find out where I can find team budget figures, on a yearly basis, from 1990 to 2001. Per"
The budgets are published by Eurobusiness Magazine, which is owned by Bernie Ecclestone. Unfortunately these don't go as far back as 1990. All figures below are estimates, and appear in million US dollar

Team         2002    2001    2000  
Ferrari      302.4   284.4   239.6 
McLaren      287.8   274.6   224.8 
Renault      255.8   181.0    92.3 
Toyota       238.4   -       -     
BAR          235.4   194.5   191.0 
Williams     230.0   193.0   143.1 
Jaguar       211.8   177.4   168.2 
Jordan       190.0   172.9   103.6 
Sauber       104.4    82.7    71.8 
Minardi       83.5    47.0    55.2 
Arrows        50.0    73.7    43.5 

"When did Michael Schumacher win his first qualification and who has won the most qualifications in one season? Thanks, Janek"
Michael Schumacher scored his first pole position in the 1994 Monaco Grand Prix. Coincidence or not, but this was the first qualifying session for the German without Ayrton Senna. In the first session on Thursday, Schumacher destroyed the opposition by driving 1.3 seconds faster than Martin Brundle in the McLaren. Mika Hakkinen, also in a McLaren, finished third a whopping 1.6 seconds behind Schumacher. In the Saturday session things went a lot quicker and at one point Hakkinen got very close to Schumacher's time. However, in the final flying lap, Schumacher further improved and finished nearly a second ahead of Hakkinen.
The most number of pole positions in a season have been achieved by Nigel Mansell in 1992. In the extremely dominant Williams, he scored 14 poles in 16 races. In Canada, Mansell was beaten by Ayrton Senna, and in Hungary by his teammate Riccardo Patrese.
"Could you kindly help me identify what kind of helmet Mika Hakkinen wore for the 2001 season? I know he used to wear Arai helmets, but last year's looked so different. Thanks in advance for the info. Cheers, Mon"
You're absolutely right. Last year Mika used Bell helmets. Here's a list of who used which make in 2001 and 2002:
Schuberth: Michael and Ralf Schumacher, Heidfeld;
Bell: Hakkinen, Button, Enge, Bernoldi, Salo, Panis, Villeneuve, Mazzacane, Gene;
Arai: de la Rosa, Verstappen, Raikkonen, Barrichello, McNish, Coulthard, Montoya, Frentzen, Zonta, Yoong, Sato, Burti, Webber;
Bieffe: Trulli, Alonso, Fisichella, Irvine, Marques, Massa
Shoei: Alesi.



"Hello, I'd like to know in which year BMW scored its first F1 win as an engine supplier and with which team that was. Thanks a lot, Megamoi"
BMW's first victory came in 1982, when Nelson Piquet won the Canadian Grand Prix in a Brabham. At the 1981 British Grand Prix, Piquet had given the BMW engine its first outing in the second qualifying session. With the BMW turbo engine, Nelson was still half a second slower than with the normally aspirated Ford Cosworth powerplant, and the BMW engine didn't return until the start of the 1982 season. However, at the 1982 South African Grand Prix the team was plagued by so many engine problems that they reverted back to the old Ford engines for the Brazilian and US-West Grands Prix.
The BMW engine made its return at the Belgian Grand Prix, and Piquet finished fifth to score its first points. For the next races, Piquet's teammate Ricardo Patrese went back to the old Ford, while Piquet carried out the development of the BMW.
Two horrible races followed for the Brazilian. First at Monaco, where he retired with a broken turbo, and then at Detroit, where the reigning World Champion didn't even qualify. Then a week after Detroit, his luck changed. At the Canadian Grand Prix, Piquet led for the largest part of the race, cruising home 13 seconds ahead of Patrese and over a minute ahead of McLaren driver John Watson.
"I want to know which F1 driver has raced for the most teams? Margus"
In the old days switching teams was for some drivers more of a day to day business than a season to season thing. When looking only at World Championship races, Maurice Trintignant is the record holder, as he races for 11 different entrants (Ecurie Rosier, Equipe Gordini, Owen Racing Organisation, Rob Walker Racing Team, Scuderia Centro Sud, Reg Parnell Racing, Scuderia Serranissima, Ferrari, Vanwall, Bugatti and David Brown Corporation).
Of modern day drivers, Andrea de Cesaris switched the most. The Italian drove for no less than ten teams (Alfa Romeo, Brabham, Tyrrell, Ligier, Rial, Dallara, McLaren, Minardi, Jordan and Sauber).
"What were New Zealand's national racing colours officially? Brett"
National colours have never been extremely consistent, but from what I could find, New Zealand used to be black with a silver stripe. That were the colours Bruce McLaren's team initially ran in, until Bruce decided that he liked orange better.
"What is the most usual - or shall I say the best way to enter into F1? Is it through Karts at a young age, then some junior championship (Which one), and then what is the next step?? Nakul"
When looking at the current drivers, it's almost 22 drivers and 22 different paths to Formula One. However, the tendency lies towards a path through karting > Formula Ford > Formula 3 > Formula 3000 > Formula One.
A few drivers have done some things outside that path, most notably Michael Schumacher, who instead of Formula 3000 drove in Sportscars and touring cars. Only a couple of drivers didn't drive karts and thus started their racing career relatively late.
Recently we have a few drivers (Jenson Button, Felipe Massa and Kimi Raikkonen) who skipped some classes, so to say. Button's career went from karting to Formula Ford, Formula 3 and then straight into Formula One, while Kimi Raikkonen's story is probably one of the fastest you're ever going to encounter. Young Kimi was still in karting in 1999. After that he did one season of Formula Renault in 2000, and then into Formula One the next year.
"In which Grand Prix did Mika Hakkinen and David Coulthard start as teammates for the first time? Ekaterina"
That's a long time ago, in the 1996 Australian Grand Prix. Mika had been a McLaren driver since 1993, when he started as test driver but eventually replaced the failing Michael Andretti. David joined the team in 1996, when Jacques Villeneuve was signed at Williams to drive together with Damon Hill.
---
© 2007 autosport.com . This service is provided under the Atlas F1
terms and conditions
.
Please
Contact Us
for permission to republish this or any other material from Atlas F1.