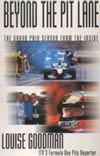 If your coverage of F1 comes courtesy of ITV, you'll be more than familiar with Louise Goodman. Indeed, if something seems a little odd about the 2001 season, it's the absence of ten-second interviews during the race that almost invariably seemed to end with the words "oh well, bad luck Johnny!". For those who have no idea what I'm talking about, Goodman is ITV's pit lane reporter, whose role is basically to accost drivers whose race has come to a premature end and try to get a few words from them. (Usually, something to the effect of "It's too bad, the car was feeling really good up until that point but I'm sure we'll have it all sorted out and I'm confident about the next race").

So now she has written a book. A behind-the-scenes, insider's view, words-from-the-inner-sanctum type of book. There have been a few of these before, and after a while it becomes difficult to tell one from the other. The people that write these 'what's F1 really like' books seem to follow a very simple formula, and 'Beyond the Pitlane' continues a tradition that can be roughly summarised as follows:

1. Never, ever say anything that might offend an F1 'insider'. You might need to interview them some day.
2. Plan the book out to follow the course of a season. Presto, the whole question of 'where the hell is this thing going' takes care if itself instantly.
3. Go through the archives of some photo agencies and pick some generic shots to slap into the middle. Readers love photos.
4. Use lots of adjectives. They make the whole thing sound more literary, somehow.


Don't get me wrong. This book is not necessary bad, it's just...bland. Far too much space is devoted to recounting the 2000 Championship as it was played out, and the problem that this presents should be obvious. If you are reading the book, chances are that you like Formula One. In which case, you'll have almost certainly followed the 2000 season, at the very least. In which case, you don't need someone to tell you all about it all over again just a few months later, especially if you are paying for the privilege.

In the past, there have been complaints from non-British viewers about the pro-British slant inherent in ITV's coverage. If that sounds like you, then you're probably not going to enjoy this book a whole lot either. When Formula One goes into battle, Coulthard, Irvine, Button, and Herbert are very much portrayed as Goodman's knights in shining armour. Take this example from the chapter about the French Grand Prix. Goodman has just finished describing Schumacher's heavy-handed move on Coulthard.
"Revenge, however, would be sweet. Six laps later Coulthard turned the tables, with a similarly aggressive manoeuvre on the German. This time Coulthard held his ground and the two touched wheels in the heat of the stand-off before Schumacher eventually yielded. It made for compelling viewing and I almost let out a yelp of delight as I watched David take the lead. Thankfully I remembered just in time that I was standing with the Ferrari mechanics, who would not have appreciated the gesture. I adopted a suitably similar demeanour as I made my way out of the garage, then I popped next door to McLaren and celebrated there instead." (p.145).
Anyhow, there's no point going into Goodman's description of the season. We all watched it, we all know what happened. So how about the behind-the-scenes stuff? Truth be told, there isn't much in this book that you wouldn't have heard about already. These books tend to consider anything that is issued on a press release as 'inside information', despite the fact that most of it eventually makes its way into the public arena anyway. After all, that's what press releases are for. And this book leans far too heavily on material that we have already heard about. Drivers explaining why they weren't on pole for a particular race. Team principals talking about how their drivers have equal equipment. Journalists talking about how small the hotel rooms in Japan are.
A further difficulty that I had with 'Beyond the Pitlane' was that Goodman tends to take everything that someone says in an interview or media conference at face value, and the overall picture of the Grand Prix world that emerges is consequently too superficial to be really informative. Goodman presents a very clean, Bernie-approved depiction of Formula One that does little to spice up a book so desperately in need of some extra paprika. I'm not asking for the author to sit there and sledge the sport left, right, and centre, but a little independent thought, good or bad, wouldn't go amiss.
If you come across this book in the local library, by all means have a look, but I'm struggling to think of any reason to recommend buying it. It's a bit like watching one of those cheesy American sitcoms - a pleasant enough diversion, but you're not going to get much out of it at the end. If you are relatively new to the sport and you're keen to see what lies beneath the surface in Formula One, there are far better places to start - try Richard Williams's 'Racers' or Steve Matchett's 'A Mechanic's Tale'.