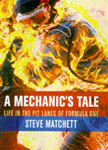 I would be amazed if those who have read this column more than a couple of times are not thoroughly sick of hearing me talk about my fascination with the less visible aspects of Formula One - things like design, construction, the various duties carried out by different team members, or the operation of a team factory. Stuff that is 'behind-the-scenes' in a literal sense (as opposed to 'what Damon did on his day off').

It is no great surprise, therefore, that I was really looking forward to reading 'A Mechanic's Tale'. I don't think that enough is written about those with the less 'glamourous' jobs in Formula One, so a book that contains an insider's account of life as a Formula One mechanic is naturally going the be the cause for a mild celebration (cue: Mark walks to the refrigerator and opens a beer).

In 'A Mechanic's Tale', Steve Matchett takes the reader through the ten years he spent working for Benetton, during which the team picked up the Drivers' Championship with Michael Schumacher in 1994, and swept the awards one year later when Schumacher repeated his feat, while the team won the Constructors' Championship. While their present form gives Benetton fans little to get excited about, this book gives the reader a chance to relive the most successful years of the team's history through the eyes of somebody who was helping to make it all happen.

Having enjoyed the articles that Matchett has had published in the Formula One press over the past couple of years, I went into this book with very high expectations. While 'A Mechanic's Tale' didn't quite manage to live up to them, it was certainly not a major disappointment. Matchett has an easy, highly narrative style of writing that makes it easy to imagine that you are standing next to him in a pub somewhere, leaning up against the bar and nursing a pint of Boddingtons.

This makes for a very reader-friendly book, however the writing seems to get almost a little too loose on occasions. There are definitely a few passages where a little more attention from the editor would not have been a bad thing. The same is also true of the grammar and punctuation, which gets a little rough on one or two occasions. This is not a major problem though, and unless you are really looking for the errors they would probably slip by you unnoticed.

There were also a few spots where Matchett reminded me of someone who has just got a new Swiss Army Knife, and they are determined to use every single tool it contains for every job possible, even if it may not be the most practical method available. Matchett writes with obvious enthusiasm, however he seems to utilize every writing trick he knows, irrespective of how well it fits in with the general feel of the book.

An example of this is the little sequence of phrases which introduce each chapter. This was quite popular years ago, but seems rather odd in a book about something as modern and high-tech as Formula One. There is nothing actually wrong with using them, but to me they just didn't seem to fit the rest of the book. This is also true of the quotes from Lewis Carroll's 'Through the Looking Glass' which are sprinkled throughout - after a while I was half expecting to turn the page and encounter a hobbit strolling down the pitlane.

Matchett's eye for detail is nothing short of amazing. His habit of keeping track of things like his different wages at his various jobs, and the responses that he received from Formula One teams when he was trying to break into the sport makes for really interesting reading. I particularly enjoyed following his progress (and occasional lack of it) as he tried to get a foot in the Formula One door. Anybody with aspirations to join the circus themselves would do well to have a look at 'A Mechanic's Tale', if only to get some idea of the kind of persistence which is required. It also might serve as a bit of an inspiration - I imagine that many of us would find it easy to identify with Matchett as just a 'regular person', so this book could stand as proof that you can get what you want if you are prepared to work for it.

The highlights for me were the descriptions of day-to-day life as a mechanic in Formula One. Life both in the factory and on the road with the race team is described in a way that gives the reader a good sense of what working in Formula One is really about (apparently, sleep deprivation plays a great part in it). Personally, I was happy to hear that taking part in a pitstop really is as terrifying as it looks. I'd hate to think that those guys can stare down a rapidly approaching Formula One car without their hearts being in their throats. I'd be cowering somewhere.

The fact that you do not have to be a devoted Benetton or Schumacher fan to really enjoy this book says a lot about Matchett's efforts. 'A Mechanic's Tale' would make an excellent companion for those early morning train trips to work, irrespective of whether you are a seasoned Formula One observer or a recent convert. Matchett has a couple of odd ideas - the suggestion that Formula One should do away with drivers and be completely about technology is one, although I think - hope - that the author has his tongue planted firmly in his cheek. Can you imagine a more effective way to convert the millions of Formula One fans worldwide to ChampCars overnight?

Nonetheless, this is an enjoyable, easy read that I'd imagine would leave the vast majority of Formula One fans happy. If you want to know what it's really like to work with Michael Schumacher, or to win a World Championship, or even how it feels to be the proud owner of the world's most expensive drawer dividers, then this is a book you should read.