---
The F1 FAQ
---
By Marcel Schot, Netherlands
Atlas F1 Magazine Writer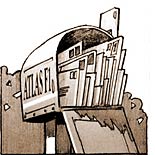 Have a question about Formula One statistics or history? Well you're not the only one, and it's about time someone came up with the answers to F1's most Frequently Asked Questions. Send us your questions to faq@atlasf1.com - we may not know everything, but we'll do our best to find out
"What is the name of the piece of music played during the podium celebrations and afterwards? Thanks, Stuart."
Well, this has been a question that has been actually boggling my mind for a few months. However, the answer finally arrived. It's a part from Georges Bizet's opera Carmen. It's actually the start of the opera, the prelude to Act One called "Les Toreadors". Bizet lived from 1838 until 1875. The opera's first performance was in Paris on 3 March 1875, exactly three months before Bizet died.
"Approximately how many tyres will an F1 race team use during a full Grand Prix weekend. Regards, Phil"
This is actually strictly governed by the FIA's technical regulations. These state, in rule 79a, that "During the event no driver may use more than forty dry-weather tyres and twenty eight wet weather tyres". The rules continue to say that of the 40 dry weather tyres, 12 are reserved for the first day of practice and may not be used during the rest of the weekend. Qualifying is also limited to 16 tyres, but these may be used during the rest of the weekend if the team wishes to do so. This all means that, in theory, a team could use as many as 136 (40+28 times 2) tyres per weekend.
"I'm trying to figure out something about F1 history and I hope you can help. Is it true that Nigel Mansell placed second in the 1991 Monaco Grand Prix on the last lap due to an electronics or computer glitch in his car one of the first to sport an 'active suspension' system, which allowed Ayrton Senna to catch him from behind to win? What happened at Monaco that day? Brian"
The race you're referring to is actually the 1992 Monaco Grand Prix. Mansell had been in control all weekend and the race was no exception. He ran away from the rest of the field by over a second per lap, right from the start. Halfway through the race, he was leading comfortably by well over twenty seconds. Another ten seconds were added to this lead when Michele Alboreto spun right ahead of second placed Ayrton Senna. All was settled then and Mansell was heading home yet another victory, maintaining his unbeaten status in the season.
However, on lap 71 the Briton nearly lost his car coming out of the tunnel. The problem soon became clear, as the Williams was running on three wheels. With one of his tyres punctured, Mansell made his way to the pits. Four new tyres were fitted and with seven laps to go, Nigel emerged from the pitlane five seconds behind Senna. Still Mansell didn't give up. In no time at all, he was right behind the McLaren, but whatever he tried, nothing would get him past Monaco specialist Ayrton Senna. When the two crossed the line for the final time, just 0.215 of a second separated them.
"During this season (2001) there seemed to be a lot of driver changes due to injury and/or team changes. How many were there and when were there similar seasons in the past? Ken"
There indeed have been many driver changes this past season. A little recap shows:
Prost hired Luciano Burti instead of Gaston Mazzacane. Burti thus leaves Jaguar and is replaced by Pedro de la Rosa;
Jordan had Ricardo Zonta replace Heinz-Harald Frentzen twice;
Prost and Jordan swap Frentzen and Jean Alesi;
Minardi hire Alex Yoong to replace Tarso Marques;
Prost hire Tomas Enge to replace the injured Burti.
That makes it 29 driver/team combinations for 22 seats.

Compared to the last ten years, you can see quite clearly when things have changed.

         Active    Driver/team    Available 
Year    drivers   combinations      seats
2001       26          29             22
2000       23          23             22
1999       24          25             22
1998       23          23             22
1997       28          29             24
1996       24          24             22
1995       35          35             26
1994       46          52             28
1993       35          35             26
1992       37          38             22

Even though the rules regarding the use of drivers have been the same for a long time now, the FIA effectively stopped giving everyone and anyone a superlicence after this got quite a bit out of hand in 1994 and to a lesser extent 1995. The moving around of drivers towards the end of 1994 made things look ridiculous at times. Johnny Herbert, for example, raced for three different teams in three consecutive races, while no less than three teams used six drivers (Larrousse, Lotus and Simtek). However, the reasoning behind the driver changes was very different in 1994 when compared to 2001. In 1994 three drivers were banned for one or more races (Eddie Irvine, Michael Schumacher and Mika Hakkinen), while no less than seven drivers were injured for one or more races or even killed (Pedro Lamy, Alex Zanardi, Ayrton Senna, Roland Ratzenberger, Andrea Montermini, Karl Wendlinger and Jean Alesi). These two reasons rarely happen anymore these days thanks to changed regulations.
"I'd like to know when was BMW first presence in Formula one. Some say it was in 1952. BMW: Bayerische Motoren Worke. FIRST GP START German GP 1952. ACTIVE YEARS 1952-1953,1969 and then 1982-1986, 2000 to........ But some told me it was 1982 with the turbo. Who to believe? Glenn"
This is a somewhat complicated answer. The World Championship in 1952 and 1953 was actually run to Formula Two regulations. This happened because when Alfa Romeo pulled out after 1951, there was only one team able to build a proper Formula One compliant car: Ferrari. Simply put, the race organizers didn't feel at all like making the season a Ferrari show with little to no competitors in other makes on the grid. This made the championship races interesting for local heroes too and thus it happened that a huge field of cars started the 1952 German Grand Prix. Beside the usual attendees, there were as much as 15 local entrants, almost all of them in cars with BMW 328 engines. So that's the first time BMW turned up in the Formula One World Championship, albeit without factory support.
However, these weren't proper Formula One entries. That changed in 1954, when former Mercedes test driver Hans Klenk entered a BMW-powered Veritas for the German Grand Prix, which was being driven by Theo Helfrich. This ofcourse was yet another private entry, as was Hubert Hahne's Lola in the 1967 and 1968 German Grands Prix. The first factory supported BMW engine in a Formula One car was entered in the 1981 British Grand Prix, where Brabham driver Nelson Piquet first tested the 1982 engine in a race situation. As of 1982 BMW officially entered as a Formula One engine supplier.
So to cut a long story short, there's something to say for both answers. In the 50s and 60s BMWs were used in Formula One, but BMW as a factory first entered in 1982 (or actually that one race in 1981).
"What would be the amount of G forces when drivers brake at high speed? Does braking late at corners like Schumi and braking late generate different G forces? Venu"
Under heavy braking, drivers can experience forces in excess of 5G. That's five times your body weight trying to pull you through your seatbelts! The answer to your second question is yes for the very simple reason that the later you brake, the harder you have to brake to still make it through the corner.
---
© 2007 autosport.com . This service is provided under the Atlas F1
terms and conditions
.
Please
Contact Us
for permission to republish this or any other material from Atlas F1.