Leaving Silverstone, Formula One moves across the English Channel to the spiritual home of motor racing in Spain: Barcelona.
The Circuit de Catalunya is the third circuit in the Barcelona area to host the Spanish Grand Prix, the other two being Pedralbes and Montjuich Park. Sunday's race will be the 10th Spanish Grand Prix to be held at Catalunya.
However, Formula One is not the most popular motorsport in Spain - motorcycling is. Barcelona was the hub of the once thriving Spanish Motorcycle industry where legendary Spanish motorbikes including Bultaco, Montesa and Ossa were built. Because of this, the Circuit de Catalunya was designed to be a great track for racing motorbikes as well as Formula One cars so it flows more than most modern Grand Prix circuits.
At 4.728 Km, the Circuit de Catalunya is average in length and is one of the faster Grand Prix circuits. The circuit is one of the best modern European circuits with one of the longest straights in Formula One, several changes in elevation and a mixture of high, mid and low speed corners. The Circuit de Catalunya also uses the "Zandvoort Formula" to create an overtaking opportunity at the slow Elf corner that comes after the long pit straight and the fast turn 13. Nevertheless, last year's Spanish Grand Prix was a procession. But at Interlagos and Silverstone we saw that bold overtaking moves can be made more easily in the 2000 Formula One cars than in last year's cars, so maybe the 30th Spanish Grand Prix will reward Formula One fans with some spectacular racing.
Catalunya is a circuit where it isn't possible to make an uncompetitive car perform better than it should but it is easy to make a competitive car perform worse than it can. BAR's Race Team Manager Ron Meadows, explains: "Aerodynamic efficiency is particularly important here, and you also have to consider the surface undulations, which can upset a car's handling. It's a circuit where Formula One cars generally suffer with understeer problems because the left front corner is particularly heavily loaded, so the aim will be to neutralise that tendency as much as possible."
Williams driver Ralf Schumacher provides a driver's perspective, saying: "The Circuit de Catalunya boasts a mix of high and low speed, long and short corners especially turn three, a 180 degree fourth gear corner with an exit speed of around 160 mph. You also have to find the correct turn-in point to generate the highest speed through the corner, but at the same time you must take care of the left front tyre. The track has a high grip surface and generally is hard on tyres. Traction is also an important factor with no fewer than six corners being taken in second gear." Ferrari's Rubens Barrichello adds that, "You have to change the set-up of the car all the time according to the wind. It can be a real problem, especially if its gusting in qualifying."
What kind of a driver wins at Catalunya? This is one of the few circuits where Ayrton Senna never won a Grand Prix while his nemesis, "Le Professor" Alain Prost, won here and finished ahead of Senna in the two races they both competed. It is not so much a question of who is fastest, it is more a question of who has the best race strategy. "When the racing gets very close, you have to be able to take advantage of any small opportunities that may arise in the race to gain an advantage," Ferrari's Michael Schumacher explains. "For example, to make a pit stop a bit earlier or later than planned or even to change the pit-stop strategy itself."
Pitstop and tyre strategies
Attrition is generally low at this circuit. Fifteen cars finished at Catalunya in 1995, 1997 and 1998, 13 finished in 1999 while only six cars were running at the end of the wet 1996 race. In last year's race the most common mechanical problem was transmission failure. Sunday's race is likely to be won or lost by tyre and pit-stop strategy. Bridgestone Motorsport's Technical Manager, Yoshihiko Ichikawa, stated that, "Barcelona is one of the most severe circuits on the calendar."
"The track is quick but the surface is very abrasive," Ichikawa explains. "The middle-to-high-speed corners, together with the consistent high speeds and harder braking into the few slow corners, tend to cause increased tyre degradation. Normally the teams opt for a two-stop strategy in Barcelona."
In last year's race, all of the finishers opted for a two-stop strategy apart from the Benetton team and Arrows' Pedro de la Rosa who each had three stops. The timing of the pit-stops will be just as important for optimal tyre performance as the number of stops. Teams on a 2-stop strategy pitted between laps 21-27 and 41-50, while those on a 3-stop strategy also pitted between laps 31-35.
The Circuit de Catalunya has a fairly long pit-lane and with the slower pit-lane speed-limits this year, it is less likely that teams will choose a 3-stop strategy on Sunday.
In last year's race most teams opted for the Medium tyre. This year, Bridgestone will again offer the teams a choice of soft or medium compound tyres, but the tyre manufacturer expects that most teams will select the soft compound, which they believe is best suited to the hot track conditions at Catalunya.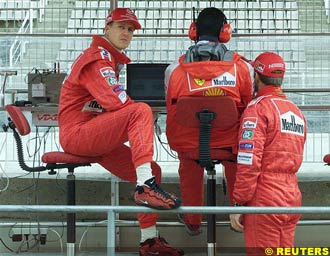 "At present the ambient temperature at the circuit is increasing, which means that lap times were slower last week compared to winter testing," Ichikawa concludes. "In these warmer conditions, even a softer rubber tends not to degrade as much as it would do in the cold. For this reason, we expect the drivers who have found a good car set-up to choose the Soft compound."
The Teams
Ferrari still leads the constructors' championship by 19 points. Ferrari has only won the Spanish Grand Prix once at Catalunya, in the wet race of 1996, but their cars have always finished in the points, scoring a total of 45 points.
The World Championship leader, Michael Schumacher, is the most successful and consistent driver at Catalunya. He has competed in every Spanish Grand Prix at Catalunya and he has always finished in the points. Michael Schumacher won this Grand Prix twice, once for Benetton in 1995 and once for Ferrari in 1996. He was second in 1992 and in 1994, third in 1993, 1998 and 1999, fourth in 1997 and sixth in his Spanish debut in 1991. Schumacher set pole position in 1994 and 1995, and he also set fastest lap in 1993, 1994, 1996 and 1999.
"It's too early to start thinking about the Championship," Michael said earlier this week. "For sure it's nice to have a 20 point cushion over my closest rival, but right now I am only thinking about how to add to those points on a race-to-race basis, and the Championship will take care of itself."
Rubens Barrichello, slipped to 4th equal in the drivers' championship but he is the first teammate of Michael Schumacher to set pole position in a race that Schumacher has entered. Barrichello finished fifth in 1998 for Stewart and could have a podium finish this year. Barrichello was disqualified from last year's race after finishing 8th and his highest grid position was 5th in 1994 with Jordan.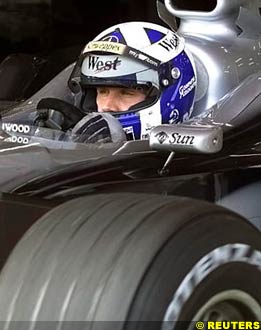 McLaren scored a total of 48 points at Catalunya and won the last two Spanish Grands Prix. In fact, 6 of the 9 Spanish Grands Prix held at Catalunya were won in cars designed by McLaren's Technical Director, Adrian Newey. It seems that they have improved the reliability of the Ilmor-Mercedes V10 but they had some lingering gearbox glitches at Silverstone which could recur at Catalunya. Last year's race strategy worked well with both drivers on two-stops. McLaren again need both cars to finish in the points to maintain their challenge for the constructor's title.
Mika Hakkinen is now third in the 2000 World Championship after picking up 6 useful points at Silverstone. Hakkinen competed in every Grand Prix at Catalunya except the 1993 race. He dominated the last two Spanish Grands Prix, winning both from pole position and setting fastest lap in 1998. Hakkinen also finished 5th in 1996.
Hakkinen is still looking for his first Grand Prix victory of the season and spent surprisingly little time testing last week at Catalunya. "People said that I would have been satisfied with second place on the podium but I'm not," Hakkinen said recently. "The reality is that we have yet to show our real form. I am always concerned about trying to do better. You only have to look at the results to know that I have not been having a good time."
David Coulthard is now second in the drivers' championship after his well-judged victory at Silverstone. Coulthard started his Formula One career at Catalunya and his best finishes were second in 1998 and 1999. Coulthard also finished sixth in 1997 after challenging for the lead in the first lap. His highest grid position was 2nd 1998. Coulthard is looking to consolidate his championship position at the Spanish Grand Prix.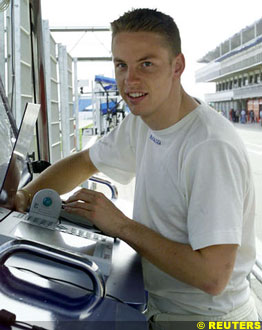 Williams are now third in the constructors' championship. Williams is the most successful team in the Catalunya races, winning five of the nine Grands Prix held on this circuit and scoring a total of 64 points. At least one Williams has always finished in the points.
Despite this, BMW Motorsport Director Gerhard Berger remains guarded. "This extremely good start in Formula One with the BMW WilliamsF1 Team achieving points in three races out of four, produced a very positive response at BMW, which strengthened our F1 crew even more. But we should not become too euphoric," the amiable Austrian said.
"We are proud of our current third position in the constructors' championship, but this does not change our aim. Our set goal is to repeat the fifth place which WilliamsF1 achieved in 1999. We will face harder times. The teams hot on our tail are not resting, which was evident during the latest test in Barcelona. From my time as a driver I remember more than well how difficult it is for a team to be consistently successful."
Ralf Schumacher is 4th equal in the drivers' championship. Ralf finished 5th in 1999 for Williams and his highest grid position was 9th in 1997 for Jordan. Ralf commented: "After our successful race weekend at Silverstone, I am quite optimistic about the Spanish Grand Prix. In an effort to be well prepared, the team completed a three-day test programme in Barcelona. Overall, the FW22 is getting better and better, and we are optimisticly looking forward to Barcelona."
Jenson Button is now 10th in the drivers' championship after his inspired drive at Silverstone. "I have been testing at the Circuit de Catalunya two days in preparation for next week's race and this was very valuable for me because I needed to accumulate some good mileage on this track, which I have no experience of, as I have never raced here before," Button stated and added that, "Given how good the FW22 feels, I'm quite excited about the Spanish Grand Prix. The demanding fast corners and a long high speed straight makes this race a real test but at the same time I love the atmosphere in Spain and this will help."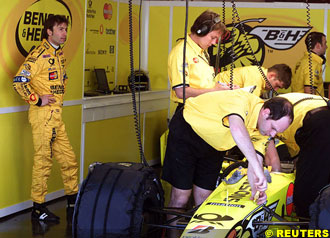 Jordan is fourth equal in the constructors' championship. However, this team has never gone consistently well at Catalunya and last finished in the points in 1995, when Eddie Irvine finished 5th. In fact, Jordan scored only 3 points at Catalunya. Furthermore, the EJ10 was not very competitive at Catalunya in February testing but showed an improvement in April.
After Silverstone, Heinz-Harald Frentzen concluded that, "Considering the fuel advantage I had, it was another clear indication that our car is still lacking around a second in speed against the Ferraris or McLarens." It was also clear at Silverstone that the Jordan EJ10 handles well in the wet but the unreliability of the Jordan gearbox does not bode well for a finish at Catalunya. Frentzen added: "We are working on a fix, going back to the system which proved so reliable last year, but it means a major re-work of the gearbox and we simply did not have enough time to do it for Silverstone."
Technical Director, Mike Gascoyne, who announced he will be leaving the team next year, is confident that Jordan's reliability will improve. "Looking purely at our performance in the British Grand Prix," he said, "I feel we have a car that can put us third in the championship, and retaining at least that position is our goal for this season. We have been disappointed over the past few races due to our reliability problems, and although we knew the cause and put an interim solution in place, that did not go as planned. Due to lead times we could only get the new parts we needed in time for this week's pre-Spanish Grand Prix test, but the results have been very encouraging with Heinz completing 91 trouble free laps on the final day alone." Jordan need both cars to finish on Sunday to kick-start their constructor's title challenge.
Both Jordan drivers are 8th equal in the drivers' championship. Heinz-Harald Frentzen was very unlucky to leave Silverstone empty-handed. Frentzen stated, "The team has been working very hard to cure the reliability issues, and this week's test was a good step forward. It's been frustrating for all of us to miss out on good points-scoring opportunities and we hope to get that turned around this week." Frentzen has not gone consistently well at Catalunya, his best finish was fourth in 1996 for Sauber and his highest grid position was 2nd in 1997 for Williams.
Jarno Trulli had a spirited drive at Silverstone.The Italian scored one point at Catalunya, finishing 6th in last year's race for Prost and his highest grid position was 9th, also in 1999. "After last year's performance I feel confident this time around," Trulli commented. "At Silverstone I managed to get a point from eleventh on the grid, so for Barcelona I feel it is important to qualify higher up the grid and start from the front in order to score even more points. Testing this week has been good and hopefully we will be able to put our reliability problems behind us and move closer to the top teams."
Benetton has slipped to fourth equal in the constructors' championship. Benetton did consistently well at Catalunya, scoring a total of 49 points and winning in 1995, but they were outclassed in last year's race. Benetton were quite competitive in February and April testing at Catalunya with both their drivers setting similar times.
Giancarlo Fisichella has slipped to 6th in the drivers' championship. Fisichella holds the race lap record at Catalunya, which he set in 1997 with Jordan. His highest finish was second in 1998 and his highest grid position was 4th in 1998. Alexander Wurz is still chasing his first points of the season. Wurz finished fourth in his Spanish Grand Prix debut in 1998 and his highest grid position was 5th, also in 1998.
BAR's fortunes took a turn for the worse at Silverstone and they remain 6th in the constructors' championship. Nevertheless, Race Team Manager Ron Meadows, remains positive: "We've had a good test in Barcelona this week and we know from last year's race, as well as from our testing results, that the Circuit de Catalunya suits our car. If we can achieve a good chassis balance and have sorted our reliability issues, then another points-scoring performance is certainly possible."
F1 Project leader and Managing Director of Honda R&D at Tochigi in Japan, Takefumi Hosaka, added that, "We were very satisfied with the performance of the new Honda RA000E engine at Silverstone. Although the rain did not allow the drivers to explore the full potential of the engine, it was encouraging to see the pace of both drivers and we were pleased that Jacques was comfortably able to keep ahead of the Ferrari in the race. We are confident that we have taken the right direction with the new specification and that we can now progress with the development schedule."
Jacques Villeneuve holds the qualifying lap record for Catalunya, which he set in 1997 for Williams. Villeneuve finished third in 1996, won in 1997 and finished sixth in 1998 for Williams. Villeneuve may be a key player in Sunday's race; in last year's race, he successfully fended off faster machinery as he did in the 2000 British Grand Prix.
While speculations raised that Villeneuve may not be fit to race on Sunday due to back injuries that he sustained in Brazil, BAR spokesman Graham Jones said the Canadian would definitely show up. "There is no question of him) missing the Spanish Grand Prix," Jones told Reuters. "He has gone off with his trainer to work on the problem and we are confident he will be OK."
Ricardo Zonta missed last year's Spanish Grand Prix due to his tendon injuries. Zonta has never raced at Catalunya but he has tested there often. "I like the Barcelona circuit because there are lots of high-speed corners," the Brazilian said. "It's a challenging track, and it is also one we know well because we have tested here quite a lot. Because of the high speeds, it is also a physically demanding circuit to race on - in fact, it is particularly hard on the neck. I really want to concentrate on improving my qualifying performance. It hasn't been too good so far this season, but if I can start higher up the grid, then there will be a better chance of achieving a points finish in the race."
Sauber is still seventh in the constructors' championship. Sauber scored 5 points at Catlunya with 4th and 5th place finishes in 1996 and 1997 respectively. Both Sauber drivers were very competitive in the February and April tests at Catalunya.
Pedro Diniz scored a single point at Catalunya in 1996, finishing sixth for Ligier. His highest grid position was 12th in 1999. Mika Salo has never driven a competitive car in the Spanish Grand Prix and, not surprisingly, he has never scored a point at Catalunya. His best finish was 8th for BAR in 1999 and his highest grid position was 12th in 1996.
Jaguar is one of four teams that have yet to score a point in the constructors' championship. As Stewart-Ford, they scored 2 points in the 1998 Spanish Grand Prix. The Jaguar R1 was not competitive in February testing at Catalunya but were faster in April.
Team Founder, Jackie Stewart, remained optimistic none the less, saying: "I admit that we've had a bad start to the season, but I'm convinced we will improve. Hopefully, we will see a big difference over the next three races. Our aim at the start of the season was to compete with everyone behind Ferrari and McLaren and that is still the case."
Johnny Herbert competed in eight of the nine Spanish Grands Prix held at Catalunya, missing only the 1991 race. Herbert's best finish was second in 1995 for Benetton and he was fifth for Sauber in 1997. His highest grid position was 7th in 1995 and 1998.
Herbert commented on Jaguar's progress: "The reliability is back, which is good. We've finished two races now, albeit not in the points yet, which is unfortunate. Hopefully we can now start developing the car and engine. We didn't have that chance before, because we were always in the pits. There are still a few little issues we need to fix, but it's more positive now than it was at the beginning of the year. The future is the main thing for Jaguar Racing."
Eddie Irvine finished sixth in 1994 and fifth in 1995 for Jordan and was fifth in 1996 and fourth in 1999 for Ferrari. Irvine's highest grid position was 2nd in 1999.
Prost scored seven points at Catalunya with Olivier Panis finishing second in 1997 and Jarno Trulli finishing 6th in 1999. Team Principal, Alain Prost, won the 1993 Spanish Grand Prix at Catalunya. The Prost AP03 was not competitive during February and April testing at Catalunya.
Jean Alesi competed in every Spanish Grand Prix at Catalunya. He finished in the points on six occasions: second in 1996 and third in 1997 for Benetton, third in 1992 and 1993, fourth in 1991 and was fifth in 1994 for Ferrari. Alesi's highest grid position was 2nd in 1995. Nick Heidfeld swept the board in the 1999 F3000 race at Catalunya, winning from pole position and setting fastest lap.
Arrows, as Footwork, scored 2 points at Catalunya when Michele Alboreto finished 5th in 1992. Both the Arrows cars finished last year's race. Arrows were very fast during February testing at Catalunya and were fast once again in April testing. Perhaps Arrows' aerodynamic development by Mike Coughlan and Eghbal Hamidy will finally pay off with a finish in the points on Sunday.
This is truly Pedro de la Rosa's home Grand Prix as this young Catalan was born and is still resident in Barcelona. De la Rosa holds the testing record at Catalunya for the 2000 season but he was classified 11th after qualifying 19th in last year's race. "I'm looking forward to this weekend," De la Rosa commented. "It's my home Grand Prix so obviously I want to improve on what happened at the British Grand Prix and get on with things. Small problems occur that don't help me but the team and car are good and I'll just keep working at it."
Jos Verstappen competed in three Spanish Grands Prix, his best finish was 11th for Tyrrell in 1997 and his highest grid position was 13th in 1996 for Footwork. Verstappen stated, "The car was running very well during the winter tests at Barcelona so I'm looking forward to it. The car performs well in the high speed corners at the Spanish Circuit, and I think we can do well there."
Minardi's finest hour at Catalunya was when Pierluigi Martini finished fifth in 1994. This is the home Grand Prix for Minardi's main sponsor Telefonica. The lack of horsepower in the Fondmetal engine was obvious during February testing at Catalunya. Marc Gene, the second Barcelona native in the field, did not complete a lap last year after qualifying 21st. Gaston Mezzacane did not finish the 1998 F3000 race at Catalunya. Their chances of scoring points on Sunday are slim.
My Predictions
Unless it rains, surprise results are unusual at the Circuit de Catalunya since teams test here so much. The April testing times at Catalunya may not reflect the true potential of Ferrari and McLaren as we don't completely know what the teams were actually testing. If it is dry, because of the aerodynamic demands of the Barcelona circuit, I'm going to pick McLaren, Ferrari and Williams as the top three teams with Arrows, BAR, Benetton, Jaguar and Sauber filling up the top half of the grid.
Starting grid:
Mika Hakkinen
Michael Schumacher
David Coulthard
Rubens Barrichello
Ralf Schumacher
Jacques Villeneuve
Pedro de la Rosa
Mika Salo
Jos Verstappen
Eddie Irvine
Giancarlo Fisichella
Alexander Wurz
The Spanish Grand Prix Preview in a Nutshell:
The Spanish Grand Prix is won or lost by tyre and pit-stop strategy. On Sunday, it may literally depend on which way the wind is blowing in Catalunya, but in the end it could hinge on who has the best tyres at the end of the 65 laps.