When Sarah Kavanagh fired up her Jordan 193 for a shakedown run at Donington Park last October, I felt as though the years of work and struggle had paid off. It was an open test day and there were all sorts of cars and drivers there. When the Jordan fired up everybody in the pit lane downed tools and came to watch this young woman go out in Barrichello's 1993 Formula One car.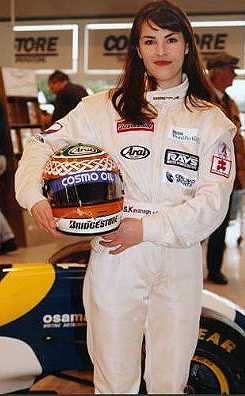 On the third lap, driving on the damp track on slicks, she came onto the pit straight, flying. There were about 100 people standing on the pit wall watching her. In sixth gear, flat out down the pit straight, in front of everyone, the back stepped out on a wet patch. She was right on it however, and corrected the fish-tailing car before nailing the anchors, executing a perfect 360. There was total quiet along the wall and the tension was palpable, but as she got it straight and pointing in the right direction, she selected first gear, dropped the clutch and drove on, having lost only four or five seconds.
The pit wall erupted with cheers. When she came in at the end of that lap, most of the pit lane were there to greet her. Famous and not so famous drivers queued up to greet and chat with her. The hairs stood up on the back of my neck to see this reaction. Mentions of Schumacher and Senna wafted over my ears in the melee.
So if it takes a perfect execution of a mistake to impress a die hard racing crowd, what does it take to impress others? My years working with Sarah have taught me that Joe Jackson was right: 'It's different for girls'.
Why No Women?
There appears to be a common theme with girls of Sarah's generation who have tried their hands at racing - they're all relatively poor. Perhaps rich young ladies are simply not interested and find more pleasure with Prada and Versache. But as we all know, motor racing is a rich persons' sport and it is almost impossible for any driver regardless of their sex to come through the ranks without major backing.
Sarah is always criticised by motor racing pundits for her lack of pedigree. By this, they mean years in International karting, a couple of Ford or Vauxhall championships and the obligatory Formula 3, followed of course by a couple of years in Formula 3000.
Clearly this represents an investment of over a million pounds over several years. A female driver will never get this investment because there is no successful precedent. Therefore, talented young women the world over struggle to gain the miles that turn a good driver with potential into a great driver.
The question 'Is a woman good enough?' can never be answered until there is a woman who, like Barrichello or even Schumacher, turns up at a good team with good equipment, gives them a big cheque and goes racing.
So the route to success for a woman has always got to be different from the pre-ordained route to the top. In a conversation I had recently with Mark Gallagher, the commercial manager of Jordan Grand Prix, he admitted to being perplexed as to why Sarah had not travelled the well worn path through Formula 3 and Formula 3000 - it's just not done that way if you want to get to Formula One, was his underlying concern.
In motor racing, championships are seen as the gauge of talent. But what if you can never do a championship, does that mean you have no talent? Of course not, but there is no point anymore in hiding the fact that behind those championship successes lies an awful lot of money.
Sarah's higgledy-piggledy approach to championships has led to only two or three races a year, yet Sarah jumps into these cars and does well, most recently scoring a third place on the Jordan's debut. She routinely comes away with class wins and fastest laps. This is what keeps myself and a small group of volunteers behind her working for free. We don't believe that there are many drivers who could perform as well as she does without testing and full seasons. We see massive potential from very little mileage.
The main reason why there isn't a really successful woman racing in Formula One now is because so few women set out with that ambition. There are thousands upon thousands of failed male drivers and clearly the male racing driver pool is massive compared to the handful of women who are giving it a go. You need a huge pool of drivers to begin with to get that one star driver.
Women Must Prove Themselves Immediately
I realised early on that with the male drivers I have worked with, I never needed to address their ability or their chances of making it to Formula One in sponsorship meetings. This is a given because the guy is a racing driver. In a woman's case that's all they talk about. There is massive doubt even with results on the table.
Meanwhile, everybody says that women like Sarah are a sponsor's dream - 'wouldn't it be amazing to see her in F1', and 'she is so marketable' - and therefore it should be easy to get sponsorship. But there is no queue of sponsors with cheques because they are waiting for the proof that she can do it before investing. I believe this to be the same for all women racers. No sponsor is going to provide half a million pounds for a woman to learn to drive Formula 3000, as they assume it will be a waste of money.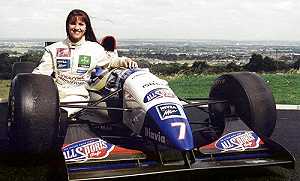 All of Sarah's sponsorship is extracted with the greatest of difficulty. There are contra deals and publicity guarantees and all sorts of things given. Sarah's profile in Ireland is on a par with Eddie Irvine but most sponsors want her to race and win in Formula One, producing results before there will be any serious money forthcoming. In the meantime we have to accept anything. Does anyone want to buy 20,000 house bricks?
When I walk into a conference room for a sponsorship meeting and find that the company is run by a self-made man in his 40s or 50s, I know I'm on to a winner. Young men and almost all women will find a reason to say no to sponsoring a woman. The young men have a BMW parked outside and cannot conceive that this attractive young woman could possibly drive it faster than they can, and the women perhaps think their position will suffer if they're seen to be partisan towards another woman. Recently a potential sponsor told me that he had the all clear from all in his department with the exception of the women, who thought that the whole idea was 'toys for the boys'.
Whatever way you look at it, it is men who have nothing to prove and are very strong and successful, who are the ones who get behind Sarah. The lure of the challenge in the face of massive scepticism and cynicism turns them on. They admire the bravery of a demure woman who wants to take on the world. They don't laugh and make fun, they're deadly serious and their support has funded Sarah for nine years. But still there is a serious deficit for any young woman racer commercially. Often a business will sponsor a racing driver for no good reason but to help out.
Sponsors - a Fixation on F1
Another problem is that sponsors seem to be fixated on Formula One. Corporate culture now has every company thinking that they are the best, therefore not wanting to sponsor anything lower than Formula One, lest it reflect a poor image by not being the premier formula. Racing in Japan in Formula Nippon, or Formula 3000 in the UK, means nothing to sponsors. There seems to be no commercial life outside of Formula One. The media is saturated with Formula One - other forms of racing on the ladder simply do not exist.
Despite all these hurdles, the quality of sponsors Sarah attracts is very high indeed. Even if there's no big money backing there is a list of blue chip global companies making modest contributions right now who are holding options to go with Sarah to Formula One when that happens. That proves to me that women do have a good commercial future in Formula One.
We decided to try to remove the doubt of whether a woman could drive a Formula One car by putting Sarah into the Jordan. Hopefully it will also excite sponsors, and allow them to capitalise on the Formula One image without the massive investment of the real thing. This alternative route to the top is largely a result of advice given by a leading light in Formula One, who said: "Get Sarah experience in an older Formula One car with lots of downforce, make her quick and strong, then when she gets the chance to test the real thing she'll be ready."
An Alternative Route to the Top
I don't believe that Formula 3000 is helpful to any driver who is not well funded and can't make it to the top teams. Clearly we don't have the kind of money it demands and when you are in that position you have to think that all it will give you is track knowledge and race mileage you could get elsewhere. From a performance point of view they have been completely disabled in recent years. The Reynard 95D that Sarah won with in BOSS is over 2.5s faster than a current Formula 3000 car around Snetterton! It is not really suitable training for Formula One today anyway, as the Formula One car is a different beast. Many drivers are still in Formula One, when they should have been replaced by more youthful talent because they can drive these unpredictable beasts in a mildly respectable manner, whereas a Formula 3000 hotshoe will take a year of learning before they can achieve similar results.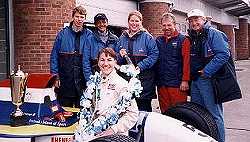 At this point driving a Formula One car to gain experience is the only option open to us, and I believe it is the correct option to bring Sarah closer to where she needs to be, and at an affordable price.
Motorsport itself has been good to Sarah as a woman, with not too much prejudice in evidence. Her more successful male adversaries are friendly and helpful and we've found that the quicker the driver the more pleasant they are. She has raced with Juan Pablo Montoya in Formula Vauxhall, Pedro de la Rosa, Norberto Fontana and Ralph Firman in Formula Nippon, Tony Trimmer in BOSS, Jan Magnussen in Formula Ford and several other successful drivers. All these guys are great, making Sarah feel at home and adopting her almost like a mascot. But when you move further down the grid the resentment is obvious. Bitter comments and sexist comments abound. Many drivers beaten by Sarah develop the flu before the end of a race, or their engine sounds funny - any number of pathetic reasons why they finished behind her.
Ignored by Home Motorsport Fraternity
Ironically, in Sarah's home country of Ireland the motorsport fraternity are totally dismissive of her. Many Irish racers believe that Sarah steals their publicity, while not considering the work that goes into getting the publicity in the first place. They attribute her sponsorship to the fact that she's a woman, not considering that the sponsorship is raised inspite of this. In the six to seven years she has been an Irish race license holder, she has never been invited to any motorsport function, received bulletins or been acknowledged in any way. It's like she doesn't exist.
There are motorsport journalists in Ireland who will never report on Sarah in their regular columns. When Sarah debuted her Jordan last October, every Irish competitor that raced that day was reported on by the motorsport press, yet the Irish woman who drove a Jordan Formula One car and finished third did not warrant a mention.
Every day we hear from people here in Ireland, "What about Eddie Jordan? Surely he'll give you a test, y'know Irish and all?" Our experiences with him suggest that he only pays lip service to the Irish thing, as we had a lot of trouble sourcing a part for the Jordan for which Jordan was the only source of.
There is a big public appetite for information on Sarah despite this. They have come to know her and appreciate the challenges and difficulties that face her. She has a frank and honest manner and people identify with her. Her website, http://www.fastsarah.com, averages over a thousand visitors per day during the racing season and she appears in the mainstream media on a regular basis. The public are even willing to help financially. They want to see it happen, they want to see a woman on the grid. Like the taxi driver in Texas who wrote, "My Taxi is a 1978 Lincoln Continental Town car. It is 17 feet long. Almost a limo. I have sent you 10 Irish pounds for now. There will be more coming when my new taxi's finished." It is this support that will guarantee that Sarah Kavanagh or another woman will make it onto the grid. A sample of comments received at the web site show that there are plenty of people who want to make it happen. With, of course, some help from Bernie...
Bernie Ecclestone - A Woman's Best Friend!
When we read Bernie's interview with AtlasF1, we were dismayed at first, but then we thought more deeply about what he said. In 1996 he wrote to Sarah saying he would very much like to see her in Formula One, and in 1997 he invited her to meet him at the British Grand Prix, only to find that no matter what she did she could not get into the paddock without a pass. In 1999, he enabled a sponsorship deal that would have financed Sarah for Formula 3000 but the company we were dealing with messed around and the window for the deal closed. So as far as we are concerned nobody in Formula One has been more helpful than Bernie Ecclestone. If Sarah never makes it to the grid she will always be grateful for his enthusiasm.
I read Bernie's thoughts as a reflection of his sheer frustration. He has been trying to help Sarah since 1996 and still things are slow to happen. His letters alone should have been enough to open doors, but instead were greeted by sponsors as if they were forgeries. Nobody in motorsport believes that Bernie is serious about wanting a woman in Formula One. However, I believe he is serious and will make it happen, hopefully for Sarah, if not for Sarah then for some woman who has the pace.
Eddie Irvine - A Woman's Friend or Foe?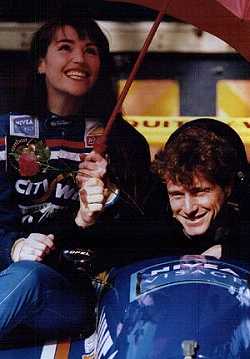 Eddie Irvine recently created a lot of publicity here in Ireland and elsewhere with his outspoken comments about a woman's alleged genetic inability to drive quickly. This is all good fun, and creates acres of press for both sides of the story. Of course the press wanted Sarah's reaction, to which she gave them what they want.
In person, however, Eddie Irvine has never been the least bit patronising to Sarah, or to her efforts, the exact opposite in fact. They met for the first time in 1994 at a charity appearance while he was at Jordan. He took a lot of time to chat to Sarah and discussed the handling of her Formula Opel at some length without looking down his nose at her.
When Sarah went to Japan in 1997 for a few races we phoned him on his mobile for some advice. He was having dinner with his parents at home in Northern Ireland on their wedding anniversary. He told us this and we apologised profusely for disturbing his family occasion. "No, don't worry about that," he said, "Phone me back in half a hour." Well, I thought that was that, a pleasant dismissal, but we decided we would phone him - if his phone was switched off then we'd leave it at that.
Not likely! He spent half an hour giving Sarah chapter and verse about racing in Japan. Who to call, what team to go with, who to contact for a good time, everything! He couldn't have been more helpful. He said to call him anytime for set ups for the Japanese circuits or little tricks that he had learned about certain corners... As Eddie says: "Don't believe what you read!"
Industry Support
Then there are the people at the coal face in Formula One who also see the potential. One of them is Humphrey Corbett, who is Jean Alesi's engineer at Prost. Humphrey engineered Sarah's very first Formula 3000 test, which resulted in a stunned pit lane. He has offered to come and help set up the Jordan when the teams come back to Europe in his spare time - it's the thought that counts.
Suppliers also recognise the commitment of a young woman who is so desperate to get to Formula One that she goes out, raises the money and buys her own Formula One car to get herself started. Several leading composites and machining specialists in the UK provide spares for Sarah at cost of materials only. These people spend all their time putting together components for the top Formula One teams, but when Sarah is in the factory, work stops and everybody wants a chat. Pictures of Sarah with her 1993 Jordan take pride of place on the canteen wall above this year's Williams.
The Future for Sarah Kavanagh
This is a make or break year for Sarah. Contrary to popular opinion, we have discovered that many Formula One teams want to explore the female option and two teams are talking to us about a development drive for later in the year. Undoubtedly this will be one of the biggest Formula One news stories of the year.
It all hinges on how well Sarah does in the Jordan, because the teams are eager to see her prove her mettle before committing to spending time and money on honing her skills. Realising that she is handicapped on budget, even for the BOSS series, it depends more on her pace on any given day rather than results.
With the non-standard route to the top that she has been forced to take, there is little in the way of top level results to put on the table, but some are aware of the potential and want to develop it immediately. Clearly her run to third place in her first outing in the Jordan without any testing has sparked some strong interest.
If everything goes according to plan the deal will be announced at the Monaco Grand Prix this year, with Sarah donning the suit and appearing with the team's regular drivers. It will entail Sarah undertaking 7000km of testing in a 1999 car as a development driver. Her technical and physical abilities will be developed as part of the project. She will also undertake public relations duties for the team. A sponsorship package has been agreed.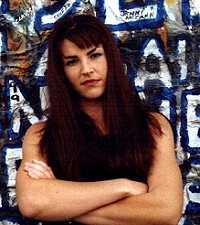 Depending on pace and progress through the test programme, she may perform test driver duties later in the season. It is agreed that it is all dependent on pace and should Sarah perform adequately there will be no further obstacle to her graduation as and when a seat becomes available, although she may be placed elsewhere for a season to learn the ropes.
In Conclusion
Sarah is philosophical about failure. Formula One has been her sole goal in life since she began karting in 1991. Being there as a woman does not interest her and if she does not have the pace she would prefer not to be there at all.