Fastest race lap: 1:18.308 (N.Mansell, Williams, 1992);
Fastest Qualifying Lap: 1:14.631 (A.Prost, Williams, 1993)
The twisty Hungaroring circuit has often been likened to Monaco without the buildings - it's narrow, technical and very hard to pass an opponent.
The short pit straight offers one of the few opportunities to overtake, before the cars enter the first corner - a third gear hairpin. A short burst, and then it's a left hander followed by an almost flat right. The next straight is also long, but uphill and approaching a blind, flat out right hander - few drivers think it prudent to overtake in such a situation.
A tight right hander slows the cars before the chicane. A left then a right follow, then two almost flat-out corners before the cars negotiate the final chicane. A final left hander remains before the right-hander back onto the pit straight - it's that dull.
The circuit is highly technical, placing the emphasis on aerodynamic and mechanical grip above horsepower - expect to see a multitude of aerodynamic aids this weekend. The race is long and hard, any mistake being punished with the loss of places that are hard to make back up again.
If you want to read the driving instruction while looking at the map, Click here to open the map in a separate window


Facts and Stats about Hungary

It was, of course, a ground-breaking event when it was first run in 1986, the first Grand Prix in Eastern Europe. It was a cult race; some spectators felt that they were exploring new frontiers just by attending the Hungarian Grand Prix. And so they were: the Lada hire cars, massive crowds travelling from all over Eastern Europe in cramped buses, the strange language, food and currency were testament to that.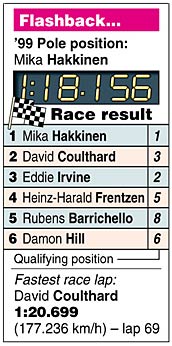 Now, 14 years on, it is another stop on the Grand Prix trail and one that everyone has got used to, always enjoying the beautiful city of Budapest. Hungary's motor racing heritage is almost well-known: Ferenc Szisz, who won the 1906 French Grand Prix started it all in the golden age of heroes.
In 1936, the first Hungarian Grand Prix was held at Nepliget Park on the outskirts of Budapest, won by the heroic Tazio Nuvolari who held off the might of the big German teams. After the second World War, racing returned to Hungary on the Ferihegy airfield where Formula Three events were held, before returning to Nepliget which hosted a round of the European Touring Car championship. Racing ceased there in 1972.
Racing returned in 1986 to a former potato field 11 miles east of Budapest. Bernie Ecclestone had begun discussions with the government three years earlier, and a new circuit was constructed with government aid, conforming to international regulations. Many, however, thought it was too twisty, "a street circuit in the country" they called it, and after three years, minor modifications were made to ease it. However, it is still the second shortest of the current circuits.
Williams is the most successful team at the Hungaroring with seven wins, two of which have been one-twos. Unfortunately, they wrecked their previous excellent form by not having a car within the top six last year. McLaren have won four times with a similar number of one-twos and Ferrari have won just twice. The other win was by Benetton.
Of the drivers, Ayrton Senna was the most successful driver at the Hungaroring with three wins, but former teammate Mika Hakkinen was banned from racing there in 1994 after causing mayhem at the first corner of the preceding German Grand Prix.
Otherwise Williams drivers make history at the Hungaroring. Damon Hill won in 1995, having started from pole position, leading from flag to flag and setting fastest lap on the way. Few will forget how close he came to scoring Arrows's first win in 1997 either, before suffering hydraulic problems. He led 62 of the 77 laps and finished second, 9.079s behind Jacques Villeneuve.
And in 1992, Nigel Mansell may have finished a massive 40s behind Ayrton Senna, but he didn't care; the six points earned resulted in him being crowned World Champion at the Hungaroring, the 11th race of that year's 16 race championship, after 68.7% of the championship had been run. No one has ever won the championship so early, before or since.
Of the current teams, apart from Williams's excellent record, it is Jordan that has the best form. They have been steadily improving over the last four years and there is no reason why, on past form, they shouldn't be on the podium this year.
In terms of current drivers, Hakkinen has been on pole twice, but won only last year. David Coulthard has finished second three times, but never won. Michael Schumacher has won twice while Eddie Irvine's third last year was his first finish in six starts, and never from lower than seventh on the grid. Ralf Schumacher has finished each of his three races at the Hungaroring, while Villeneuve won twice, finished in 1998 but not 1999.
Actually, if you wanted a really good bet, then you would have to get two drivers out of retirement and back into Formula One. Damon Hill finished every one of his eight Hungarian Grands Prix, including two wins. And McLaren's current test driver, Olivier Panis, has finished each of his five Hungarian GPs, three times in the points.

But an even better bet is the weather. Let's just say that it was a bit cloudy in 1990 and 1994. Otherwise it's been hot, sunny weather for the last decade. And in that time, there have never been less than ten finishers; as many as 17 last year and 15 the year before that.

Expected milestones to be reached at this year's race are 140 Grands Prix for both Mika Hakkinen and Michael Schumacher. The latter could still move ahead of Alain Prost in the fastest lap stakes to be the all-time record-holder. And there is still an on-going battle between Ferrari and McLaren for the most number of points scored in the history of the World Championship: Ferrari have 2460.5 and McLaren have 2441.5. And of course, the championship is as close as it has been for years: the first four are covered by 10 points!