In 1994 I was asked by the head of Ford of Europe what I thought of his decision to award the works Formula One Ford engine contract to the Sauber team for 1995. "It's a good team," I answered, "but they don't have a top-ranked engineer." As far as I'm concerned, the most important person in a Grand Prix team is the engineer in charge.
I had an echo of this conversation when I interviewed Mario Illien about his early Formula One years with Sauber, which rolled out a car at the end of 1992 to compete in 1993. The car had been designed by the brilliant Dr. Harvey Postlethwaite, who however was no longer with the program. As a result, said Illien, "They were fast - but they didn't know why." This is a theme that keeps haunting me, not only for engineers but also for drivers: When you're quick, even when you win, it's essential to know why.
The job of knowing why is that of the team's technical director. We've been having some turmoil in this department this year. After relying for almost a decade on Leo Ress - the man who didn't know why his 1993 Sauber was so fast - Peter Sauber has finally sidelined Ress in favour of another technical chief.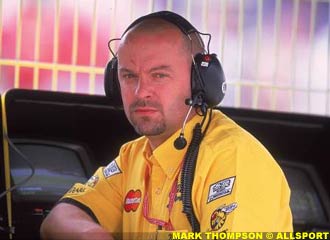 Alan Jenkins has been relieved from the technical post at Prost, where the job is at best a poisoned chalice at a dispirited team. Apparently Alain Prost had the choice of asking Jenkins to go or replacing all the rest of his staff. Jenkins's post has been taken by Jean-Paul Gousset, the design office head, who at least is French.
The biggest transfer deal of the summer is the engagement of Mike Gascoyne by Flavio Briatore to move to Benetton as technical director for the team that has been bought by Renault, and in 2002 will be badged as such. Mike's background in aerodynamics is just what a modern Grand Prix team needs. He helped the old Tyrrell team punch well above its weight and moved smoothly into the Jordan job when Gary Anderson jumped ship to join Stewart, now Jaguar. Any guesses which team got the best deal there?
I probably shouldn't get too personal but I was amused to note that Gascoyne and I have something in common: we've both made 1½ competitive climbs of a hill in a yellow car. Mine was a Lancia Stratos at Shelsley Walsh and his was last year's Jordan at this year's Goodwood Festival of Speed. We both fell off on our second attempt - the one when you think you know how to go just that bit quicker.
Gascoyne intensified aerodynamic research at Jordan, upping the aero staff by one-third and doubling the wind-tunnel hours over last winter. A 35-man staff now runs the Jordan tunnel 13 hours a day for six days a week. This shift in emphasis will help the team when he's gone, but it's Jordan that will now be on the lookout for a technical chief - especially as it has a works Honda engine deal for the next five years. The odds-on candidate is Eghbal Hamidy, who did wonders for Stewart's aerodynamics on a minimal budget with a wind tunnel in California and is now at Arrows.
In my last column I speculated about Eddie Jordan's desire for a works engine and darned if he didn't get one that's quite good now and bound to get steadily better. On the basis of its Montreal performance I ranked it behind only Mercedes-Benz and Ferrari. Of course at Magny-Cours Jacques Villeneuve used his Honda engine to qualify ahead of both Jordans with their Mugen-Hondas.
Earlier in the year I said that I thought Honda had its eye on Villeneuve, that it's a company that likes to associate itself with a driver and that was the reason why it went with BAR. (Another reason is that BAR allows Honda to pick its brains in the chassis department.) Could that mean a switch to Jordan-Honda for Mr. Villeneuve next year? He would be a prize for the team, and frankly after Coulthard's confirmation as a McLaren man for 2001 I think Jordan's the best seat open to him, better even than oft-rumoured Benetton. To get him, however, Eddie J. will need both cubic dollars and... an ace technical director.