Award-winning writer Karl Ludvigsen comments
on The Importance of Having a Works Engine

The list of finishers at San Marino tells a pretty impressive story. Out of 22 starters there were 15 finishers if we include Jarno Trulli, whose Jordan was caught just at the end with gearbox problems.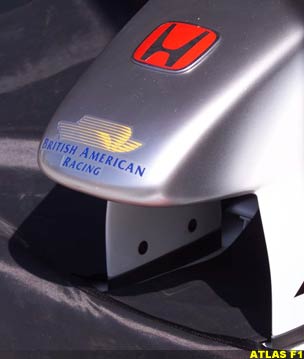 The race itself was not a barnburner on the track, although the strategic aspect was very interesting. With two-thirds of the cars still running at the finish, however, there were plenty of opportunities for action among the mid-field runners, with eight on the same lap. This gave Mr. TV Director and Mr. Spectator something to look at. And this was only possible because the engines were so reliable.
Obviously engine reliability isn't something that we have ever been able to take for granted in Formula One. These engines are always stressed at the very limit of our knowledge of materials and technology - and often beyond those limits. In the old days failures could often be blamed on components from outside suppliers that weren't up to snuff. This is one of the reasons why companies like Ilmor have invested heavily in equipment that allows them to make as much as possible of the engine in-house. Inspection has to be carried out to the most rigorous standards. And then, as Mario Illien says, you have to organize and train to avoid "finger trouble" - a miscue by someone assembling the engine.
Honda reckons that it helped raise F1 engine testing and preparation standards when it came back to Grand Prix racing in the 1980s. Wrote a former Honda engineer, Eiji Taguchi: "In recent years a development pattern that takes a serious view of durability and reliability has been employed. With regard to each unit, from the beginning long-run circuit testing has become commonplace. In addition, following other companies' imitation of Honda, it is thought that the frequency of blown-up engines on the F1 circuit has been greatly reduced." I agree that their meticulous approach has set a good example to others.
Taguchi-san is now with the Sauber team, where he looks after the Ferrari engines used by the team. Ferrari, it seems to me, doesn't get enough credit for the way it supports F1 racing by making Petronas-badged engines available to Sauber. With the engine situation tightening up in F1, it looks like more engine builders will be invited to follow their example. Mercedes-Benz in particular will be expected to supply a 'B-team'.
Although Eiji Taguchi is now with Sauber, in a recent conversation he couldn't help expressing his pleasure at seeing Honda's engines performing well in the BAR cars in this season's races. Jacques Villeneuve's fifth-place finish at Imola was especially encouraging. Some have been surprised that Honda chose BAR as its F1 standard-bearer. I think it's less surprising if you consider that Honda has always tended to talent-spot particular drivers. This was so in the Senna years, of course. Now they seem to want to hitch their wagon to Villeneuve's star.
That's a pretty bright star. Jacques doesn't seem to have much of a track record with Honda, although he was runner-up in the Japanese Formula 3 championship in 1992. And now Villeneuve is talking to other teams about his options for 2001. He put his cards on the table with his excellent drive at San Marino, demonstrating - as well as saying - that he has some more championships in him. Who will get Villeneuve? And what are the odds against the Honda engines following him there? You can bet that team owners are doing some fancy figuring!