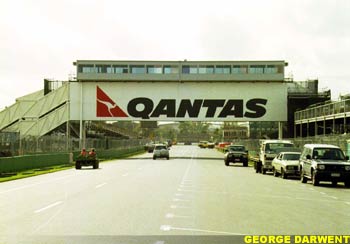 The 51st Grand Prix season is finally about to begin, starting at Albert Park, for the fifth Grand Prix to be held at Melbourne, Australia. This 5.303 Km street circuit is set out around Albert Park Lake and is quite fast. Melbourne is enjoyed by most drivers but it is not generally regarded as a track that really tests driving skill, although it does test the technical skills of the teams.
Pat Symonds, Technical Director of the Benetton team describes the technical challenges presented by the Albert Park circuit: "Melbourne offers some specific challenges to the engineers in setting the car up. The circuit is relatively low grip and can be quite dusty. It is very hard on the brakes and traction is normally at a premium. Having said that, it is also necessary to have the car stable in the higher speed corners, particularly turns 7 and 8 which are effectively a high speed chicane."
Williams' Ralf Schumacher adds a driver's perspective. "Albert Park, for me, is one of the most beautiful street circuits around, not to mention one of the safest. From a set-up perspective, you need a lot of mechanical grip and traction, particularly in the slow corners like Jones, Clark, Ascari and Prost, all of which are second or third gear corners. For Whiteford, Lauda and Waite, a well-balanced aerodynamic set-up is crucial to achieving a good time. Some parts of this track are quite bumpy and involve having to find a good damper and spring set-up. The only really good overtaking point is at the end of the start/finish straight."
Pits Stops and Tyre Strategy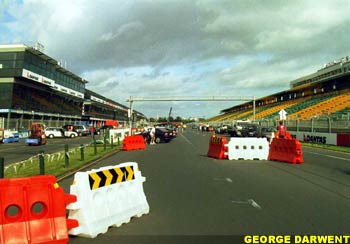 Bridgestone's technical manager, Yoshihiko Ichikawa, said this week: "Albert Park has an unusually smooth track surface which is always dirty at the start of the weekend due to its daily use as part of the city road network. The track is especially dirty during Friday practice. This increases the wear on the tyres and makes it difficult for the teams to find a good set-up. The cars are prone to understeer due to the combination of tight turns and a slippery surface, this confuses the choice because the softer tyre can be expected to provide more grip but may also affect the balance.
"This year we have closed the gap in performance between our Extra Soft, Soft and Medium specification tyres. This change will make the choice of tyre a much greater factor in the cars' performance under race conditions. By the end of last season, the teams were almost all selecting the same compound when they committed themselves before qualifying. This year, however, due to the reduced margin of performance between the Extra Soft and Medium specifications, the teams will have to work harder on their choice. We anticipate that the choice of tyre will once again become a deciding factor in each car's performance. In Australia the teams will be supplied with the Soft and Medium spec tyres."
Pit-stop strategies will be critical as there are few overtaking points. In last year's race, all the podium finishers were on a one-stop strategies while Arrows adopted a "tortoise and hare" strategy, sending Tora Takagi out on a one-stop strategy and Pedro de la Rosa on a two-stop strategy. Those on a two-stop strategy pitted either on lap 22 and 23 or while the safety car was on the track while those on a one-stop pitted on lap 33 and 34. As the 1999 season progressed, many teams chose softer rubber so we might see more teams choose the Soft compound and opt for two-stop strategies over the weekend.
There has been a steady decline in the number of finishers at Melbourne. 11 were classified in 1996, 10 in 1997, 9 in 1998 and only 8 drivers finished in 1999. Let's hope that this trend is reversed on Sunday.
The Teams
Ferrari scored 23 points at Melbourne. The Scuderia really want to win the Formula One Drivers' championship this year - twenty-one years have passed since they last won this title. To that end they have a reason to be optimistic: the Ferrari F1-2000 seems to be an improvement on last year's F399.
Michael Schumacher has won on almost every Grand Prix circuit, but he has never won at either Melbourne or Adelaide. His only points finishes were twice 2nd, the last one in 1997. Michael set fastest lap last year but has never had a pole position at Melbourne, qualifying no higher than 3rd. Schumacher will want to rectify this and add Australia to his illustrious racing CV.
Rubens Barrichello was quite successful at last year's race, qualifying 4th and finishing 5th for Stewart-Ford despite having a 10s stop-go penalty and starting the race in a spare car from the pitlane. However, being Michael Schumacher's teammate has been an albatross around the neck of many drivers; no teammate of Michael Schumacher has set a pole position in a race that Schumacher has participated. Can Barrichello break this curse?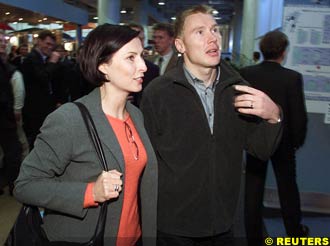 McLaren have been the most successful team at Melbourne, scoring a total of 32 points. The McLaren MP4/15 has been consistently fast during pre-season testing. Team Principal, Ron Dennis stated, "There is no doubt that we have worked hard to prepare for the 2000 season. We have covered a lot of miles in testing so we can approach the Australian Grand Prix and the new season in an optimistic frame of mind. We have often done well in the Australian Grand Prix and it's something we are looking to continue."
Defending champion Mika Hakkinen won the 1998 race after setting pole position and the fastest lap. Hakkinen finished third in 1997 and fifth in 1996. In last year's race, Hakkinen set pole position but retired after leading for the first 17 laps. Hakkinen needs to keep doing the right things to stay ahead of the pack. Hakkinen's thoughts on the season-opening event: "There is always a special feeling about the first race of a new season. We have been doing a lot of testing for the past couple of months but it's only now we get a chance to see where we are compared to everybody else. The Australian Grand Prix is a good start to the season and always produces a fantastic atmosphere."
David Coulthard won at Melbourne in 1997 and ceded victory to Mika Hakkinen in 1998. His highest qualification was second in 1998 and 1999. In some ways, Coulthard has been the Andre Agassi of Formula One - at times brilliant but at other times inconsistent. Can he find consistency in 2000? Nonetheless, he has a good chance of winning if he can qualify ahead of Hakkinen and can make a clean start. Coulthard stated, "I have spent the off-season testing and making sure I'm in good physical shape. Albert Park is one of the best street circuits in the world - if not the best - and it's a lot of fun for the drivers, even though it's not one of the quickest tracks on the calendar. Add to that some sunshine and we have a great event."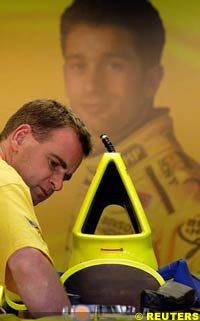 Jordan scored 6 points at Melbourne. Once again, Jordan were the first team to leave for Melbourne which is a sign of good organization. Jordan's Team Principal, Eddie Jordan, declared: "We have McLaren and Ferrari in our sights. If they drop their guard, we will be in there to challenge them." Jordan added, "There is always a balance to make between reliability and speed. The two do not necessarily marry well together, and we will have to see what happens in Melbourne. We have certainly stretched things to the limit this year in our push for the Championship and we will have to see how this affects the performance on track in the early races."
Heinz-Harald Frentzen finished second in 1999 for Jordan and third in 1998 for Williams and holds the race lap record which he set in 1997. His highest qualification was second in 1997. "I am looking forward to going to Australia," said Frentzen last week. "It is a great country with a wonderful atmosphere. I am particularly excited about racing again and being back in action after the winter break. Bringing all the test results together this year we think we will do well in Melbourne. It is an important race and my target is to make points."
His teammate, Jarno Trulli, has a lot to prove - his best finish was 9th in 1997 and his highest qualification was 12th in 1999 for Prost. In last year's race, he was involved in collisions with Damon Hill and Marc Gene. Trulli is, however, optimistic. "We have seen that our car looks competitive and that it is better than the 1999 car. We did have some little problems in terms of reliability, but we have solved them and are confident everything is going to be okay for the Australian Grand Prix. I believe we should do well in qualifying. For sure, the race is another thing in terms of it being the first time we will run the car in hot conditions for a long race, but then that is the same for all the teams. I know this is going to be a very important season for me but I really believe in this team. I know the team will give me a great chance this year to do well and achieve results I didn't have the chance to achieve in the past. I'm really looking forward to the first race!"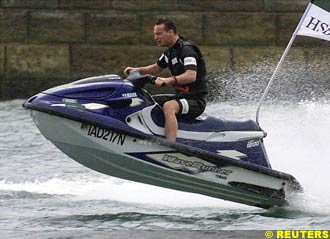 Jaguar, in their previous form of Stewart-Ford, scored two points at Melbourne, although both Stewart-Fords retired in 1997 and 1998. Technical Director Gary Anderson had this to say about the new Jaguar R1: "We're reasonably happy with the car, sure we've had problems in testing but nothing insurmountable and no more than anyone else. It's still early days but we'll be in Melbourne with three cars, lots of spare bits and ready for the fight."
Johnny Herbert has had little luck at Melbourne. Herbert did not start in 1996 and 1999 and was taken off by Eddie Irvine on the first lap in 1997. Herbert's only finish was 6th in 1998, after qualifying 5th for Sauber. "Well I've got to do better than last year, haven't I!" Herbert commented. "I certainly don't want to be having my barbecues on the grid this year! Seriously though, this is an important season for me and I'm really keen to get started with Jaguar Racing and the new R1. Australia is always a terrific event, the weather is usually great and we get to see how much development everyone has done during the winter."
Eddie Irvine won his first Grand Prix victory in last year's race for Ferrari. In 1998, Irvine finished fourth, but in 1996 he finished 3rd after also qualifying 3rd, ahead of Michael Schumacher. Irvine's thoughts on the Melbourne circuit: "Albert Park is quite a tricky circuit, you have to get the car right because you always lose the rear on entry and obviously mid-corner so it is a difficult track. There are a couple of good sections, the fast chicane at the back is very good and the last corner is good too. From the point of view of the car it is a tough track. It's very difficult to set the car up and it's pretty hard on the brakes."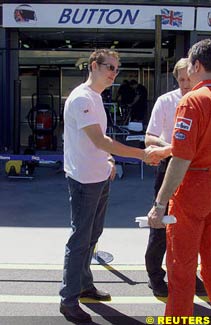 Williams scored 26 points at Melbourne, with Damon Hill winning in 1996. The Williams team is in transition and they expect this season to be a year for developing the new BMW engine. Team Principal, Sir Frank Williams, stated: "It will be a tough season for us all and we are under no illusions about what's ahead of us." BMW's Motorsport Director, Gerhard Berger added: "If we qualify strongly in the midfield, we will have reached our first target." Williams value Manufacturers' Championship points so they are likely to play it safe with pit-stop strategies for both drivers.
Ralf Schumacher recently recalled his previous races at Albert Park, saying: "Altogether, I have raced three times in Melbourne. I completed two laps in 1997 because of a broken drive shaft and then in 1998, Jan Magnussen collided with me. Last year, however, I qualified 8th on the grid and finished on the podium in 3rd place. If we don't suffer any technical problems during qualifying, I expect a strong midfield position on the starting grid. The race, on the other hand, is a totally different story. Reliability has plagued many teams during winter testing and it's not hard to work out that those who finish this race will probably go home with some points."
Jenson Button, the 20-year old Englishman, has never raced at Melbourne. Button described his preparation for his first Grand Prix: "I have been studying on-board footage from last year and looking at telemetry in an effort to understand Albert Park. Once there, I will walk around the circuit and prepare for Friday's free practice session. It is, however, going to be a tough season for us and with this also being my first Grand Prix, opening races don't come much tougher than this." It should be noted that Button ended the pre-season testing with an impressive lap at Silverstone. He has the speed, now he should hope that reliability will allow him to put enough laps to have the experience.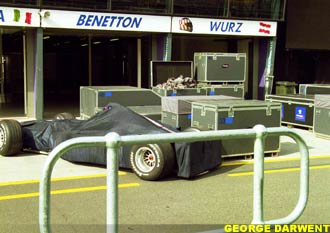 Benetton scored 9 points from 4th place finishes for Gerhard Berger in 1996 and 1997 and for Giancarlo Fisichella in 1999. The Benetton team was still reorganizing at the end of last season. The Benetton B200 appears to be fairly competitive and reliable and the team seems to be ready to do battle, but they are stuck with the aging Playlife (Supertec) engine. Technical Director, Pat Symonds, commented: "Obviously everyone looks forward to Melbourne because it is the first race after our winter of design, development and testing and its always nice to get out into the heat of competition. Melbourne is always a pleasant place to go to start the season, even though the logistics of moving all your new equipment half way across the world can be troublesome."
Giancarlo Fisichella has scored three points at Melbourne, finishing fourth in last year's race while Alexander Wurz has yet to score a point in two starts at Melbourne. Fisichella's highest qualification was 7th in 1998 and 1999 while Wurz qualified 10th in 1999.
Sauber scored two points at Melbourne with sixth place finishes for Nicola Larini in 1997 and Johnny Herbert 1998. Neither Sauber finished in last year's race. Can this well-organized team finish in the points again on Sunday?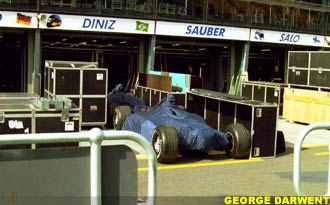 Pedro Diniz has yet to score a point in four starts at Melbourne. Diniz finished tenth in 1996 for Ligier and again in 1997 for Arrows. His highest qualification was 14th in 1999. Diniz recently commented: "Having done the tests simulating the conditions we can expect Down Under, I have to say I am really looking forward to seeing how well we go at the Australian GP." Mika Salo has scored one point a Melbourne, finishing 6th after qualifying 10th in 1996 for Tyrrell. Salo was not present at last year's race.
Prost has scored two points at Melbourne when Olivier Panis finished fifth in 1997. Neither Prosts finished in last year's race. The Prost-Peugeot AP03 has not been reliable during pre-season testing. Team Principal Alain Prost revealed, "In effect we will be arriving in Australia with a brand new car. And by that I mean even in comparison to the one we have used until now! We will be working right up until the last moment, so that certain parts will only be fitted on next Wednesday. Which means that we will have mechanical and aerodynamic parts that have never been tested before.
"From that point of view you could say that the first race will be for us a public testing session. But it is the only way we can catch up on delays we have suffered. Also you never know - Melbourne is a very particular circuit, and we don't know the car that well - we may well have a pleasant surprise! That said, I don't expect us to be fully competitive in terms of outright performance, but if we prove to be reliable then that will already be good news."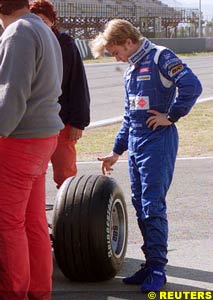 Jean Alesi has yet to finish in four starts at Melbourne, his highest qualification was 6th in 1996 for Benetton. The 1999 International F3000 Champion, Nick Heidfeld, appears to be a mature and intelligent driver. Many eyes will be watching him over the weekend, he may plan to run a clean race, keep out of trouble and finish - if his Prost-Peugeot co-operates.
Minardi has yet to score a point at Melbourne. In last year's race, neither Minardis finished. Their new colour scheme may unwittingly benefit McLaren to the detriment of Jordan. No driver can now say, "I wasn't sure if it was a McLaren or a Minardi in my mirrors," but now they might confuse a Jordan with a Minardi. Minardi's primary goals must be to qualify and finish.
Marc Gene qualified 22nd after an appeal to the Stewards and was taken off by Jarno Trulli in his Formula One debut at Melbourne. Argentinean newcomer Gaston Mazzacane is an unknown quantity who has had some good results in F3000.
Arrows scored one point at Melbourne. Tom Walkinshaw's team have been the big surprise of the pre-season. Few people expected Arrows to make a big impact, but their progress over the winter has been remarkable. Arrows may surprise everyone in Melbourne this weekend as they did last year when both Arrows finished and Pedro de la Rosa finished in the points.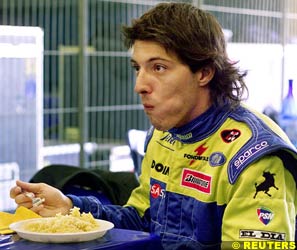 Jos Verstappen has yet to finish in two starts at Melbourne. His highest qualification was 12th in 1996 with Footwork. "I am very happy to be back in F1 especially with the Arrows Formula One team," Jos recently said. "Coming back after two years to Melbourne is a great experience - I like the circuit very much. Obviously we did very well in pre-season testing and I hope that we can follow that through in races. I am really looking forward to this - wait and see what we can do!" It is fitting that Arrows is now racing in Dutch Racing Orange.
Pedro de la Rosa qualified 18th and finished 6th in his Formula One debut at Melbourne. He recently said: "We are going to Australia having set very quick times in pre-season testing and the team has a much stronger package on the technical side. The car is much quicker and I also have one more season of experience I want to see where we are in Australia. It is a big question mark where we will be and how competitive we will be against the other teams but obviously we are much more competitive than last year."
BAR has yet to finish at Melbourne, or score a point anywhere else for that matter. BAR's Chief Mechanic, Alastair Gibson stated, "We're in a very different position compared with where we were last year. The car has run reliably from the start of testing, which has allowed us to focus on developing the chassis and engine package. In addition, both drivers have racked up a useful amount of pre-season mileage and, as a result, we are going into the first race a lot more prepared than we were in 1999. I don't think anybody is about to make any rash predictions, but there is a feeling in the team that we have made progress and, if luck is with us, we should have a much better time of it than last year. For British American Racing, the only way is up!"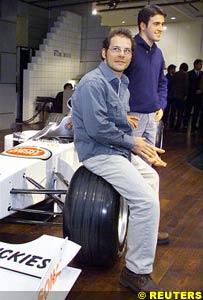 Jacques Villeneuve holds the qualifying lap record at Melbourne, setting pole position in 1996 and 1997, and he also set fastest race lap in 1996. He should have won his debut race in 1996, but had to slow due to engine problems. Villeneuve finished 5th in 1998 but did not finish in 1997 and 1999. If the BAR 002 is competitive he could make a very good showing at Melbourne. Villeneuve stated: "In previous years, it seems as though if I have gone well in Australia, the rest of the season has gone well, so I am really hoping for a good result in Melbourne. As for this season, I have said before, and I will say again, that I didn't get into racing not to fight and win, and nor did I get into this team not to fight and win, so that has to be the goal. I think there is every chance that we will have a good season and maybe surprise a few people."
His teammate Ricardo Zonta qualified 19th and retired while in 7th position in last year's race. Zonta commented: "I am really looking forward to Australia and the start of the new season. Last year was very difficult for me because I didn't have the opportunity to know the circuits. Now I do and I also know all the people on the team much better, which will make it easier to work with them. Testing has been going very well and we have been able to do lots of miles, which is great. It has allowed me to get to know the new BAR Honda 002 and build up my confidence in it."
My Predictions
Qualifying on Saturday is likely to be dramatic. In 1999, Mika Hakkinen snatched pole position from his teammate David Coulthard in the dying seconds of qualifying. Track conditions can vary a lot during the qualifying session. A lot is at stake. Not only will the teams be trying to establish their pecking-order but qualifying may start to establish the pecking-order within teams that have started the season with co-number one status for their drivers.
So... what will it be? Well, if it is dry, I'm going to pick McLaren, Ferrari and Jordan as the top three teams.
Starting grid:
Mika Hakkinen
David Coulthard
Michael Schumacher
Rubens Barrichello
Heinz-Harald Frentzen
Johnny Herbert
Eddie Irvine
Jacques Villeneuve
Jarno Trulli
Ralf Schumacher