Wednesday February 6th, 2002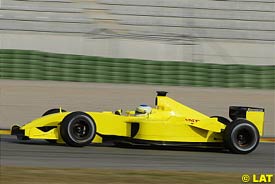 Italian Giancarlo Fisichella posted the fastest time on the third day of testing at the Ricardo Tormo circuit in Valencia, Spain.
In a session where the strong wind made the team's work harder, the Italian driver, at the wheel of last year's EJ11, was nearly half a second quicker than Williams' Juan Pablo Montoya, who was the quickest of the 2002 cars ahead of German Nick Heidfeld with the Sauber C21.
"I had another very good test today," said Heidfeld. "The C21 is an extremely good car and driving it gives me great confidence in our ability to defend our fourth place in the Constructors' Championship this season. I stopped early today because the engine reached its mileage limit, and we spent the last 90 minutes analysing this morning's data."
German Ralf Schumacher, driving the second BMW-powered FW24, was fourth fastest in front of the second of the Saubers, driven by Brazilian Felipe Massa, and Spaniard Marc Gene, who worked with last year's Williams chassis. Briton Jenson Button posted the seventh quickest time as the Renault team continued with the development of the new R202, while teammate Jarno Trulli drove the old 2001-spec chassis.
"In spite of the bad weather, Jenson had an extremely productive morning, except for a minor gearbox problem which curtailed his running in the afternoon," said Renault's technical director Mike Gascoyne. "Overall, he was very pleased with the balance and handling of the car.
"Jarno ran in the B201, making progress in learning about the Michelin tyres as he conducted further development work."
The British American Racing team joined the Valencia test today, working with both Jacques Villeneuve and Olivier Panis at the wheel of the new 004. Panis's day, however, was cut short after he went off the track during the morning session, damaging the front of his car. As a consequence of the accident, the Frenchman could only complete eight laps.
Jaguar also joined the session today, with Pedro de la Rosa in action behind the wheel of the R3. The Spaniard was ninth quickest, while Japanese driver Takuma Sato was tenth driving the new Jordan EJ12.
Enrique Bernoldi was in charge of completing the first laps with the new Arrows A23 in its first public appearance. The Brazilian completed 16 laps with the new Cosworth-powered machine and finished the session in 12th place more than three second behind Fisichella.
Mark Webber and Malaysian Alex Yoong continued testing for the Minardi team, with the Australian lapping more than two seconds faster than his teammate as the small Italian squad worked with the new PS02.
Testing at Valencia will resume on Thursday.

Today's times:
Pos  Driver        Team-Engine         Tyres  Time     Laps
 1.  Fisichella    Jordan-Honda        (B)    1:13.297  67
 2.  Montoya       Williams-BMW        (M)    1:13.749  47
 3.  Heidfeld      Sauber-Petronas     (B)    1:14.102  36
 4.  R.Schumacher  Williams-BMW        (M)    1:14.125  65
 5.  Massa         Sauber-Petronas     (B)    1:14.264  39
 6.  Gene          Williams-BMW        (M)    1:14.440  72
 7.  Button        Renault             (M)    1:14.670  76
 8.  Villeneuve    BAR-Honda           (B)    1:14.758  36
 9.  De la Rosa    Jaguar-Cosworth     (M)    1:14.839  27
10.  Sato          Jordan-Honda        (B)    1:16.212  46
11.  Panis         BAR-Honda           (B)    1:16.225   8
12.  Bernoldi      Arrows-Cosworth     (B)    1:16.586  16
13.  Trulli        Renault             (M)    1:16.796  18
14.  Webber        Minardi-Asiatech    (M)    1:17.032  48
15.  Yoong         Minardi-Asiatech    (M)    1:19.445  56

All Timing Unofficial

Visit Atlas F1's Testing Center for further information

Published at 17:31:32 GMT
---