Saturday April 14th, 2001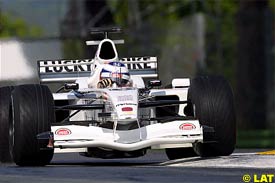 Jacques Villeneuve was far from happy on Saturday after being outqualified for the second consecutive time by British American Racing teammate Olivier Panis.
While Villeneuve, who is yet to score his first points in 2001, could only manage an eleventh position, his French teammate was six tenths of a second faster and achieved his best qualifying result of the season with an eighth place.
"I am very disappointed," Villeneuve said. "We have been very quick all weekend but in qualifying it just didnít work and I am not sure why. I didnít get a good lap in at the start and then there was traffic as we reached the end of the session.
"Itís frustrating, but it just didnít come our way today."
Panis, though, was much happier than the Canadian driver and he hopes to score some points again, following his fourth place at the Brazilian Grand Prix.
"I am happy with the qualifying position I have achieved," Panis said. "It is my best so far this year. All the mechanics and the team did a great job. We have made some improvements and I was happy with the balance of the car.
"I am pleased with the result although I would have preferred pole position. I feel very positive going into the race tomorrow."
---