Saturday April 14th, 2001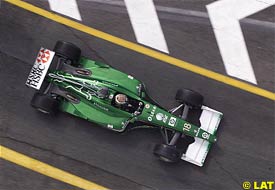 A new engine from Cosworth and improved tyres from Michelin could not help Jaguar attain any better than midfield grid positions for Sunday's San Marino Grand Prix.
Eddie Irvine ended the session in 13th place after spending half of the session down in 21st spot, whilst Luciano Burti claimed 15th, and the whole team talked of unfulfilled potential.
"We didn't do ourselves justice today," said team principal Bobby Rahal. "We need to develop a better understanding of how to get the best out of this car in qualifying trim."
The drivers had various problems during the hour-long session and both suggested areas that the team are struggling with.
"We need to understand the car better," suggested Irvine, whilst Burti complained of engine problems, and explained: "My engine was misfiring and the gear downshifts were slow."
---