Saturday March 11th, 2000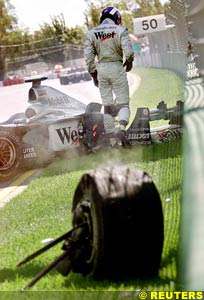 Defending drivers' champion Mika Hakkinen claimed pole position for Sunday's Australian Grand Prix for the third successive season on Saturday after his McLaren team-mate Briton David Coulthard walked away unhurt from a major accident at 200 kph (125 mph).
The Finn, in his McLaren-Mercedes-Benz, topped the qualifying times throughout a dramatic and exciting one-hour session run in hot sunshine at the Albert Park track where the top three drivers repeated the positions they each held in both 1998 and 1999.
Coulthard, despite his big collision with the barriers, ended up second fastest behind his team-mate, but ahead of German Michael Schumacher, whose final flying run in his Ferrari had to be aborted because of red flags following the Scot's accident.
"Obviously, that was not the intention," said a recovered Coulthard afterwards. "I did not want to have an accident. I was pushing hard and I just lost the back end of the car. That was it. We were making some adjustments to the balance of the car, but we had not found quite the right one."
Hakkinen, looking hot and tired after the session, said he was relieved to be back on pole after a morning of frustration when an engine problem prevented him from completing his practice preparations.
He ended up with a best time of one minute 30.556 seconds, a time that left him three-tenths of a second clear of Coulthard and half a second ahead of Schumacher.
"It is surprising to be in such a good position after a difficult morning and I think it shows the team has done a terrific job. We are competitive. I don't know about the race. Let's wait and see," Hakkinen said.
Schumacher, world champion in 1994 and 1995 said he was not frustrated by his position because he knew he had been delayed by a series of yellow flags and red flags which stopped him showing the potential of the car. His new Ferrari team-mate Brazilian Rubens Barrichello qualified in fourth place.
Hakkinen said that the race would be hard work.
"It is very hot and the conditions are not easy for us. It is especially hot in our car. I wish it had some air-conditioning."
The track temperature was 45 degrees celsius (113 degrees farenheit) at the start of the session and the heat persuaded many of the drivers to delay their start.
But when the action began, it produced a fast and furious series of incidents.
Italian Jarno Trulli in his first Grand Prix for Jordan was among the quickest early on and finished the day in sixth place behind his team-mate German Heinz-Harald Frentzen. Briton Eddie Irvine, on his debut for Jaguar, was seventh and 1997 world champion Canadian Jacques Villeneuve was eighth.
Coulthard and Hakkinen traded times at the top before the Finn's best lap set him apart and then several drivers had spins as they worked to trim their times. The spinners included Barrichello, Schumacher -- twice -- and Hakkinen before Coulthard lost control at the same place where Schumacher crashed heavily on Friday.
For Briton Jenson Button, the 20-year-old newcomer who secured the Williams drive after a testing shootout against Brazilian Bruno Junquiera, it was a dissappointing day.
He crashed in the morning free practice, tearing two wheels off his car, and then struggled with reliability problems in the afternoon.
Fuel supply problems forced him to abandon his race car and switch to the team spare, but the set-up was not to his liking and when he did sort it out he was hit by a series of yellow flags and, finally, the red flags for Coulthard's accident in the final minute.
"Yes, it has been pretty disappointing," he said. "But I suppose it had to happen. It can't be helped. I didn't get a proper lap. My morale is down at the moment. But tomorrow is another day and I believe it will be a great race -- if I didn't, I wouldn't be here."
Qualifying news in details:
McLaren heads front row in Melbourne
Mika Hakkinen scored his third consecutive pole in Melbourne to lead the second successive all McLaren front row for the Australian Grand Prix, a pole which he admitted later was a surprise. " I lost nearly all this morning's practice because of the engine change and could not work on the set up. I had to fine tune the set-up in qualifying. I could have gone quicker on my best lap, but I had to lift off and slow for yellow flags, so I was a little surprised to have taken the pole," said Hakkinen.
His teammate David Coulthard was a full three tenth's slower , but certainly managed to save his place on the front row when he crashed on his final run. The subsequent red flag spoiled his rival's lap which looked like beating his own.
Schumacher settles for third
For the fourth year in a row, Michael Schumacher had to settle for third place on the grid for Sunday's Australian GP, the German on his way to what might have been the pole in the final seconds of practice, but was than forced to stop for Coulthard's accident. "I am not so bothered about being third. It will be a long hot race and a lot can happen. What is important is that we have a competitive car and I am confident we can run strongly in the race. This is a big improvement over our position in previous years at the first race.
Rubens Barrichello was also unlucky not to make the front row of the grid in his first race for Ferrari. There were four reasons why I didn't make a better time; I was late out as we were working on the car, I spun on my second run which would have been better, I had a yellow flag on my next run which was even better and then I got held up by the weight check at the end of the pit and ran out of time for a last run," explained Rubens , who was never-the-less happy to have been so close to Schumacher on his one quick lap.
Jordan take row three
Heinz Harald Frentzen and Jarno Trulli took the third row of the grid, Frentzen two tenth's quicker than his team mate and only a couple of tenth's behind the Ferraris. "I had a few small problems in qualifying, but the important thing is that we are getting closer to the cars ahead . Now the important thing is to finish the race." he said. Trulli had another troubled session having to change to the spare car because of gearbox problems with his race car. He then had similar problems with the spare car, "I am happy to have qualified sixth with all the problems I have had so far," said Trulli. "I was only to make one proper run throughout qualifying."
Irvine seventh for Jaguar
Eddie Irvine's seventh place for Jaguar showed what is possible from the team , but Johnny Herbert's 20th place is probably what's likely in the race after the Englishman suffered two engine problems in both the race and spare car , the spare also losing its power steering when he took it out.
In brief...
Villeneuve was disappointed not to have bettered eighth with his BAR, Zonta 16th after gearbox electronic problems which forced him onto the T-car. Fisichella took his Benetton into ninth place, but traffic spoiled his teammate's hopes of bettering 14th. The hot track temperatures upset the handling of Ralf Schumacher's Williams which was back in 11th spot, Button a disappointed 21st after taking the T-car when his race chassis suffered fuel pressure problems.
A trouble free run allowed Heidfeld to take 15th place for Prost, Alesi back in 17th after new tyres for his four runs proved slower than the used ones. Gene spun off in his Minardi after taking 18th time, Mazzacane last on the grid after the changing track conditions and mistakes caught him out.
Qualifying results:

Pos  Driver         Team                 Time               
 1.  Hakkinen       McLaren Mercedes     1:30.556   210.817 km/h
 2.  Coulthard      McLaren Mercedes     1:30.910   +  0.354    
 3.  M.Schumacher   Ferrari              1:31.075   +  0.519    
 4.  Barrichello    Ferrari              1:31.102   +  0.546    
 5.  Frentzen       Jordan Mugen-Honda   1:31.359   +  0.803    
 6.  Trulli         Jordan Mugen-Honda   1:31.504   +  0.948    
 7.  Irvine         Jaguar Cosworth      1:31.514   +  0.958    
 8.  Villeneuve     BAR Honda            1:31.968   +  1.412    
 9.  Fisichella     Benetton Playlife    1:31.992   +  1.436    
10.  Salo           Sauber Petronas      1:32.018   +  1.462    
11.  R.Schumacher   Williams BMW         1:32.220   +  1.664    
12.  de la Rosa     Arrows Supertec      1:32.323   +  1.767    
13.  Verstappen     Arrows Supertec      1:32.477   +  1.921    
14.  Wurz           Benetton Playlife    1:32.775   +  2.219    
15.  Heidfeld       Prost Peugeot        1:33.024   +  2.468    
16.  Zonta          BAR Honda            1:33.117   +  2.561    
17.  Alesi          Prost Peugeot        1:33.197   +  2.641    
18.  Gene           Minardi Fondmetal    1:33.261   +  2.705    
19.  Diniz          Sauber Petronas      1:33.378   +  2.822    
20.  Herbert        Jaguar Cosworth      1:33.638   +  3.082    
21.  Button         Williams BMW         1:33.828   +  3.272    
22.  Mazzacane      Minardi Fondmetal    1:34.705   +  4.149    

All timing unofficial

---