M.Schumacher Fastest at Barcelona Testing - Day Two
Wednesday April 26th, 2000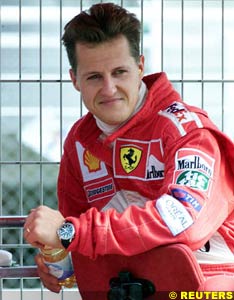 Michael Schumacher set the fastest time at Barcelona, on the second day of the official F1 testing prior to the Spanish Grand Prix next week.
Schumacher was driving the new and fourth F1-2000 chassis, number 202, and was almost half a second faster than Benetton's Giancarlo Fisichella and McLaren's Olivier Panis, who finished the day second and third respectively.
Several teams were marred by mechanical failures and off-track excursions, among them Jaguar's Eddie Irvine, who had an off but managed to recover, and BAR's test driver Patrick Le Marie, whose engine expired on track.
At the end of the day Schumacher said: "We worked through our programme, although a few red flags slowed us down. We showed we were very quick at Silverstone and I think the same will apply here."
Testing at Barcelona will continue tomorrow.
Today's times:

Pos  Driver        Team                Time      Laps
 1.  M.Schumacher  Ferrari             1:21.806   85 
 2.  Fisichella    Benetton-Playlife   1:22.244   68 
 3.  Panis         McLaren-Mercedes    1:22.383   41 
 4.  Barrichello   Ferrari             1:22.395   43 
 5.  Irvine        Jaguar-Cosworth     1:22.434   80 
 6.  Coulthard     McLaren-Mercedes    1:22.511  104 
 7.  Wurz          Benetton-Playlife   1:22.571   71 
 8.  Frentzen      Jordan-Mugen Honda  1:22.771   51 
 9.  Verstappen    Arrows-Supertec     1:22.862  108 
10.  Diniz         Sauber-Petronas     1:22.864   78 
11.  Trulli        Jordan-Mugen Honda  1:22.879   84 
12.  Herbert       Jaguar-Cosworth     1:22.893   62 
13.  Heidfeld      Prost-Peugeot       1:23.463   56 
14.  Button        Williams-BMW        1:23.906   63 
15.  Alesi         Prost-Peugeot       1:24.192   63 
16.  Mazzacane     Minardi-Fondmetal   1:24.768   11 
17.  Zonta         BAR-Honda           1:25.129   58 
18.  Lemarie       BAR-Honda           1:26.702   14 

The 2000 fastest testing time is 1:19.633 (P. de la Rosa)
The 1999 fastest testing time is 1:20.591 (R. Barrichello)
---