Thursday April 20th, 2000
Team owner Eddie Jordan presented Germany's Heinz-Harald Frentzen with a new Maclaren on Thursday - for his week old baby daughter Lea.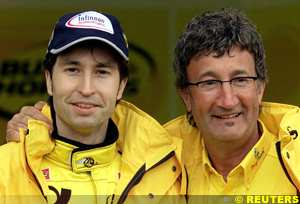 The twist was in the spelling - the Maclaren in question was a brand of buggy rather than the more powerful offerings from Formula One rivals McLaren, Jordan's immediate neighbours in the pit lane.
But that did not stop Jordan, never one to shy from publicity, from labouring the point.
"It's always worthwhile looking at what the opposition has to offer," said Jordan, after the flimsy pushchair was wheeled out.
"And in the absence of anything suitable at Jordan, we thought we'd approach Maclaren for the first time. They were very helpful, though we have had to add an additional wing to give it a bit more downforce."
From Rags to Riches
Eddie Jordan, the millionaire boss of the Jordan Formula One team, loves both his children and his drivers, the difference being that his kids get only five pounds ($7.90) a week pocket money.
"I still close my eyes at night and hear myself saying to my kids "here's five pounds a week" and then I go to the office and I am talking about five million pounds for this and three million for that," Jordan said.
In nine years as a Formula One team boss, Jordan has gone from the back of the grid to one of the front-line contenders for glory.
Last season, his team finished third in the constructors' championship, but he was still struggling to fight off the image that he is just a joker.
"I've never thought this was a joke -- and that is what has made me doubly determined to do it. All I'm doing is trying to deflect, it's a very Irish way to lure them into a trap for not taking you seriously," Jordan said.
"When people look down the grid and think how the hell is he there? That's what gives me the buzz."
The Important Thing is Drivers, Drivers and Drivers
For Jordan business revolves around drivers.
Many F1 drivers, including Damon Hill, Eddie Irvine, Giancarlo Fisichella, Jarno Trulli, Heinz-Harald Frentzen, Michael and Ralf Schumacher, Johnny Herbert and Rubens Barrichello, have driven for Jordan or had him as their manager.
Frentzen and Irvine are particular favourites.
"I would describe Heinz-Harald Frentzen as very calm, reserved, not introverted, but very much his own person," he said.
"You know, I was quite lucky. When he was a young driver in 1990, I had another young driver who was Irish called Eddie Irvine in my F3000 team."
And Jordan appears to take time to get to know his drivers insisting that the Jordan atmosphere encourages young drivers to develop their talent and personality rather than "cloning" them.
"Poor old Heinz was totally engrossed by Eddie. I got a good insight into Heinz and he had a very funny side to him which took a while to come out," Jordan said.
Hill "Couldn't Give Up"
Damon Hill, who quit Jordan at the end of a tortuous 1999 season which was punctuated by constant suggestions that he would retire before the season ended, also remains at the forefront of Jordan's mind.
"I knew Damon. He had four kids and he was coming close to 40," said Jordan.
"He had a fantastic innings and he won 22 Grands Prix and, thankfully, he won for Jordan and it wasn't all for Williams! He couldn't give up motor racing," Jordan added.
Hill had a dismal season in 1999 in which he was comprehensively outscored by Frentzen. But the 1998 season was more of a success.
"He was great in 1998. A huge benefit to the team and he scored a lot of points," Jordan said.
Jordan was less complimentary about the Schumacher brothers.
"Ralf was advised by his brother that he should wind up at Williams because Jordan were really not going to progress. That, naturally, offended me. But I am glad to say that Ralf's move was in breach of contract and Michael had to pay handsomely for that particular thing to happen."
This weekend Frentzen will partner another Jordan wonderkid, Italian Jarno Trulli at the British Grand Prix.
---