Saturday April 8th, 2000
by Simon Evans
Italians are already convinced this will be Ferrari's year and Sunday's San Marino Grand Prix will see a huge crowd anticipating a third step towards the team's first driver's title since 1979.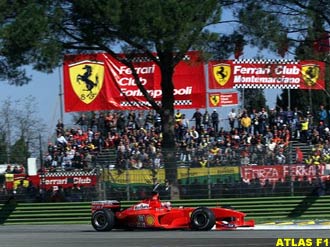 No matter that neither driver is Italian, it is the car, that very recognisable red car, that fills Italian hearts to bursting point with pride.
An Italian, Giancarlo Fisichella, currently lies second in the championship standings. That will matter little to the tens of thousands of Italians around the track.
Their cheers will be for German Michael Schumacher, winner of this season's opening two races, and Brazilian Rubens Barrichello in the two Ferraris.
Schumacher, with a maximum 20 points, has a 12-point lead over Fisichella, who drives a Benetton, while Barrichello is in joint third place on six points.
Last season ended with 50,000 Tifosi gathered at Ferrari headquarters in Maranello hanging their heads in disappointment after the team once again failed to live up to their high expectations.
Although there was still hope of victory until the final Japanese Grand Prix, in reality the title was lost after Schumacher's injury at the British Grand Prix left Eddie Irvine as Ferrari's sole challenger for the bulk of the campaign.
"It was a very difficult season for us last year," Ferrari president Luca di Montezemolo said during practice for Sunday's race. "But despite all the problems we won the constructors' title which was a very big achievement."
"It is too early to say about this year but we have a very competitive team and up to now things have gone well in both races. We have two intelligent and quick drivers who are really at their peak when they are in the race".
Schumacher will start in second place on the grid in Sunday's race after McLaren's Mika Hakkinen took pole position in qualifying on Saturday. Barrichello will start in fourth.
Despite the disappointment of seeing the Finnish world champion take pole, Schumacher remained upbeat over his chances.
"I could have easily been on pole today and I wanted to do it for all the fans and all the team who have worked so hard this weekend," said the German.
"All the same I take some pleasure from being on the front row. We are looking good for the race and if I make a good start like I did in Brazil, then that will put is in a strong position."
Ferrari have had no serious technical problems hampering their start to the campaign and the optimism is in stark contrast to the air of gloom surrounding Italian's other great passion -- football.
Former AC Milan soccer star Daniele Massaro, one of scores of Italian celebrities at Imola, believes the popularity of Ferrari has now outstripped that of the Italian soccer team.
"Soccer is the number one sport in Italy but the national team is in a very bad situation. In contrast Ferrari has won the first two Grands Prix and has made a great start to the season.
"Everyone is behind them, it is impossible for them to lose the championship this time."
The popularity of the team, at a time when football is going through a poor patch, is not lost on Ferrari's marketing men.
Andrea Agnelli, project manager of the newly formed Ferrari World Club, an on-line supporters club bringing together Ferrari fans from all over the globe, believes the team now attracts more Italians than any other sports organisation.
"Everyone is really united behind Ferrari. With the Italian football team there are divisions between the clubs or disagreements with the coach. But Ferrari is different.
"We bring everyone together in one dream."
---