Saturday April 8th, 2000
McLaren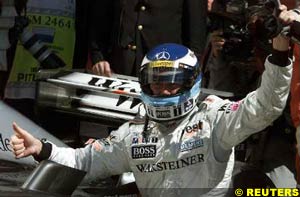 Mika Hakkinen: "I must admit that I was on the absolute limit during my final run. I really pushed in the last couple of corners because I felt I might be slightly down after the first two sectors. We have made a lot of progress with the car since yesterday's practice and I'm happy with the balance."
David Coulthard: "There is no doubt that we had the potential to be quicker but unfortunately I made a small mistake at the second Rivazza, which cost me time on the uphill section afterwards. In the end I had to settle for third place on the grid but I'm looking forward to a competitive race."
Ron Dennis: "Both Mika and David did a great job and we have worked well as a team throughout practice and the results speak for themselves. Mika's 24th pole position puts him amongst and ahead of some of the current and former great drivers. What better place to achieve it than Imola. But we have now enjoyed the moment and as always we are now focused on the race."
Norbert Haug: "Mika and the team did an excellent job to score Mika's 24th pole position in the final seconds of the qualifying session. His fight for pole with Schumacher was an excellent display for the millions of television viewers and with David being third, the team is certainly in a good position for the race."
Ferrari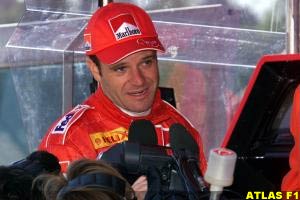 Michael Schumacher: "I am very upset with myself because I made a bad mistake at Rivazza on my third run. Up to that point it had been a very exciting lap and I was four tenths up. I could have easily been on pole today and I wanted to do it for all the tifosi and all the team who have worked so hard this weekend. All the same, I take some pleasure from being on the front row. We are looking good for the race and if I make a good start like in Brazil, then that will put us in a strong position."
Rubens Barrichello: "I had problems in the morning session. I was unable to find the right balance for the car and every time I went out on the track I had to work very hard. On my last run, I did a lap on the limit, although I had to lift off because of a yellow flag and I managed to get a good grid position. I am not worried about the race, because the team is capable of solving the set-up problems which I had today."
Jean Todt: "This was an exciting qualifying battle with our rivals. We were second, then on pole and finally second by a hair's breadth. We have managed to get one car on the front row and one on the second which is a positive result. Tomorrow, the race will be very interesting and closely fought. For today, we are happy to have put on a good show for all our fans and the staff of the Gestione Sportiva who, as usual at Imola, are packed into their reserved grandstand."
Williams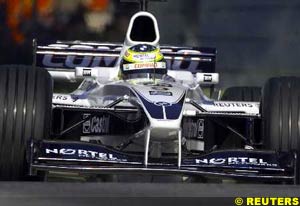 Ralf Schumacher: "The cae was really perfect, we have a very good car and BMW have improved in the right way. I must say that we didn't expect the fifth position in qualifying but I am quite optimistic for tomorrow's race because usually the FW22 has performed better in the race than in qualifying trim."
Jenson Button: "Not really a good qualifying day for me today. Both yesterday and today I have found it very difficult to get familiar with using the kerbs and I must say that I am still not really confident. My lack of mileage due to problems that we had with the car didn't help, obviously."
Gerhard Berger, BMW Motorsport Director: "We are very happy, as newcomers, to start our third race from the third row of the grid. Such a good qualifying lap can come true only when everything works at its best. Jenson hasn't found the right rhythm here, but Imola is a very difficult circuit to learn. To find the right breaking points on this track you need a lot of experience. After having run a race distance, I am sure Jenson will feel more at home here."
Jordan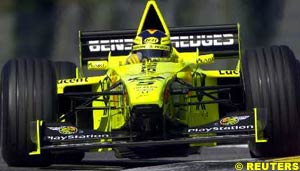 Heinz-Harald Frentzen: "This was a really tough session! It was really tight with everyone fighting for those thousandths of seconds. Ultimately we could not quite find that extra time. But at least I am in the top six and the car is running perfectly so we should have a good race tomorrow."
Jarno Trulli: "I did not expect such a tough qualifying session! The car balance was good but we just were not quick enough today. This was not helped by the fact that I had traffic in my penultimate run and then yellow flags in the final run. Still, we should expect to race well tomorrow."
Eddie Jordan: "That was an incredibly tightly fought session – this season is going to be fascinating! It was very exciting with the drivers battling out for fractions of seconds. Let's hope the race is as thrilling and that we can win some more points."
Jaguar
Eddie Irvine: "We changed the engine after morning practice, which gave us a bit more driveability. I thought we could have been fifth today but I'm not complaining too much, the car obviously works well round here. I am a bit disappointed though. In Brazil and Australia I got pretty much what I felt was the maximum out of the car. Here, there was two or three tenths at least in it. On my second lap I went completely off the road; on my third lap, when I set my best time, I also screwed up the corner where I went completely off the road. Then on my last lap, I got it right, but Ralf Schumacher had blown up and I had to back off a bit for yellow flags. I can't complain, but it's annoying when the potential is there to do a lot better. I'm sure it's going to be a very competitive year for us."
Johnny Herbert: "The end result is just not where I want to be. We chose the harder tyre, because all the indications from yesterday and this morning were that when you do longer runs, it gets better. But it didn't happen. At the end I decided to go on one longer run. It's unbelievable, really. I was happy with the balance of the car, it was very good on the out lap on that last run. I thought, 'This is going to be good.' And by the end of my first split I was about 0.4s up. But the tyres gradually went off, and by the end of the lap I was only 0.2s up. I think with this tyre choice we'll be alright in the race. From everything I did this morning it should pay off handsomely."
Paul Stewart: "Eddie felt he could have gone quicker, because he did a mistake on his quickest lap. We're encouraged by his performance, but a little disappointed that he couldn't get what he felt he could achieve. Johnny went in a direction that he thought would be okay for qualifying, but it wasn't, and that's why he's as far back as he is."
Sauber
Pedro Diniz: "We improved the traction of my car as the day went on, and it felt fine this afternoon. I lost my third run because of traffic, but my fourth was really good. I'm very happy to have qualified in the top 10."
Mika Salo: "I just couldn't put a good lap together this afternoon, which is very frustrating. Yesterday I was afraid the traffic would be a problem in qualifying, but really I just didn't get the last chicane right. I kept hitting the kerbs too hard, which made it very difficult to get the power down. That just made worse the traction problem I was already having."
Peter Sauber: "This was a very good result for us today. Our aim is always to qualify at least one of our cars in the top 10, so I am happy to have the 10th and 12th places. Both car and driver must be very good to be only two tenths of a second away from Jarno Trulli's Jordan. It is a very good start to our European season to be so close to the works teams. Both RED BULL SAUBER C19s have been reliable all weekend, and I would like to thank the team for their focused and effective work, which cannot have been easy after all the pressure we have been under recently."
Benetton
Alexander Wurz: "This was quite a difficult session, we struggled with the grip on the car. On my last lap I think I really got the maximum I could have got out of the car, so on the whole I am pleased with my qualifying position. We have done some good work on the race set-up so may be we can score some points tomorrow, but it will be tough."
Giancarlo Fisichella: "I am extremely disappointed. We made the wrong choice with the tyres and we also struggled with the set-up. I had a mixture of under- and oversteer and a lack of traction, so the car was very difficult to drive."
Flavio Briatore, Managing Director: "We made a mistake in choosing the medium tyres for Giancarlo and we have paid for it. Alex did a very good job on a circuit that is tricky for us and can have a strong race tomorrow."
Pat Symonds, Technical Director: "A very good effort by Alex and his crew on a difficult circuit that we didn't fully get to grips with. Nevertheless they made the best of it and he has qualified just outside the top ten but in a position that can give him a strong points finish. With Giancarlo, I think we made the wrong choice of tyres by deciding to go with the medium ones and it has cost us dearly in Qualifying but may be it will pay dividends tomorrow."
Arrows
Jos Verstappen: "What can I really say except the last lap was quickest and I had a problem with the right rear wheel. It was a shame, otherwise I could have moved up a couple of places. It will be difficult for tomorrow because overtaking here is worse than in Brazil. We will do our best and see what we can do."
Pedro de la Rosa: "I cannot say I am really happy, because when you are so close to the top ten and then miss on that last tenth I think we have to work very hard. We are in a very competitive group and small differences in time make a hell of a lot of a difference in places on the grid. I am confident about the race with the tyres I have, and the car is very consistent."
Tom Walkinshaw: "Like the drivers I was hoping for better grid positions, especially here, so have to be disappointed with today. However, the car's development is going in the right direction. Of course we have made a massive improvement over last year, but we are not satisfied with that as top ten grid positions are our objectives. We'll get there, it just takes time and effort and we are not lacking the latter."
Minardi
Gaston Mazzacane: "I thought we would be better placed after the Brazilian GP, but the circuit at Imola, with its various uphill sections, puts us at a disadvantage. We have worked very well on the set-up and I hope to get through the race tomorrow. For me this is definitely the main objective, in addition to checking out my pace in race conditions. I didn't make any mistakes today and I managed to end the session in time to lend the car to my team mate."
Marc Gene: "Today has been a very difficult and unlucky Saturday because, had it not been for going off the track this morning, I would have clocked a good time. In qualifying I didn't even make the first lap because of a problem with the T-car, and I had to end the session in Gaston's car with just fifteen minutes to go to the end of qualifying. So we did not have time to change the set-up and, even though the car was not going badly, it was not mine and I couldn't drive it as I wanted. I now have to put today behind me and concentrate on tomorrow because, together with my engineer, we have found a good race set-up."
Gabrielle Rumi: "Today's qualifying session was extremely fraught. This morning Marc's incident, in which he damaged the chassis, forced the driver to use the T-car. Unfortunately, in the very first qualifying lap a problem arose on the car and consequently we only had one car to use for the whole of qualifying. Gaston immediately had to complete his qualifying without being able to adopt any particular strategy so as to allow Marc to qualify. Under these conditions we could not have expected to do any better."
---