Saturday April 8th, 2000
You can listen to the press conference at http://www.f1press.com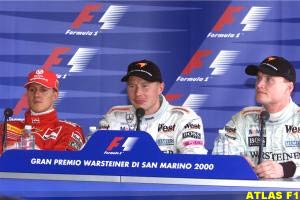 Q. Congratulations, Mika on your 24th pole position and the third out of three races so far this year. What are your feelings in the car when you're on the way to another pole? Is it an enjoyable experience?
Mika Hakkinen: It depends how you look at it. It is always demanding to do a qualifying session and it is never enjoyable while you are doing it. It is only afterwards, when you see the results, that you can say we did a good job.
Q. Was it just a case of making changes to the car, or did that final pole position time come entirely from you?
MH: We did make some changes during the session - and it looks as though they were the right ones.
Q. Your own times yesterday made it look as though you were off the pace. Did you find something overnight to make the car faster?
MH: I wouldn't say we were off the pace: we didn't do too badly yesterday. If you had been looking on the television yesterday you could have said our car looked a bit loose and wasn't so balanced. That's why we made changes overnight. It probably won't help you if I tell you what those changes were, because you would have to understand what they achieved. But the engineers did a very good job to give us a car with which we were able to attack the corners.
Q. Michael, after you qualified third in the first two races of the season you said you were very happy with your results. Are you even happier to be second here?
Michael Schumacher: Honestly, no. I am very unhappy with myself because I made a very bad mistake on my third run, when according to our telemetry I was 0.4 second up. And I just destroyed it. Today it would have been very easy for us to be on pole. But that's the way it is. Being on the first row here gives me some pleasure, but not as much pleasure as I was expecting for myself or that I was trying to give to all the tifosi here.
Q. For a moment there, at the very end of the session, you actually had pole position. Was your pit keeping you in touch with what was happening with the two McLaren guys were doing just behind you on the road?
MS: Yes, I was being informed. But unfortunately my last run wasn't as good as the previous one: I made a few mistakes and the balance wasn't as right. Nevertheless, tomorrow is a long day. We are on the first row, and with a good start then things will be looking good. And I am happy with the setup work that we have done for the race.
Q. David, is this the happiest you have been with the car so far this season?
David Coulthard: I am not too disappointed, even though I was within 0.1 second of pole in Brazil, and here the difference is exactly 0.3 second. I know that the car and I are both capable of doing a quicker time, but I didn't manage to get the whole lap together. You hear racing drivers talk about this sort of thing all the time, but it's a little more difficult here than it is on other tracks to hold the lap together, because of the kerb bouncing we have to do. But though we were capable of doing it, we had made a change and the car wasn't quite as tidy. Let's put that down to experience and look forward to tomorrow.
Q. After the first runs you actually held provisional pole position. Did the track change much after that?
DC: Not really, no. It is normal to go quicker from one run to the next on a track like this where you have to really hit the kerbs to get a good time. You're not really driving the car through those corner, it's more a matter of throwing it through. Obviously I was a little closer to the limit than the others on that first run, and not close enough to it at the end, in my later runs.
Q. Mika, last year you crashed out of the lead at the final chicane. Will that mistake be going through your mind in tomorrow's race?
MH: Well, I do remember very clearly what happened last year. So I will try not to do that again. Obviously. And yes, it will definitely affect the way I approach that corner this year.
---