Wednesday October 13th, 1999
Q: What happened between last Monday and last Friday to make you change your mind? On Monday you weren't going to race and on Friday you were; can you take us through what happened step by step?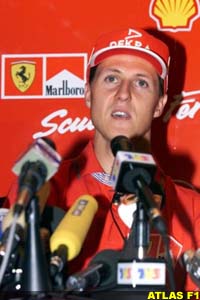 Michael Schumacher: First of all, I have explained that in reality that I took the decision(not to race) too early. I said on Sunday after my check-up with the doctors that 'no, I'm not going to race, because I'm not pain free, I'm not able to train as I want to train.' After the experience of my last two outings at Mugello and Monza - especially at Monza where I was really destroyed afterwards - I didn't feel like I wanted to get into a car if I was still in pain, even though I was walking properly and working out properly.
But the team asked me if I was able to test, and I said I could do five laps at a time and there should be no problems so I said I could do test if they wanted me to. It's important because we're not allowed to test in November, so it's important to have certain information before then, which is why I said OK.
This was lucky, because while I was testing, I was asking myself, how can I explain that I feel that I want to drive, after taking the decision on Sunday not to drive? On Sunday, I had said that I didn't want to drive, but on Monday, when I drove the car, I felt completely different, because it was once more satisfying to drive the car without pain and feeling comfortable.
But I said to myself that I couldn't go back on my decision a day later. I wanted to be sure about my decision and that's why I asked the team for further testing on Thursday and Friday in Fiorano. I wanted to be sure that it wasn't just Mugello(that was making me want to do a U-turn), I needed confirmation that I really wanted to race. I didn't want to go back on my decision, and then not be happy with this decision.
Q: Are you now painfree?
Michael Schumacher: Yes, when driving, definitely. I don't feel anything when I'm driving. I'm surprised by my level of fitness, considering what I have done in terms of exercise, I'm reasonably fit, although I'm not as fit as I usually am. At least I'm enjoying driving. I'm not fighting for the World Championship myself, I'm fighting for the team, for the Constructors' championship. But I've obviously seen the team struggling in the last two or three races and for me it's important because it affects what happens next year as well.
We'll have to see how I get on in the race itself because I haven't done a race distance yet. But I think it's important to be clear of certain things in the team so we know which direction to go during the winter and hopefully put in some good results. We also need to keep certain members of the media quiet and show them what is our level, because I don't think the team has been able to show this during the last few races.
Q: In what way have you been able to change the car in recent testing?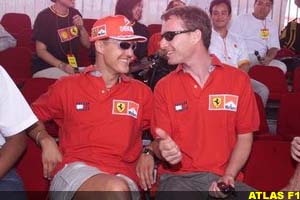 Michael Schumacher: I don't think it's me who has changed very much in the car, but the team knows that when I drive the car and drive it at the limit, I give clear information about the car. We have developed certain things, particularly at Mugello, and therefore I feel that the car is certainly much better than when I drove it last time in Mugello. I believe here that things will be different in comparison to the race at Monza. I don't take Nurburgring into account because of the weather conditions and as we saw with how many people were able to win the race, it was impossible to judge what happened at Nurburgring in terms of our performance.
Q: How competitive do you feel you can be here, particularly after your long lay-off?
Michael Schumacher: I feel I could win the race. I feel very good inside. For sure, in qualifying, I will be 100 per cent. I don't know whether I'm different to before. It will be difficult for me if the race goes flat out from the first to the last lap but I have to see myself how I will be. In terms of the performance of the car and me, I feel that we have a good possibility to win here and fight for the Constructors' and Drivers' title for Eddie in the last few races.
Q: In what way can you help Eddie?
Michael Schumacher: First of all, let's be very clear that first of all I am driving for the team and not in the interests of Eddie. The only way I could help him would be if I was directly in front of him then I could let him by, that's obvious. But if that's not the case, then he has to manage by himself, and we have to try together to get full maximum points in the Constructors' championship.
Q: What risks are there associated with the comeback. Are you worried at all?
Michael Schumacher: I haven't been worried in testing. I had an 'off' in Mugello and you immediately think back to what has happened. But at certain moments, you do think about what happened at Silverstone. You can't ignore it, it's part of your experience, and you will have that experience for the rest of your life, but so far, during testing, it hasn't affected me or my performance.
Q: Do you think you will have to play yourself back in, or will you be competitive straight away?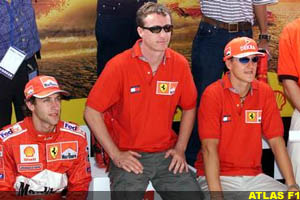 Michael Schumacher: If you take my lap times from Mugello or Fiorano, it shouldn't take long to be back in the winning circle.
Q: Has anybody in particular asked you to drive in these two races?
Michael Schumacher: Sure, the whole team! I know there are some stories going around that I had a meeting with Montezemolo(Luca di Montezemolo, the president of Ferrari) and that he was making me drive. But I think I'm independent enough to make my own decisions, I don't need anybody to make suggestions to me. But for sure, he has asked me as well if there was any chance of me changing my mind, as have many people. I discussed my feelings and situation but it remained my decision. Only you can answer these questions. I've explained why I said no and why I said yes, and I hope this answers all your questions.
Q: Did your wife have any reservations about you getting back into the car after your accident?
Michael Schumacher: Yes, she did, definitely. But when she saw me coming back from Mugello, she knew there was only one answer that she could give me. It was the first time that I was really smiling, when I came back from testing.
Q: Is the Malaysian weather going to affect you, with the heat and the rain in the afternoons?
Michael Schumacher: As I said, my fitness is not as it used to be before. Hot weather, a tough race can affect things and varying weather is impossible to predict.
Q: Is it going to affect your performance during the race?
Michael Schumacher: I don't know. I have to find out how much it is going to affect me, but I have to say that I think my current level of training is still greater than that of some other drivers. I don't know how tough the circuit is or how hot it will be or what might affect my fitness.
Q: Had you ever considered writing off this season totally?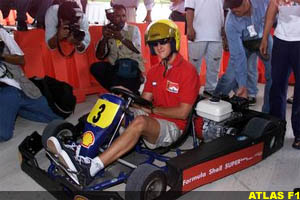 Michael Schumacher: It's like this - immediately after the accident, you feel that you have had a sign that you should stop motor racing. And then step by step you come back and think that this season is finished, for sure, but then you regain your normal lifestyle and my normal lifestyle is being a racing driver; that's what I wanted to be again as soon as possible, but not too soon, because if you can't perform in qualifying, then there's no point in coming back.
Q: Are you nervous about your comeback?
Michael Schumacher: Not too much. Maybe it will be different on Friday or Sunday, but then I'm not fighting for the championship, so I'm a bit more relaxed about the situation. I'll do whatever can. I'm fresh and looking forward to getting back to my normal lifestyle, to work with my friends in the team and for life to get back to normal.
---