Leaving the principality of Monaco, we move around the Mediterranean to Barcelona, to the Circuit de Catalunya. At 4.727 Km, Catalunya is average in length and is one of the faster Grand Prix circuits. Sunday's race will be the 9th Spanish Grand Prix to be held at Catalunya. The circuit is one of the best modern European circuits with one of the longest straights in Formula One, several changes in elevation and a mixture of high, mid and low speed corners. The high lateral G-forces experienced by drivers through the high speed corners make it hard on their neck muscles.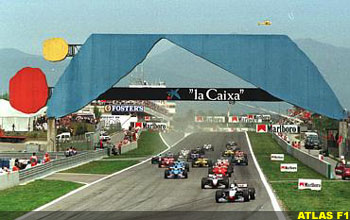 What kind of driver wins at Catalunya? This is one of the few circuits where Ayrton Senna never won a Grand Prix while his nemesis, "Le Professor" Alain Prost, won and finished ahead of Senna in the two races they both competed. It is not a question of who is fastest, it is more a question of who has the best race strategy.
Catalunya is a circuit where it isn't possible to make an uncompetitive car perform better than it should but it is easy to make a competitive car perform worse than it can. BAR's Senior Race Engineer, Jock Clear, explains: "The combination of long, 180-degree turns and the decent-length straights you get there as opposed to the chicanes and short straights of Monaco, for example, really allows the strong cars to stand out. In Spain, there is no substitute for good aerodynamic balance and an effective chassis package."
Pitstop and tyre strategies
Attrition is generally low at this circuit. Fifteen cars finished at Catalunya in 1995, 1997 and 1998 while only six cars were running at the end of the wet 1996 race. In last year's race, all of these finishers adopted a two-stop strategy apart from Michael Schumacher, Heinz-Harald Frentzen and Estaban Tuero who each had three stops. The surface of Catalunya is very abrasive and it is not surprising that this circuit is hard on tyres. In particular, wear on the left front tyre is high due to the long, high-speed, corners which can lead to excessive understeer as the race progresses.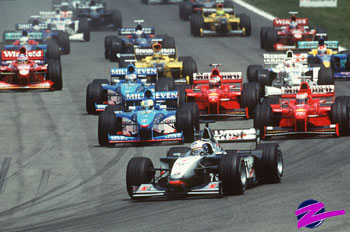 Sunday's race will be all about tyre and pit-stop strategy. It would be no surprise if most teams again adopted a two-stop strategy on Sunday. The timing of the pitstops will be just as important for optimal tyre performance as the number of stops.
On tyre choice, Bridgestone will offer the teams a choice of soft or medium compound tyres. Bridgestone expects that most teams will select the medium compound, which they believe is best suited to the hot track conditions at Catalunya. Yoshihiko Ichikawa, Technical Manager of Bridgestone Motorsport, stated that "the Circuit de Catalunya is regarded by the teams as a track where lap times are often inconsistent, due to wide fluctuations in temperature and wind direction. The road surface here is also more abrasive than most, which has required us to pay special attention to selecting the two compounds that we will offer the teams for next week's race."
"This is the first Grand Prix circuit we have visited this year where the tyres are seriously stressed," he explains. "Not only are the straights quite long by modern standards, which can lead to overheating of the tyre, but they are punctuated by corners which are mainly fast or medium-speed. The tyres must resist the combination of high speed and lateral g-forces generated in these faster corners, and extra grip will obviously mean more stress."
The Teams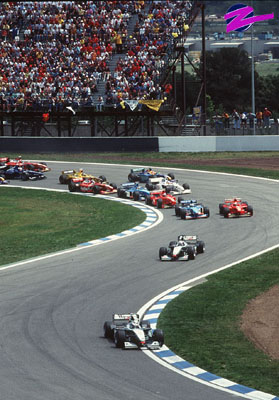 Ferrari leads the manufacturer's title and has been the most reliable team of 1999. Ferrari has only won the Spanish Grand Prix at Catalunya once - in the rain in 1996 - but their cars have always finished in the points.
The World Championship leader, Michael Schumacher, is the most successful and consistent driver at Catalunya. He has competed in every Spanish Grand Prix at Catalunya and he has always finished in the points. Michael Schumacher won this Grand Prix twice, once for Benetton in 1995 and once for Ferrari in 1996. He was second in 1992 (from pole position) and in 1994, third in 1993 and 1998, fourth in 1997 and sixth in his Spanish debut in 1991.
"In Barcelona, the cards will be newly shuffled,"Michael said earlier this week. "There are some circuits that will suit us better than others. Although we were very close to the performance of the McLaren at the last two races it could be a tougher job to match them at a track like Barcelona. We have been working hard since the last race and made more improvements to the car. We shall see when it comes to qualifying just how close we are on a track like this."
Eddie Irvine is second in the World Championship but he has not shone at Catalunya. He was sixth in 1994 and fifth in 1995 for Jordan and was fifth in 1996 for Ferrari. Irvine's thoughts on Catalunya: "It's a track which can change the performance of the car a lot from day to day depending on the wind, the temperature, or the amount of rubber on the track. You have to be constantly evolving the chassis set up to get the best lap times. If you make a mistake the kerbs can do a lot of damage to the underside of the car and cost you a lot of valuable sorting time."
Ferrari may opt for a tortoise-and-hare strategy with Irvine going with a two-stop strategy and Schumacher going for a three-stop strategy. Ferrari's technical director and chief strategist, Ross Brawn, gave nothing away be stating the obvious, "The right race strategy will be even more critical at this race."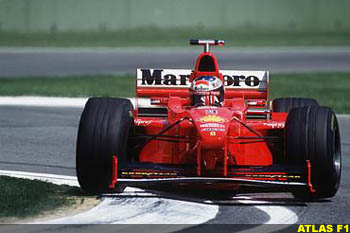 McLaren has only won once at Catalunya, in 1998. Do they start as favourites again? They have an obvious aerodynamic advantage: cars designed by their fluid-dynamicist Adrian Newey have dominated this event. The lack of reliability, especially in the gearbox, continues to count against them. Mercedes sports chief, Norbert Haug, put it bluntly when saying, "One can not talk here about a Ferrari comeback. They were never gone to start with. Ferrari will be strong in Barcelona, as we have learned from the test drives. We need to roll up our shirt sleeves and get to work. Whoever wants to compete against the combination of Ferrari/Schumacher, must firstly finish the race." Haug also praised the McLaren after Monaco. "Both drivers did a very good job taking into account the handicaps they experienced with their cars," the German said.
Team owner Ron Dennis was more philosophical. "It would be difficult to find a clearer contrast between Grand Prix circuits than the claustrophobic streets of Monte Carlo and the wide-open nature of the Circuit de Catalunya," he said. "It is important, however, for the West McLaren Mercedes team to be able to adapt to such dramatic variations in championship circuits while remaining competitive."
Last year's race strategy worked well with both drivers on a two-stop strategy. McLaren would be wise to stick to this successful strategy at Catalunya rather than a tortoise-and-hare strategy which would, frankly, be hare-brained (especially with a fragile transmission and handling that appears to be nervous at the limit). They trail Ferrari by twenty-four points after just four Grand Prix. McLaren need both cars to finish in the points to revive their hopes for the manufacturer's title.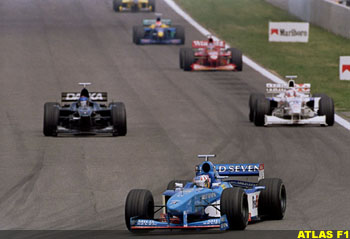 Mika Hakkinen is third in the 1999 World Championship. On grooved tyres, Hakkinen dominated last year's race, winning from pole position and setting fastest lap. On slicks in 1997, he qualified and finished behind his teammate, David Coulthard, while in the wet in 1996 the roles were reversed again when he finished fifth. With even less grip from the 1999 tyres he should still have the advantage this year.
Hakkinen is cautiously optimistic. "Our testing went well at Barcelona last week and I am confident we will be very competitive in qualifying and the race itself this weekend," the Finn said. "This is a very good technical circuit where I always seem to go well and, hopefully, I can repeat my performance of last year."
David Coulthard has now slipped to seventh equal in the 1999 World Championship. Coulthard started his Formula One career at Catalunya and his best finish was a second in 1998. He finished sixth in 1997 after challenging for the lead in the first lap. If the weather and driving conditions are ideal, he might get the better of Hakkinen. Coulthard is looking forward to the Spanish Grand Prix, saying, "Barcelona is a main test track so most of the F1 drivers know the circuit very well. After the confines of Monaco, it will be good to have an opportunity to stretch the legs of the Mercedes engine, particularly on the long pit straight."
Jordan is third in the manufacturer's championship. However, this team has never gone consistently well at Catalunya and last finished in the points in 1997 when Giancarlo Fisichella finished sixth. Last year, Ralf Schumacher and Damon Hill were outclassed. Jordan need both cars to finish on Sunday to keep up its manufacturer's title challenge.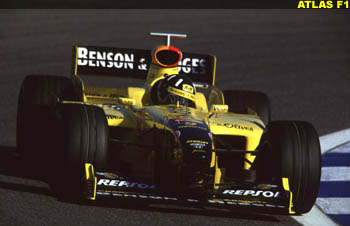 Damon Hill led the 1993 race until his engine failed, won in 1994 for Williams and finished fourth in 1995. Unfortunately, Hill seems to be losing the pace in 1999 and needs to change his destiny. To his credit, he showed blistering pace on the final day of last week's tests.
Heinz-Harald Frentzen has slipped to fourth in the World Championship. Frentzen has not gone consistently well at Catalunya, his best finish was fourth in 1996 for Sauber. He needs to keep scoring points to keep his championship hopes alive. Frentzen is playing down his role, saying: "The driver himself has less impact on the lap times in Barcelona - a complete contrast to the streets of Monaco where driver skill is really important. Here in Spain, the work of the engineers is really crucial."
Benetton has now moved up to fourth in the manufacturer's championship. Benetton has done consistently well at Catalunya, finishing in the points in every race. Giancarlo Fisichella's fifth place finish at Monaco took him to fifth equal in the driver's championship. Fisichella finished second last year and set the fastest lap in 1997. Alexander Wurz finally scored a World Championship point at Monaco. Wurz finished fourth in his Spanish Grand Prix debut last year but he has been consistently off the pace in last week's tests.
Williams is currently fifth in the manufacturers' championship. However, Williams is the most successful active team in the Catalunya races, winning five of the eight Grand Prix held on this circuit and at least one Williams has always finished in the points.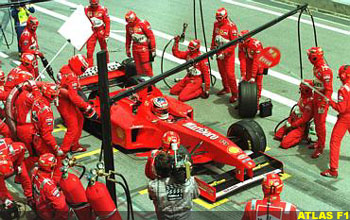 Ralf Schumacher is fifth equal in the World Championship. After a solid start to the season he has lost momentum. Ralf has yet to score a point at Catalunya in two starts but has shown exceptional pace in last week's tests at Catalunya. Ralf had this to say: "In Barcelona we have done a lot of testing during the winter time and I think that we have sorted out a good set up there. Furthermore, I am confident we will improve even more and although I expect the McLarens, the Ferraris and the Stewarts to be very strong there, I hope that I will qualify within the first eight. Anyway, I am optimistic for Sunday because I know that our cars can produce a good performance in the race. In general, I like the Barcelona circuit, as it has a good variety of corners, both fast and slow. Therefore I am confident with the track and I hope that we can produce a good race there and score some points for the Williams Team."
Alex Zanardi's season is still dogged by bad luck but he has, at least, finished one race. Zanardi made his Formula One debut at Catalunya in 1991 when he finished ninth for Jordan, an engine explosion ended his 1993 race while he again finished in ninth for Lotus in 1994. He may have to settle for ninth again on Sunday. Regardless, a finish at Catalunya would help his return to Formula One. Zanardi had this to say: "This is a circuit that we should know better than any other because we tested here all through the winter. We're not expecting anything in particular as we've had difficult times recently. It's nice for us - unfortunately it is for everyone else - to have tested there just one week before the race. It was a useful test and I hope that we have been able to improve our performance compared to other people for this event."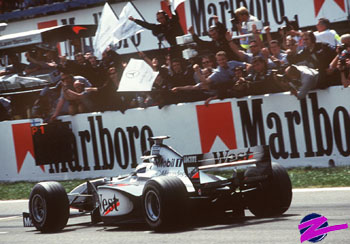 Stewart is now sixth in the Manufacturer's championship. Both of its drivers have shown exceptional pace in testing at Catalunya earlier this year but were less competitive in last week's testing.
Rubens Barrichello has slipped to seventh equal in the World Championship. Barrichello finished fifth in 1998 and could have a podium finish at Catalunya. Johnny Herbert has yet to finish a race in 1999. Herbert has competed in seven of the eight Spanish Grand Prix held at Catalunya. Herbert's best finish was second in 1995 for Benetton he was fifth for Sauber in 1997.
"We have experienced increased reliability from the engine recently, which is very satisfying for the whole team and for Ford," commented Herbert earlier this week. "As this year's car is a big improvement we have every reason to be confident. I am looking for my first race finish of the season and if I achieve that I expect to be in the points."
Prost has had mixed results at Catalunya. Team owner Alain Prost knows how to win at Catalunya, having won in 1993 and finishing second in 1991. Olivier Panis finished second in 1997 for Prost and sixth in 1995 for Ligier. Jarno Trulli has finished one race this season and has yet to score a point at Catalunya. Neither Prosts were competitive last year, Trulli completed the race in ninth while Panis retired. Nonetheless, both Panis and Trulli have posted competitive times in last week's tests and may be able to show some competitiveness in the mid-field.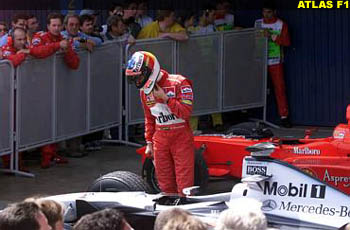 Sauber's performance at Imola showed that their 1999 car has the potential to be competitive. However, the unreliability of their gearbox does not bode well for a finish at Catalunya. Jean Alesi has competed in every Spanish Grand Prix at Catalunya. He finished in the points on six occasions: second in 1996 and third in 1997 for Benetton, was third for Ferrari in 1992 and 1993, fourth in 1991 and was fifth in 1994. Pedro Diniz scored a single point at Catalunya in 1996, finishing sixth for Ligier.
BAR's fortunes took a turn for the worse at Monaco and they now have no finishes in four starts. Jock Clear, BAR's Senior Race Engineer, remains positive in his outlook. "Our aim for Barcelona, as it has been from the beginning, is to finish in the points. Jacques has been putting in some fantastic qualifying performances recently, and in terms of outright speed, we're confident of fighting consistently for position right behind McLaren and Ferrari. The main area for improvement remains reliability, and we continue to work hard on that. The results will come, there is no doubt of that."
Jacques Villeneuve has finished in the points in all three Spanish Grands Prix that he has competed, finishing third in 1996, winning from pole in 1997 and finishing sixth last year. Can he get BAR's first points on Sunday? The only positive thing that Villeneuve said after last week's tests was, "Hopefully, we'll be able to do better at the Grand Prix next week."
Mika Salo will have his last chance to demonstrate his talent in Ricardo Zonta's car on Sunday. Salo has never driven a competitive car in the Spanish Grand Prix and, not surprisingly, he has never scored a point at Catalunya.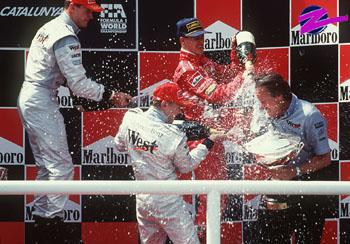 Salo was very pleased with the very competitive times he posted in last week's tests, saying: "As for my second-quickest time yesterday, I really felt that the car couldn't have gone any faster, even if I had wanted it to. It had been great all day, as it has been all the time. I'm only sorry I was second and not first."
Arrows need to finish. They have never scored a point at Catalunya and with relatively low attrition, a finish in the points for either Pedro de la Rosa or Tora Takagi on Sunday is unlikely.
Minardi, like Arrows, need to merely finish. Minardi's finest hour at Catalunya was when Pierluigi Martini finished fifth in 1994. Their chances of repeating that are, however, slim, especially since Marc Gene is a novice and Luca Badoer did not finish in his last outing with Minardi at Catalunya in 1995.
My Predictions:
In the event of rain at Catalunya, the finishing order might be:
Starting grid:

Michael Schumacher
Mika Hakkinen
Eddie Irvine
David Coulthard
Rubens Barrichello
Ralf Schumacher
If it is dry, I'm going to pick McLaren, Ferrari and Jordan as the top three teams.
Starting grid:
Mika Hakkinen
David Coulthard
Michael Schumacher
Eddie Irvine
Heinz-Harald Frentzen
Rubens Barrichello
Damon Hill
Jarno Trulli
Olivier Panis
Ralf Schumacher
Jacques Villeneuve
Mika Salo
Johnny Herbert
Alex Zanardi
Giancarlo Fisichella
On Sunday, it may literally depend on which way the wind is blowing at Catalunya, but in the end it is all down to who has the best tyres at the end of the 65 laps.
The 1999 Spanish Grand Prix Preview in a Nutshell:
Race strategy: It's all about the choice of tyres and the timing of pitstops.
McLaren needs a one-two Finish. Can they do it? They have an aerodynamic advantage but is their reliability good enough? In the dry, this is Mika Hakkinen's race to win or lose.
Can Ferrari split the McLarens? Will Michael Schumacher try a three stop strategy?
The Best of the Rest: Jordan or Stewart? Can both Jordans and Stewarts finish? Can Heinz-Harald Frentzen keep up the championship challenge? Can Rubens Barrichello get a second podium finish?
Always in the points: Michael Schumacher, Jacques Villenueve, Benetton, Ferrari and Williams.
Dark Horses: Prost, Williams and BAR.
Michael Schumacher ought to win if it rains.