This week's Grapevine brings you
information fresh from the paddock on:

Fast Food and Faster Cars
Tail End Charlie's Shooting for V10's
Eddie Irvine in Galway
Picked from the Bunch
Fast Food and Faster Cars
With the Western world closing down on tobacco advertising, the main source of sponsorship in Formula One is changing direction.
Stewart has never run with tobacco money - not entirely for moral reasons, admittedly - and does very well from corporate sponsorship and Ford's support. Arrows has struggled for funding, having failed to pull John Players Special on board last year, despite running black cars. Sauber derives most of its income from Petronas, Minardi is a Fondmetal benefit, and Williams is set to lose its Winfield-Rothmans sponsor at the end of the year.
With the future of tobacco sponsorship looking bleak, it appears that the fast food chains are ready to replace them in Formula One.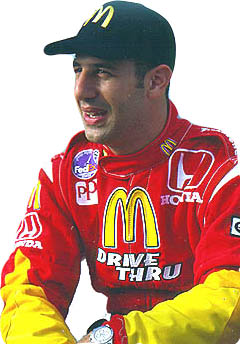 Dekra-Heads (Michael Schumacher's fans) are going to need a new nickname, as Michael Schumacher is about to sign a deal with McDonalds which will see him wear a yellow M on his cap instead of Dekra. What they will be called is interesting question...
However this is just the tip of the iceberg concerning McDonalds rumoured investment in Formula One. McDonalds already has a McDondald's NASCAR team and a McDonald's CART team, so speculation around their involvement is F1 range from a major sponsorship deal (Jordan were mentioned, but they would have to drop Benson and Hedges first) to buying the Deutsche Bank Morgan Grenfell shares and taking a controlling interest in Arrows.
The deal makes sense considering there are other fast food sponsors targeting Formula One, Benetton are known to be in discussion with Burger King, one of McDonalds main rivals. With Formula One presenting breaking into Asia, it provides a superb platform for the fast food chains, which are developing rapidly into the third world.
All things considered, it's not so far fetched that the future of Formula One will be aligned with fast food sponsorship.
Tail End Charlie's Shooting for V10's
With Supertec rumoured likely to be supplying the "unspecified" twelfth team next year, they will only be in a position to supply either Minardi or Arrows next year, sparking new speculation on the future power source for the teams.
It seems Al Melling designed a V10 engine which was due to make its debut appearance in the Lola chassis, before the team withdrew from Formula One. Allegedly, it has been modified, bringing it up to current Formula One standards, and is now being considered by both Arrows and Minardi.
The problem for both teams is that the engine is not based on leading technology, so expectations for both power and development path are low, but it could be a viable alternative, and worth serious consideration.
Eddie Irvine in Galway
Dermote Kelly tells us that, in association with F1 Karting in Galway, they are currently hosting an evening with Eddie Irvine on the 4th of July in Galway. Tickets are sold for this rare appearance of a winning Formula One winning driver in public, with proceeds going to Irish Childline.
The function will be a black tie affair with sumptuous meal, music by The Conquerors Band, a big party, and more. The event should be of interest to all Formula One enthusiasts.
If you are interested in attending, please email Dermote Kelly for details.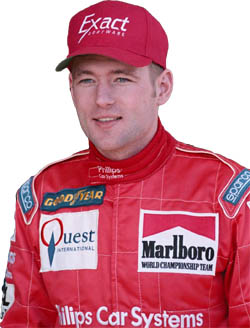 Picked from the Bunch
Honda are pleased with progress made by their test team. The Dallara built Honda chassis has performed well, and development has kept it on the pace, compared with the other teams. Insiders believe that the team should have entered for the 1999 season, where they feel they would be performing better than BAR.
Jos Verstappen's role for 2000 is currently uncertain, but there is speculation that Honda's contract with BAR allows them to specify the test driver - which should allow the Dutchman to see out the remainder of his three year contract with Honda after all. It's possible that a new team taking over the Honda Racing Development chassis would seek his services, as he has already shown himself competitive in that car.
Mark Webber could land himself a Formula One test role next year, after news that the Chairman of the Australian Grand Prix has organised several million dollars of sponsorship from local industry. He met with Bernie Ecclestone at Monaco to discuss the future.
Jordan's up-spec engine for Spain will probably only run in one car - ostensibly for reliability reasons. Behind the scenes, it's believed that Honda want to run the old and new engines side by side to gain the maximum benefit from telemetry, which will decide the development direction for the remainder of the season.
Mika Salo features again with rumours that he may retain his BAR seat at the expense of Ricardo Zonta. The speculation is currently without foundation, though, as it is only driven by the huge fan-base the popular Finn commands.