Have a question about Formula One statistics or history? Well you're not the only one, and it's about time someone came up with the answers to Formula One's most Frequently Asked Questions. Send us your questions, to faq@atlasf1.com - we may not know everything, but we will sure make the effort to find out
"As a relatively new fan of F1 there are a number of terms and conditions that are unique to the sport and take time to learn (even longer when none of your friends know either). Could you explain the following issue: What is the difference between a qualifying engine and a racing engine? If they are both 'legal' from an F1 standpoint, why would they be so different? Thanks in advance, if you are able to respond. John M"
A qualifying engine is usually one of greater horsepower or lighter weight (or both). The reason for the differences is that while a racing engine has to last 300 kilometres, a qualifying engine only has to do up to 12 laps, usually non consecutive, and its job is done.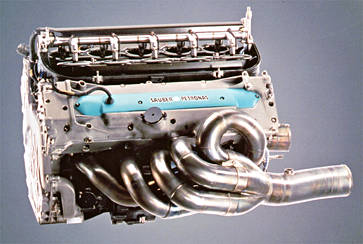 Qualifying engines are more fragile than racing engines. They are also theoretically illegal. Scrutineering determines if the engines are legal or not. The qualifying engine is a concept that is generally not used these days, but sometimes new engine developments are tried in qualifying but not in the race. Does that make them 'qualifying engines'?
One famous incident of a 'qualifying engine' was at the 1980 Canadian Grand Prix. Alan Jones and Nelson Piquet were in the race for the championship, and a good result in Montreal would secure the title for the Australian. Piquet's spare car had been supposedly set up with a 'qualifying engine' which are technically illegal.
Piquet qualified the Brabham on pole alongside his Williams mounted rival. Come race day and Piquet is in his race car and not the car he qualified in. However, an opening lap incident sees, much to Jones' delight, the Piquet's race car is damaged. Piquet re-grids in the spare 'qualifying' car, and sure enough on lap 23 the Cosworth V8 cried enough and blew. Jones won the race that day, giving him the points he needed to secure the 1980 world title.
"I've noticed on a number of f1 cars, not sure if all of them, that near the cockpit and / or the gas input there are letters with a circle around them. I've seen an 'E' on the McLaren and an 'N' I think on the Ferrari. I haven't been able to figure out what these stand for. Do you have any idea what they indicate? thanks. David H"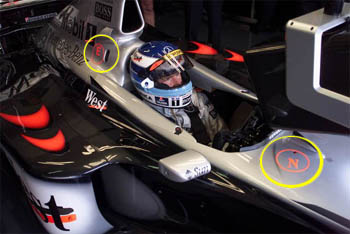 The Atlas F1 FAQ research team have come up trumps again, quizmaster Marcel Schot had discovered the 'N' indicates the presence of a button which when pressed puts the car's transmission in Neutral. This is to assist the flag marshals in recovering cars which have expired somewhere out on the circuit and have to be pushed off or away from the track - or to a point where a crane can grab them.
Similarly, the 'E' is the emergency cut off button for all electrical power in the car, so the presence of that electricity doesn't do anything potentially harmful to anyone involved in a vehicle recovery situation, or more importantly so the car doesn't electrocute anyone who might be trying to rescue the driver from the wreck, or by sparking start a fuel fire.
"Why is it that most of the field in a Grand Prix comprised of what are supposed to be the most sophisticated racing cars in the world cannot finish the race? It seems to me that with all the testing these teams do they'd be able to solve the reliability problem. I can tell you that when F1 comes to Indianapolis next year and only 5-8 cars are running at the end of the race - people will be very disappointed (having been used to NASCAR and CART where at least a large portion of the field will be running at the finish) and the press in the US will have a field day with the results and finish. Mark Z, Wisconsin, USA"
Why do Formula One cars finish as few races as they do? Well, there's lots of reasons for this. Firstly as a direct comparison to the US (and also just a mild criticism), US motor sport results have a tendency to be a bit... shall we say - looser method of classifying finishing cars. The Indy 500, for example, says the car which crashed on the first lap was in fact 33rd rather than a DNF.
Secondly, Formula One cars are fragile. NASCARs are much more able to survive a brush with a wall or another car.
Thirdly, NASCAR and CART are inherently more mechanically reliable classes as there is a control over major mechanical components in both classes. In Formula One each team has to develop, with its partners, all its mechanics by themselves. Only a few teams have the same engines, basically the Mecachrome trio (and believe me it's not through choice), all the other teams use different engines. Ferrari, Honda, Peugeot, Ilmor, Cosworth and Arrows all develop their own engines.
Petronas develop the old 1998 Ferrari engine themselves, and Cosworth have a separate development program for the engines for Minardi.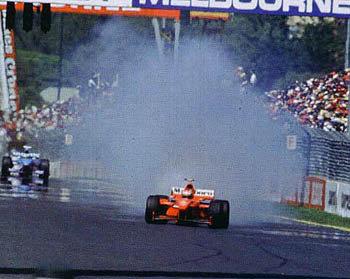 In CART you have the choice between Honda, Cosworth, Ilmor or Toyota (and being fair, Toyota is not a preferred option). The 2.65 litre turbo CART engine is not as technologically advanced as their 3.0 litre naturally aspirated counterparts in Formula One. A more complicated engine generally means it has more ways for it to go wrong. There is a technology limit imposed on CART engine development. This is even stronger in IRL whose engines are production based.
NASCAR has even less choice, basically Ford or General Motors (Chevrolet or Pontiac, with some Oldsmobiles still running in smaller series), and those engines are simpler again, 6.0 litre carburettored pushrod V8's. Formula One has the cutting edge technology and within 3 years the world's six major motor vehicle conglomerates - Fiat (Ferrari), Ford, Honda, Mercedes-Chrylser, Toyota and Volkswagen (Lamborghini) - will be spending huge amounts of money to try and beat each other. BMW won't be scrimping on the pennies either.
That level of corporate competition means each will be trying as hard as they can to get an edge on the other. So components break, big deal we were leading! We were on more TV screens around the world than Bill Clinton and the Teletubbies put together, and only slightly less than the new Star Wars movie!
Will the American public be happier if three or four cars limp home smoking like a Sports Car with turbo failure than if those cars die their deaths and stop polluting the track with oil? CART and NASCAR have had their rules massaged over the years with the intention of producing mechanical reliability and close racing. NASCAR is almost a control category. Formula One has never had such restrictions, at least nowhere near as severely constricting as CART or NASCAR.
Formula One was always about being the best, rather than being the best in roughly equal cars.
"I have heard mentions of formula Two cars running at the same time as formula One cars. Please tell me when formula Two stopped running with the formula One series and what was the difference in the cars and points for the winners. Also please tell me - is formula Two still run anywhere? Thank you, Duncan H, Toronto, Canada"
Formula Two has meant many things on and off over the years. Variations of Formula Two were the major feeder category into Formula One throughout the late 40's, 50's, 60's, 70's and early 80's. The category was replaced by Formula 3000 in the 80's (Formula 3000 has been renamed Formula Two before).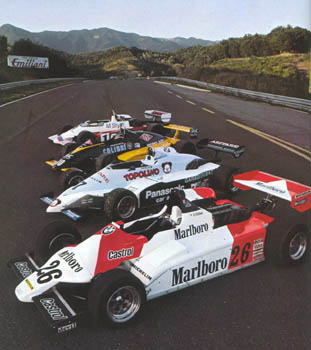 Formula 3000 in its current form is now a much more rigidly controlled category than it has been and the International Formula 3000 Championship runs as the major support category at all the European legs of the Formula One season.
Categories based on Formula 3000 run in several countries like Formula Nippon, Formula Holden and the various regional F3000 categories.
In the mid to late 50's manufacturers were starting to move away from Formula One. Alfa Romeo never developed a car for Formula One, they just kept using their pre-war Grand Prix cars until the weaknesses were exposed, firstly by a Lago-Talbot privateer in Belgium in 1952, and then by Ferrari. Lancia were merged with Ferrari.
Mercedes entered their self-imposed exile. Gordini and Lago-Talbot were never quite up to the job, as were Connaught, OSCA and the other small time manufacturers. By 1957 there was basically Ferrari, Maserati, Vanwall and the occasional underpowered Cooper or unreliable BRM. The home of the German Grand Prix, the fearsome Nordschliefe, put a premium on cars and drivers and it was sometimes difficult to get a decent number of cars to the finish. Occasionally difficult just to get entries, so feared was the track.
In 1957 and 1958 the thin German Grand Prix entry was bolstered with Formula Two cars - smaller, lighter and less powerful cars. This was also done at the 1959 British Grand Prix at Aintree, and the 1960 Italian Grand Prix at Monza. The four 'F2' class winners were Edgar Barth (Porsche), Bruce McLaren (Cooper-Climax), Chris Bristow (Cooper-Borgward) and Wolfgang von Trips (Ferrari). None of the Formula Two cars were eligible for points in the Formula One World Championship.
"Had a question in regards to the deflector shields (stars war terminology) that are run on the cars in front of the side pods (air intakes). What is their purpose? John B."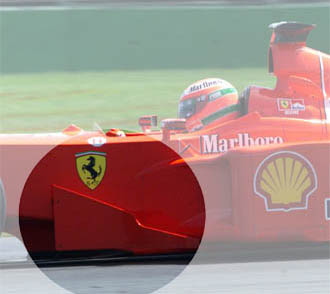 The 'barge boards', as they're unofficially known, are an aerodynamic device used to slow down the air entering the sidepods - and therefore both the speed and quantity of air reaching the radiators and engine bay. They also reduce the drag the previously exposed sidepods caused.
By the way, Last year's 'X-Wings' were banned from Formula One because of the danger of them breaking off. McLaren are reportedly working on a 'lightsabre' and Benetton are supposedly working on a 'blaster'. Reports that Ferrari are building a TIE Fighter for Michael Schumacher are still to be confirmed, however it is widely known that Bernie Ecclestone owns a Death Star.

Editorial Remark:

Some of the questions we receive lately, have already been replied to in previous F1 FAQ columns. Therefore, before sending in a question, we suggest you have a look at the back issues (on the front page there's a scroll down list of all articles and columns published this year, which makes finding the back issues of F1 FAQ very easy). Not that we mind getting so much mail, just that we feel bad for those who feel they are left unanswered...

When the fourth e-mail arrived with exactly the same list of questions, from exactly the same ISP, we realised there's an F1 quiz out there somewhere and you're all anxiously waiting for us to pick up the prizes for you. We don't object to such blunt exploitation of our vast knowledge, but be warned - if we do reply to questions it will be here, in the open, so none of you smarties will have an unfair advantage. Another option is that you cut us in on the prize...

We receive quite a few questions from you all, and it is absolutely impossible for us to research and respond to each of you, be it here or privately. Please, don't feel discouraged if your question was not replied to; it might come up in the next column. And don't forget - you can always look for answers at the Atlas F1 Bulletin Board.