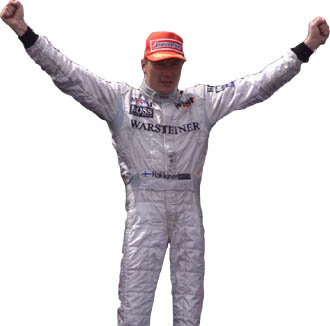 One thing's for sure: Formula One is becoming as interesting as watching wet paint dry off, if on a circuit like Barcelona overtaking was made all but impossible without the aid of a backmarker getting in the way or the driver ahead making a mistake. None the less, if was no doubt a race that made McLaren and their fans extremely pleased - as all ingredients were there to surge the Woking team's confidence.

It didn't look like that on Friday, however.

Free Practice

The Spanish Grand Prix was a race preceded by a considerable amount of speculation, mainly thanks to the fact that it has been the most tested-at circuit this year. No one hadn't been to Barcelona before the race, so there was some speculation as to the possibility of one of several dark horses popping up, especially in testing and qualifying.

But it wasn't to be, with the usual red and silver tussle at the top in early practice sessions, more so a red one, as the Ferraris, more significantly Eddie Irvine, took to the top of the timesheets. The McLarens were nowhere near the domination their pre-race hype had predicted. Rather, they traded sessions with their traditional rivals.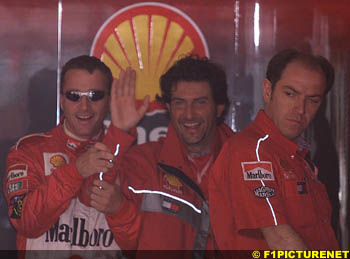 Nor were the Stewarts or Prosts anywhere near where they had been during testing at Barcelona earlier in the year. But one outsider did serve up quite some entertainment during qualifying...
Qualifying
Clearly Jean Alesi wasn't phased by a difficult few days testing, capturing provisional pole with a splendid lap on his first run. He wasn't quickest of all in any of the sectors of that lap, but the total of the three saw the Sauber in an unfamiliar position at the head of the qualifying timesheet.
Despite strong efforts by Mika Hakkinen, Michael Schumacher, Eddie Irvine and David Coulthard, Jean remained on top, until two-thirds into the session. But Schumacher eventually put the Ferrari ahead, by just a few thousandths of a second. Then David Coulthard pipped Michael by three hundredths of a second, making excellent progress in the last sector, before Eddie took his turn at provisional pole on his last lap.
But Mika pulled off another incredible last sector, to snatch pole by what was on the day, a significant margin of 0.131 seconds.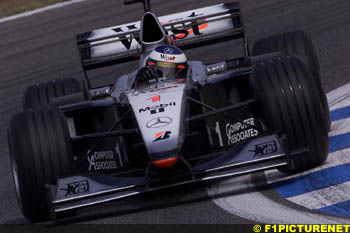 Mika was well off his pole lap of last year, when he was over half a second clear of Coulthard in second, and a full second quicker than Schumacher in third. This year, a second covered no less than eight cars, promising a truly exciting race. "I think the reason that I'm sitting on pole position is because the engineers did a great job to finally achieve the balance in the car," said a relieved Hakkinen. "It was a very challenging qualifying as indeed the whole season has been, the times are very close, the cars are very competitive and it will be an exciting race tomorrow."
Eddie Irvine enthused, "I'm very happy to be on the front row of the grid. It's fantastic. "The car's been well balanced all weekend, but losing half an hour this morning might have cost me pole." His teammate wasn't too happy. "My car was very well balanced in the morning, but not as good in qualifying. "Before this weekend, I would not have believed that we could be less than two tenths off the pole time. "So I am quite optimistic that I can have a good race," said Schumacher.
David Coulthard's comments were almost prophetic, "I'm quite pleased to be starting on the clean side of the track and I'm looking forward to the race."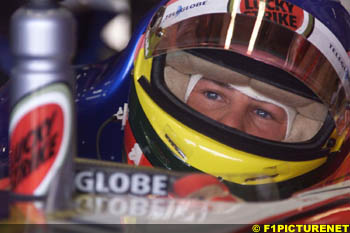 Behind the top men, Alesi's time was good for fifth. "I feel fantastic," he said. "This morning the car was the best it's been all season. It was fabulous to be fastest for so long, but I knew that could not last and to be fifth on the grid is a dream."
It was another good session by Jacques Villeneuve, sixth in the BAR. "I can't see why it shouldn't continue. Tomorrow I'm confident that we're going to be fast in the race, now let's hope we can make it to the chequered flag," he said.
Rubens Barrichello clearly had a difficult time in the Stewart, but made up with a late seventh to displace Heinz-Harald Frentzen's Jordan and Ralf Schumacher in the Williams, who rounded off the top ten. Then came Hill, Diniz, Fisichella and Panis. Salo and Zanardi were well off the pace, as was Wurz. The two Spaniards headed their teammates in the respective back of the grid teams, de la Rosa from Takagi at Arrows, and Gene leading Badoer at Minardi
So Barcelona saw Formula One's regular 1999 pole man, Mika Hakkinen assemble at the head of the field again on Sunday, with a swarm of eager men snapping at his heels.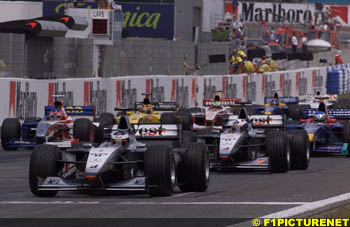 The Race
As the lights extinguished, Mika made no mistake, immediately edging ahead. Behind, Ferrari's race immediately took a knock, as not only did Coulthard get alongside Irvine, but Eddie boxed Michael in, allowing a quick starting Villeneuve to nip into third and separate the Ferraris from the leading McLarens.
So Mika led David in a familiar silver 1-2, quickly opening up a significant lead from Villeneuve, ahead of the obviously frustrated Ferraris of Schumacher and Irvine. Mika was flying, putting in a string of laps in the 1:25 bracket, easily opening up a gap on his teammate, who was having his job made easy by an impressive Jacques Villeneuve holding off the Ferraris. Jacques' efforts were recognised by McLaren, his one-time designer Adrian Newey commenting, "Jacques did us an enormous favour at the start in getting ahead of the Ferraris."
Schumacher wasn't too happy with that state of affairs. "I actually took off quite well but then I was blocked between Eddie and David and I couldn't go anywhere. I actually had to brake not to crash into them. That gave Villeneuve the chance to pass me, so that was it really," he said later that day.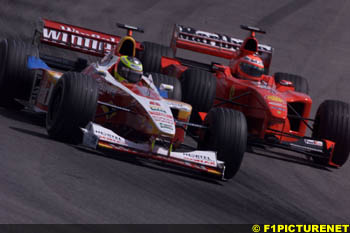 However, there was no way Michael could do anything about Jacques, besides to wait for his pitstop's window of opportunity to open up.
Other than Mika buzzing off into the distance, the only notable development to report in a static race, was local man Marc Gene's retirement on the line and Olivier Panis' delay at the same time.
With stops starting early, clearly several men were on 3-stop strategies and speculation was rife as to when Ferrari would bring Schumacher in, especially considering the dense traffic at the point he'd rejoin.
Irvine was the first significant stop, a surprising move taking Michael's predicament, stuck behind the BAR. And when he did pit, Schumacher did so at the same time as Villeneuve, passing the BAR in the pits. Despite the team's enthusiasm, the stop was the first sign of BAR's lack of polish as an all-round team, and just how good the two teams currently dominating Formula One are, across the board.
One needs more than just a quick car and a fast driver to win in this game...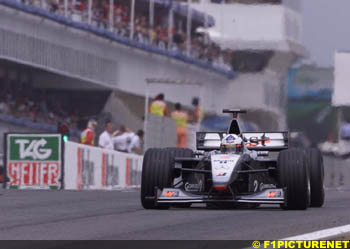 So, the Ferraris had both overcome the BAR, and Michael Schumacher was on another famous charge, but only after having to wait for Frentzen to eventually pit. With the Jordan out of the way, and lapping on and below the 1:25 mark, Michael dramatically closed down the gap to Coulthard, cutting it from fifteen seconds to nothing in as many laps. He closed more on Hakkinen, as Coulthard was running quicker than his teammate while under pressure.
Jean Alesi retired from a race that promised more than it delivered after that most impressive qualifying performance, while Alex Zanardi's tale of woe continued on his Formula One return, his Williams losing drive while trying to leave the pits after his stop. Johnny Herbert coasted to a halt out on the circuit with hydraulic maladies and Heinz-Harald Frentzen also stopped, sadly from yet another points-scoring position. Minardi's Luca Badoer also spun into retirement.
As he closed right up on Coulthard, Michael Schumacher took the opportunity to stop a second time, as they were approaching a big group of cars. But his efforts were dealt a blow when he found an Arrows cruising into the pitlane ahead of him, robbing the Ferrari of critical seconds as Michael was forced to slow early, unable to pass in the confines of he pitlane.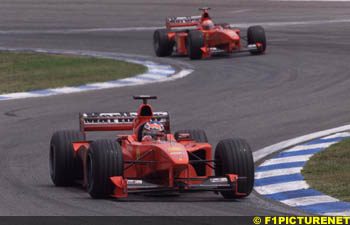 As Michael rejoined, the pressure was on Coulthard, who knew the pace Schumacher was running before the stop stood the German in stead to pass him. But Michael's third set of tyres were nowhere near as good as the second, and when the Scotsman stopped, he managed to rejoin just ahead of the Ferrari and stay there. Whether Michael simply resigned himself to third, or his setup really slowed him, the Ferrari gradually fell back, but Coulthard was on a charge, closing down on his leading teammate as the race drew to a close.
Villeneuve, who was circulating in a strong fifth, saw his best race result for some time slip through his fingers on his second stop. Firstly, the team struggled to remove part of the BAR's damaged rear wing, and then the car stalled just as it was eventually able to leave the pits. Jacques retired from a promising race in the BAR. But the team itself appears to have some way to go before they challenge the big guns.
Jacques, however, was happy with progress in Spain: "I made a great start which surprised me! The car was really good and I was running strongly, easily able to hold off Michael until the first pitstop. In spite of a great effort from my crew, he managed to pass me in the pitlane. It was an encouraging race for the team because we've made real progress, but now I need to get to the end."
Hakkinen had taken his last stop and was cruising to the finish, but some quick and heavy traffic was to provide entertainment as the race wound down.
An entertaining dice for sixth between Trulli, Barrichello and Hill was set to come between the top three and a clear track, while some backmarkers were coming into the sights of the aforementioned trio too. Poor use of the blue flag added to Hakkinen's plight as he battled his way past Hill, Barrichello and Trulli, plus a Minardi and an Arrows, but his healthy lead kept him out of reach of his teammate and a charging Schumacher.
Michael worked hard on the laps as he and Coulthard caught the dicing trio and was close enough to Coulthard to make a move. But David was deft in his passing of the Stewart, Jordan and Prost, keeping Michael at bay. Nonetheless, David, Formula One's champion of passing backmarkers, was once again unhappy with the actions of some of the men he battled to pass. "Damon should have known better," he later said. "He held me up for just over a lap, yet he is one of the guys who sit there and say we should all compete fairly. I understand he was racing, but he pushed it to the absolute limit today before moving over."
Coulthard none the less he went on to complete McLaren's first 1-2 of the year, behind his world champion teammate, in an emphatic victory over the team's suspect reliability thus far in 1999.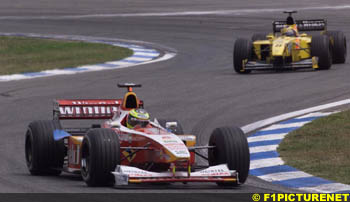 "It's great to be on the top of the podium again," commented a happy Hakkinen. "I really enjoyed it, the pit-stops were excellent and all the guys did a great job. I was pleased with my start and once I was in front, as always, I had to maintain maximum concentration from start to finish. At one stage I slowed up but that was intentional. Now I am looking forward to Canada." Mika also pointed out that it wasn't all easy, "I had to concentrate all the way. I had to be careful with the backmarkers - when you lead you have to put in double concentration," he concluded.
Teammate Coulthard was also happy with his day's work. "I got a good start to the race and the first part went well. The third set of tyres were much better and I was able to put some time in between Michael and myself."
The Ferraris ran in third and fourth, in a race from which they had expected so little, but could have done so much - if they hadn't have thrown it all away at the start. Ferrari had admitted their dislike of Barcelona all along, but they appear to have overcome any perceived disadvantage.
"The car felt better in the race than it did in qualifying," said Michael Schumacher. "I was stuck behind Villeneuve for a long time and I might have been able to move up from third to second, if I had not been delayed by another car when I came in to the pits for my second stop.
"We knew this was going to be a difficult circuit for us, but all weekend we performed better than I had expected. A big part of that is down to the team. Thanks to them, I managed to pick up another four valuable points. It's good to know we are not far off the pace as we now head for circuits which should suit our car better than here."
Eddie commented, "I got off the line well, but then I had too much wheelspin. Coulthard was very close and braked earlier than I expected, so I had to brake too, which allowed Villeneuve to come past. My only actual problem was when the fuel flap came open."
If Barcelona was Ferrari's down point, though, they must be happy with the result. Not only did they come away with seven points, but their performance must be sending a shiver down McLaren's spines as the circus heads toward some circuits that clearly suit the red cars.
But no one can take anything away from McLaren Mercedes' stunning 1-2 at Barcelona. They beat a clearly competitive Ferrari hands down, to close up the championship chase. The Ferraris continued their excellent show of reliability with third and fourth to retain the drivers and manufacturers title lead. Michael Schumacher, who has finished every race he's started this year, albeit once out of the points, is still at an advantage with almost a third of the World Championship run.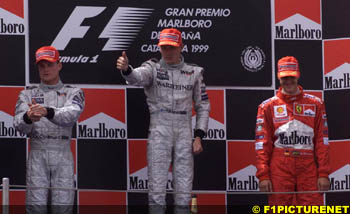 Ralf Schumacher added to his steadily growing championship tally with an anonymous fifth after Villeneuve's demise, and Trulli hung on to sixth. Damon Hill used the confusion of passing traffic to put one over Barrichello for seventh, but he was the only of the four world champions not to star in the race. With Jacques Villeneuve dragging his recalcitrant BAR into the top three, wouldn't it be great to see Damon back on top again?
But the racing was a procession, no matter how much anyone tries to disguise it. It was enough for Eddie Irvine to comment, "I wish I had my stereo in the car to keep me amused!", while David Coulthard was more serious about another Formula One procession, "It's more difficult now than it ever has been to overtake. We need to get back to wider cars because they created more drag so you could overtake easier. The road we have gone down in the last few years is not helping Formula One as a racing spectacle."
Formula One needs excitement, and while its governing body keeps looking to hybridising the cars more and more, isn't it time they looked at the show some venues produce, before making the cars more and more like something Mickey Mouse drives?
Final Race Results