Leaving the circuit between the lakes, we move to the circuit by the river: Imola. At 4.929 Km, Imola is average in length and, since 1995, average in speed. Fuel consumption tends to be high and the addition of chicanes in 1995 has made this circuit hard on brakes and tyres. BAR's Senior Race Engineer, Jock Clear noted that, "as the nature of the Imola circuit has changed, so chassis set-up has moved from low downforce settings, to maximise straight-line speed, to higher levels of downforce, to keep cornering speeds up."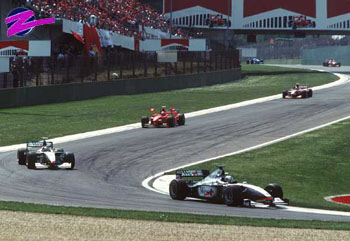 Most drivers thoroughly enjoy Imola but there has been the feeling of "Paradise Lost" since 1994. Imola, like Interlagos and Kyalami, is run in an anti-clockwise direction which adds some additional problems, mainly physical ones - as was displayed by Mika Hakkinen's neck aches during the latter parts of the Brazilian Grand Prix, three weeks ago. Attrition is a major concern as only 9 cars finished last year while 11 cars finished in 1997 and 1996. 8 cars finished in Melbourne, 9 cars finished at Interlagos, can 10 cars finish at Imola on Sunday?
Wet conditions at Imola are a possibility too. The 1995 and 1997 races started under damp conditions, but the Italian rain is typically not like the torrential downpours of Brazil or Australia. It is still one of the best circuits in the calendar and has provided us with many exciting races. This year's event promises to be just as exciting.
In last year's race, McLaren and Benetton went for one-stop strategies while Ferrari, Williams and Stewart went for 2-stops. It would be no surprise if most teams adopted a two-stop strategy on Sunday according to a Ferrari spokesperson: "With the pit entry and exit quite short compared to most other circuits, most teams will go for a two stop race strategy with race and pit stop tactics undoubtedly playing a crucial role in the outcome."
On tyre choice, Mr. Yoshihiko Ichikawa, Technical Manager of Bridgestone Motorsport stated that, "for Imola, we believe that the car performance will depend on the drivers' choice of tyres as they seek to gain the maximum possible grip from a track with a surface that offers unusually low grip. This characteristic can make it difficult to get the right handling on the tyres, especially over short runs in practice and qualifying. For this reason, we have decided once again to supply the teams with the same two Soft and Medium specification tyres used at both previous races."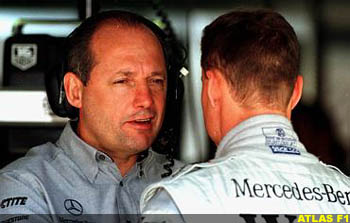 Imola is a classic European circuit and drivers of the "Old School" are most likely to succeed here. Jackie Stewart is one of the old schoolers and his smooth style would have been suited to this circuit. Imola did not host a F1 Grand Prix in Jackie's era but he has had a major influence on two drivers in Sunday's field: David Coulthard and Rubens Barrichello. Former Indy-car drivers who have raced on oval tracks, like Jacques Villeneuve and Alex Zanardi, would also, under normal circumstances, be expected to do well at Imola. There is a mathematical theory that explain this, as the old school and the Indy-car drivers tend to choose the "ideal" racing line that is the longest and fastest way around the circuit. In particular, their exit speeds from corners are higher which leads to higher top speeds on the straights.
Drivers of the "New School", who drive in a karting-influenced style, tend to choose tighter lines around the circuit that make them very difficult to overtake. These drivers are faster on the entrance but slower on the exit of corners. This style of driving works well on the karting-style circuits like Buenos Aires and Magny-Cours but it becomes a disadvantage at circuits like Imola.
McLaren must start as favourites again - the McLaren MP4/14 is clearly faster than the rest of the field but is still far from being reliable enough.
Although David Coulthard has yet to finish a race in 1999, he is the most likely to win the San Marino GP. David loves this circuit and his driving style is suited to Imola. He won last year's race from pole position. David led the first 20 laps of the 1996 race and he was demoted from 2nd to 4th in 1995 by a 10 seconds stop-go penalty. His average at Imola is 3.25 points per race.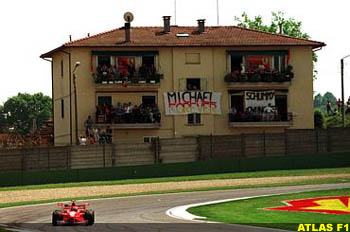 Mika Hakkinen must now be the favourite to win the 1999 World Championship, having won at Interlagos, since seven out of the last nine winners at Interlagos went on to win the World Championship. However, Mika's record at Imola has been patchy. He scored his first F1 championship points here in 1991, then he failed to qualify the uncompetitive Lotus 107-Ford in 1992. Mika has had only one podium finish in seven starts with an average of 1.4 points per race.
Ferrari has so far been the most reliable team of 1999 and, on its current form, must be favourite to win the F1 manufacturer's title. Ferrari has also been the most consistent team at Imola since 1994, scoring 45 points - including five consecutive 2nd places. The tifosi would love nothing better than a Ferrari 1-2 on Sunday. This has only happened once at Imola, in 1982 with Didier Pironi winning from Gilles Villeneuve. The last Ferrari driver to win at Imola was Patrick Tambay in 1983. A Ferrari 1-2 is not impossible, if both the McLarens retire.
Michael Schumacher is the most successful and consistent driver at Imola. 1995 was the only year he did not have a podium finish. He is the highest points scorer, averaging 5.67 points per race since 1993, set fastest lap last year and has also taken pole position twice. "There is still a long way to go to the end of the season and all the team are working flat out to close the gap." Michael commented earlier this week, "But I hope our reliability will continue to work to our advantage."
The World Championship leader, Eddie Irvine, has done consistently well for Ferrari at Imola. He has been the third man twice, averaging 2.75 points per race. Eddie had this to say this week: "It's great to be coming to Imola with the championship lead, I hope I will be able to hold on to it by the end of the weekend. Having a flexible pit stop strategy in which you can take advantage of any traffic situation can easily win or lose a race at a track like this one." Eddie could easily go on to Monaco as the championship leader.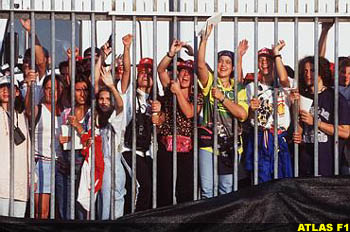 Jordan is second equal in the manufacturer's championship, however, this team has never gone consistently well at Imola and have only finished in the points in 1996 and 1997. Last year, Ralf Schumacher and Damon Hill were outclassed. At the beginning of the season, I would have chosen Damon Hill over Heinz-Harald Frentzen at Imola - Damon has averaged 3.5 points per race since 1993, racking up two victories for Williams - however, he has not scored a point at Imola since leaving Williams. Like Mika Hakkinen, Damon failed to qualify for the 1992 race, driving the uncompetitive Brabham BT60B-Judd.
Heinz-Harald holds the race lap record for the revised Imola circuit. He won his only F1 victory here in 1997 and set the fastest lap. Heinz-Harald's comments about Ferrari's lack of pace indicate that he wants to be the number one German driver in F1. After the first two races of the season he is second equal in the world championship. The momentum is with Heinz-Harald and he will want to have another podium finish to consolidate his position. So Damon needs a bit of good luck.
Stewart is the talk of the pitlane. Are Colin MacRae and Dario Franchitti future Stewart F1 drivers? Will Ford take over? Will they put the Jaguar name on the Cosworth engine covers? Since Stewart-Ford needs longevity and reliability, perhaps they should consider using the name of another Ford acquisition: Volvo! But seriously, Stewart-Ford appear to be on their way to their first F1 victory. Ford's European racing director Martin Whitaker stated that, "We proved a point in leading the (Brazilian) race, and leading it on merit and leading it pretty well. We have some ways to go in terms of reliability of the engine, but we will find it, and when we have got there it will be an extremely difficult package to beat."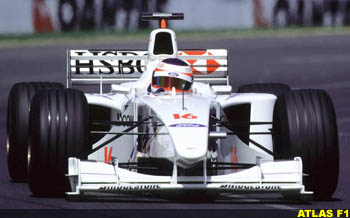 Rubens Barrichello could win at Imola and is very likely to have a podium finish. Rubens has never driven a competitive car at Imola - his best finish was 5th for Jordan in 1996. Johnny Herbert has yet to finish a race in 1999 but he has finally been able to match his team mate's pace in testing at Jerez. Johnny has yet to score a point at Imola but he did one better than Mika Hakkinen and Damon Hill in 1992 by qualifying the uncompetitive Lotus 107-Ford.
Williams is still the best of the Renault/Mecachrome/Supertec-powered set and they have always done well at Imola, finishing in the points in all races since 1994 with a total of 39 points. It's a little ironic that former Williams driver Heinz-Harald Frentzen is performing better after being given a "free-transfer" to Jordan. Similarly, former Williams test driver Juan Pablo Montaya, who inherited Alex Zanardi's Reynard-Honda, won the Toyota Grand Prix of Long Beach last Sunday, the CART's equivalent of winning at Interlagos.
The losers in this driver shuffle have been Alex Zanardi and Jacques Villeneuve. Ralf Schumacher has also benefited from the driver shuffle as he is driving better for Williams than he was for Jordan at this time last year, not to mention he was the fastest in the recent Jerez tests. A repeat of his solid performances at Melbourne and Interlagos could keep him in the points but Ralf has yet to score a point at Imola in two starts. "Imola is a track where you need a combination of both handling and power," the German said this week. "As far as handling goes I am satisfied with the Williams FW21 as it felt good in Australia and Brazil. We still have to improve in qualifying though."
Alex Zanardi's season has been a disaster so far. After watching Juan Pablo Montaya at Long Beach it is clear that Alex's former mount, the Chip Ganassi Racing Reynard-Honda, was to CART what the McLaren MP4/13 was to F1. A finish at Imola would be a shot in the arm for Alex, who had this to say: "I call this place my home circuit, but in my home they have changed the furniture! I am confident that my bad luck won't last forever and I know that everyone is working hard. I am hungry for a good race."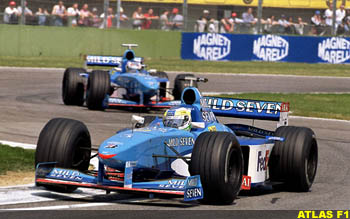 Benetton has not done well at Imola since Michael Schumacher's departure. Giancarlo Fisichella scored his first F1 world championship points with Jordan at Imola in 1997 but neither Giancarlo nor Alexander Wurz have scored a point for Benetton at Imola. Giancarlo was competitive at Interlagos before retiring, while Alex was off-the-pace. To his credit, Alex has put in some competitive lap-times at Jerez.
Prost has not done well in the San Marino Grand Prix - neither Olivier Panis nor Jarno Trulli have scored a point at Imola. Olivier's finish in the points at Interlagos could be the light at the end of the tunnel. And once again, Jarno has showed exceptional pace in testing.
Sauber's performance at Interlagos showed that the 1999 car has the makings of a competitive car but no finishes in two starts is not a good sign. Jean Alesi has finished in the points in last four races at Imola in three different teams while Pedro Diniz has yet to score a point at Imola.
BAR's first season in F1 is turning into a nightmare for Craig Pollock: no finishes in two starts, Ricardo Zonta is now sidelined with tendon injuries to his left foot and Jacques Villeneuve appears to be driven to distraction. Jacques could do well at Imola if he has a competitive car. He took pole position in 1997 and led for the first third of the race. However, his only finish at Imola was fourth in 1998.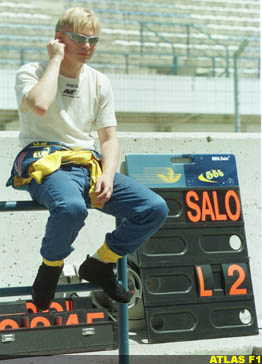 Mika Salo will have a chance to demonstrate his talent in Zonta's car on Sunday and appears to be hungry to succeed, "I am very pleased to be able to step into what I am sure is a competitive car, my job now is to make the most of the opportunity and do the best I can. It should be fun. I'm looking forward to it."
Arrows is still the second most reliable team of 1999. With the high rate of attrition this year, a finish in the points for either Pedro de la Rosa or Tora Takagi is not impossible.
Minardi is doing better than Sauber and BAR. Giancarlo Minardi has had two pieces of good news: Marc Gene completed a race and Luca Badoer is fit to race again. Luca has finished in both the San Marino GPs he started in 1995 and 1996. Since at least half the field is likely to retire, Luca's ability to finish at Imola becomes a real asset.
Is an Italian victory possible? The last Italian to win the San Marino GP was Ricardo Patrese in 1990. Can Montebelluna's Luca Badoer, Rome's Giancarlo Fisichella, Pescara's Jarno Trulli or Bologna's Alex Zanardi pull it of? Sadly, not on their current form but Giancarlo and Jarno have a good chance of finishing in the points.
My Predictions:
In the event of rain:
1. Michael Schumacher,
2. David Coulthard,
3. Damon Hill,
4. Mika Hakkinen,
5. Jean Alesi,
6. Ralf Schumacher
If it is dry, I'm going to stick my neck out and pick McLaren, Ferrari and Stewart as the top three teams.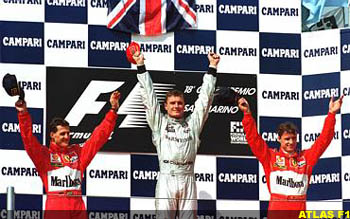 Starting grid:
1. David Coulthard,
2. Mika Hakkinen,
3. Rubens Barrichello,
4. Michael Schumacher,
5. Eddie Irvine,
6. Johnny Herbert,
7. Damon Hill,
8. Heinz-Harald Frentzen,
9. Ralf Schumacher,
10. Giancarlo Fisichella,
11. Alexander Wurz,
12. Olivier Panis

For the race itself, attrition will determine the final positions. Be prepared for scenes of pandemonium * if the two scarlet Ferraris finish as they did in 1982 - for the tifosi this would be "Paradise Regained".
* derived from Pandaemonium, the palace in Hell in Milton's "Paradise Lost"