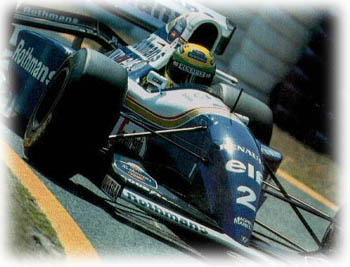 May 1st, 1994 is the day that will surely be remembered every year the Formula One circus heads to Imola. On that day, five years ago, motor racing lost one of its best ever - Ayrton Senna. Regardless of whatever happened in the past of the San Marino Grand Prix or what will happen in its future, Senna's fatal crash will always lie over the San Marino racing weekend like a black cover. In 1994, Senna crashed fatally after going straight into the Tamburello corner. Up until then the Brazilian didn't have much luck in the races. After 1993 Ayrton Senna had moved from McLaren to Williams, to make the perfect combination of driver and car. Unfortunately, what was supposed to be a dream-season, proved to be a nightmare for all.
Probably the most cynical detail was that Ayrton Senna was the one who led his colleagues into claiming for more safety precautions after Simtek driver Roland Ratzenberger had become the first driver in twelve years to die in a raceweekend, the day before.
However, Senna's death wasn't the only thing that connected him and Imola in history. The track near Bologna was also one of those where the Brazilian often showed his brilliance. From 1985 until 1991 he scored 7 consecutive pole positions. After taking his first win in Estoril, Senna almost won Imola too in 1985. In an impressive race, the young Brazilian led from the start, only to end up without fuel three laps from the end.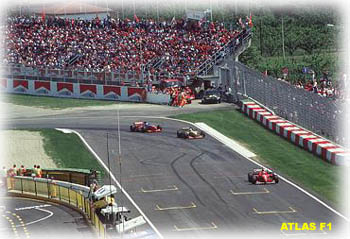 From that point on the race turned into one of the oddest finishes in the last 15 years. When Senna's Lotus stopped, Ferrari driver Stefan Johansson took over the lead, heading straight for his first win. His only problem was that he suffered the same fate as Senna one lap later. Alain Prost then took over, cruising to an easy win in his McLaren with Senna's team-mate Elio de Angelis a far second. At least that's what everybody thought had happened. The truth was different: after the race Prost was disqualified because his car was underweight and de Angelis was declared winner of the race.
Prost's disqualification wasn't the first of the underweight type. In the second San Marino Grand Prix in 1982, ATS driver Manfred Winkelhock lost his sixth place due to underweight in another strange Imola event. Because of an argument over the disqualification of Nelson Piquet and Keke Rosberg in Brazil, both for running underweight, the teams connected to the FOCA boycotted the San Marino Grand Prix. As a result, only 14 cars started the event, which was initially led by Renault driver Rene Arnoux until his engine gave up.
After that a spectacular fight between both Ferrari drivers Pironi and Villeneuve emerged, with the lead changing several times. Pironi took the win in the final lap before Villeneuve. Gilles was furious after the race and vowed never to speak to Pironi again. What had happened? Both drivers had received a "slow" sign from the pits, which according to Villeneuve meant hold position. As he was leading, he expected Pironi to stay behind him and not steal his win like he did. The events eventually reached a terrible climax at the next race in Belgium, where Gilles Villeneuve died in a desperate attempt to take pole before Pironi.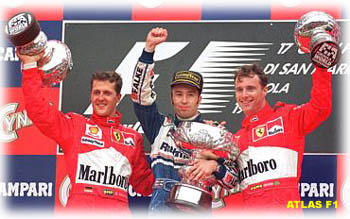 In the years after, Prost and Senna dominated the race along with Mansell. Prost took wins in 1984, 1986 and 1993, while Senna took the honours in 1988, 1989 and 1990. Mansell then steered his Williams to victory in 1987 and 1992. Between 1984 and 1993 only Elio de Angelis, through Prost's disqualification, and Riccardo Patrese broke through the domination.
After Senna's death, things were never again the same at Imola. The track was changed drastically and lost much of its magic. While Michael Schumacher won his only Imola race in 1994, Damon Hill won the following two years. 1997 saw Heinz-Harald Frentzen taking his first win in only his fourth race for Williams. The special thing besides Frentzen's first win, was that Michael Schumacher finished second. This made the first German 1-2 in a Grand Prix since Hermann Lang and Rudolf Caracciola in the 1939 Swiss Grand Prix at the Bremgarten track.
Not only for Frentzen does Imola have a special meaning. Both Mika Hakkinen and Giancarlo Fisichella scored their first points there, driving for Lotus in 1991 and for Jordan in 1997 respectively. For Rubens Barrichello, it will be his 100th Grand Prix this coming weekend, just as last year's race was Mika Hakkinen's 100th.
Imola has also been the perfect theatre for the battle of the big teams. McLaren and Williams are closely fighting for domination there - Williams have won seven times to McLaren's six, but McLaren have finished 1-2 on three occasions whereas Williams have finished 1-2 only once as have Ferrari. In the qualifying stakes, however, McLaren have started from pole five times (including last year) to Williams's four (including the year before).
As far as engines are concerned, Renault have an extraordinary record at the circuit, with six victories including a 1-2 in 1992 while Honda have four wins - but all of them are 1-2s!