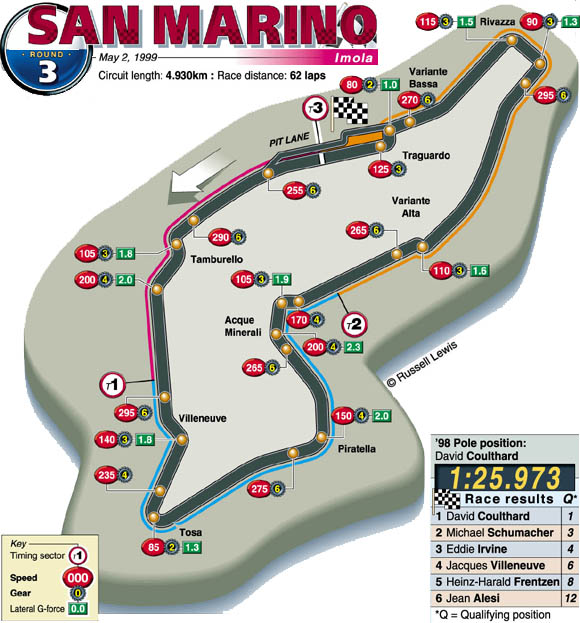 The circuit starts with the drivers hard on the power, passing the start-finish line flat out, heading towards the entrance of the Tamburello. After shedding around 100mph and dropping down to 2nd gear, the cars are back hard on the power again on the run up to Villeneuve, a 4th gear (130mph) corner completely destroyed by the "improvements". A short spurt back onto the power on the approach to the tight Tosa corner. The cars slide quite a lot on the exit as they try to get the power down hard on the run up the hill. At the crest of the hill there is a quick flick right at full speed before the drivers have to scrub off some speed for the entry of the 4th gear Piratella.
After Piratella there is a short downhill section before the Acque Minerali. Once again, the drivers have to get on the power as soon as possible for the short, but relatively steep climb to the Variante Alta, a tricky third gear chicane with very slippery curbs on the exit.
Yet again, it is hard on the power, for a very fast downhill right-hand bend, passing under the bridge. Hard on the for the deceptive 2nd gear (70mph) Rivazza section, and then back on the power as the drivers speed towards the end of the lap. The cars usually hit around 170mph before scrubbing of half of their speed for the entrance to Variante Bassa and the final corner, Traguardo. After the exit it is hard on the power and a quick glance at the pit board before the next lap starts.