If a trend is developing in the 1999 F1 World Championship, it's that qualifying and the pace in testing, practice and early in the races, has had precious little to do with race results and the championship so far. If one were to take a measure of the season solely by looking at the championship standings after Imola, you'd swear it was the red cars that were so quick in those situations.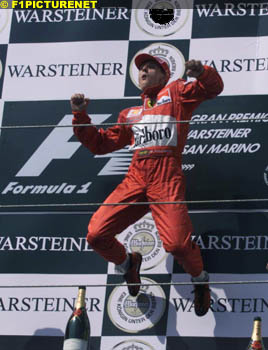 And it isn't just mechanical maladies that are making McLaren look like second stringers on that title table - the drivers are taking some of the blame for their current positions.
Both Mika Hakkinen and David Coulthard were blatantly honest in Italy for their part in their defeat so far, at the hands of new championship leader, Michael Schumacher, and a consolidated Ferrari, who now have almost twice the points of their odds-on constructors rivals, McLaren. Mika took the blame squarely for his shunt into the wall, in front of the pits, "I made a mistake!" while David too, was forthright in the post-race interview. "I am disappointed. Today I lost a race that I should have won."
But Michael Schumacher was masterful - his pace after his first stop was way quicker than Hakkinen's early on, presumably on similar tank loads. And once again, Ross Brawn's strategy took any early race smirks off the entire McLaren teams' faces, as his man swept to a vital victory in front of a delighted Italian crowd.
Behind the Ferrari/McLaren headlines, it was a mixture of hard luck and glory.
Rubens Barrichello finally rewarded the Stewart Ford boys with a fine and deserved third, although they missed double glory by two laps when Johnny Herbert retired from fifth, his Ford mill coming to a smoky, watery end. Damon Hill scored his first points of the season in a fighting fourth, while Giancarlo Fisichella gave Benetton something to smile about, with two points after a torrid weekend, and Jean Alesi's perseverance paid off with a point. Ralf Schumacher dropped out after his first stop and a strong drive. And Williams was robbed of a consolation point, when Alex Zanardi spun on Herbert's mess. Then Mika Salo dropped out on his last lap after dragging the BAR into the points after the Herbert/Zanardi retirements. Poor Jacques Villeneuve was left stranded on the grid, his BAR not able to find gear.
Free Practice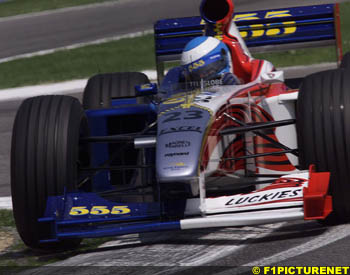 The weekend started in familiar fashion, the silver arrows dominating as they would until just before the first pit stops in the race itself. But Eddie Irvine was looking good, less than a second behind in third, from his teammate, then Barrichello, Alesi and an impressive Villeneuve.
Friday afternoon was much the same, only Michael Schumacher's pace was conspicuous by its absence, ending 5th, behind a resurgent Hill and ahead of the surprise of the session, Alex Zanardi, starting to overcome "the devil in his car."
Hakkinen was positive, "I'm looking forward to tomorrow's practice and qualifying," while Eddie Irvine was confident after his third fastest in both sessions: "We have reverted to a set-up similar to what we used in Australia and the car is much better. I feel I can really push it again and I enjoyed myself on the track today." His teammate too wasn't too worried, "I did not get through my program. Apart from that, I am quite satisfied with today's session, I think we are in better shape here than at the last race."
The McLarens continued to dominate on Saturday morning but as it would be in qualifying, these sessions were starting to show an interesting balance of the weekend...
Qualifying
Yes, after qualifying, the McLarens did control the situation, ending up in a regular one-two, a tenth apart. But as it was in the morning, Schumi ended up about the same distance behind in third, perhaps in an even more ominous position for Ron's boys than he'd be in pole. Eddie was within a second of Mika too, as were the surprise of qualifying, Jacques Villeneuve, to the delight of the new BAR team, and the revelation of the season, Rubens Barrichelo in the Stewart.
Next up, and in a significant position - considering his performances in the first two races - was Heinz-Harald Frentzen, ahead of team-mate Hill and the other consistent man so far this season - Ralf Schumacher in the Williams - and his teammate, Alex Zanardi, continuing to show form, at last, in tenth.
Of the rest, Olivier Panis recovered from an engine failure to end eleventh, from Herbert, Alesi, Jarno Trulli and Pedro Diniz, with the Benettons way off in 16th and 17th. Pedro de la Rosa put one over a struggling Salo, while Tora Takagi, Marc Gene and Luca Badoer brought up the rear.
So, McLaren couldn't have been too happy with the grid behind them. For not only was Michael Schumacher breathing down their necks in a very close and dangerous third, but championship leader Irvine proved he was right there. And the other man who could have also really been a thorn in their side when the race is on, one J. Villeneuve, was way too close for comfort - perhaps as close as he'd been since his World Championship Swan-Song
Then there was Stewart's promise of reliability, underwritten by Rubens' sixth, both Jordans and both Williamses, all relatively close to the qualifying pace for once.
None the less, Hakkinen was happy. "This is the first time I have been able to qualify at Imola on pole - David beat me last year - so I am very happy about it." David was a very close second, he too confident: "I am sure that I will have a good race starting from the front row." Schumacher, however, wasn't totally satisfied, saying - "This is a lot better than Brazil, because being only two tenths behind pole is closer than I had expected. But I am a bit disappointed with my own performance. I did not manage to drive a perfect lap." Ron Dennis seemed to agree with Schumacher's guarded confidence though: "The competition is clearly closer but we are looking forward to the race."
Jacques Villeneuve was happier than most. "It's been a long time since I have had such a good qualifying lap. I am very pleased because this is the first time we've been able to push the car without having to make many changes." Barrichello was hopeful of the fruits of his sixth on the grid, and his wishes were to be granted on Sunday afternoon. "Provided I make a good start and we run reliable I expect to be in the points and hopefully finish on the podium," he said.
The Race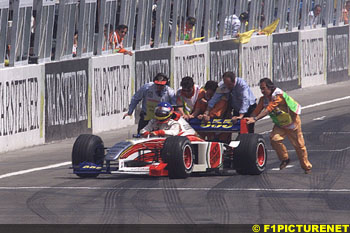 But despite qualifying's promise, it didn't look all that close a fight - straight off the line, Mika shot into a commanding lead, opening up a dramatic gap in a very short time. In second, Coulthard gradually opened up a gap on Schumacher, with Irvine dropping back, ahead of a gaggle headed by Barrichello, from Frentzen, Ralf and Damon, fighting off a dogged Alesi. Poor Villeneuve and BAR's qualifying promise came to nought on the grid, the BAR stranded out of gear. Trulli spun on the first lap, ending his race early in the first of many incidents to mark an action-packed race.
Mika's pace was blinding - the difference in pace between he and his teammate and Michael Schumacher was starting to elicit conversation on tactics. Was Mika on a 2-stop, or even a 3-stop strategy? Were David and Michael on a 1-stop? Was Schumacher saving his car? And was Mika not pushing too hard on a track notoriously hard on brakes?
Many of those questions were rendered null-and-void in the most significant, perhaps most dramatic incident of the race. Mika was pressing on hard, coming round to complete his 16th lap, when he got a little crossed up over the curb on his way out of the chicane leading onto the pit straight, and the normally-docile McLaren bit him as he tried to correct it. The car snapped back, struck the wall on the outside and slid to rest a couple of hundred metres down the road, still against the wall.
The huge crowd, until then silent, erupted in generous applause as the hapless Hakkinen extracted himself from the wreck and walked across the track to his box. Their favourite son now only had to pass the Scotsman to win!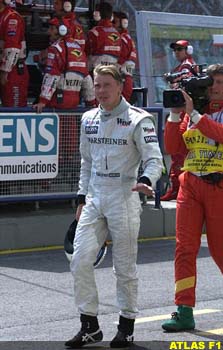 So the race was on, Michael immediately set about attacking David, while the Ferrari master tacticians plotted the second McLaren's demise from it's command of the race... Michael whittled down the lead to under a second, when he excited the experts by pitting long before his expected single stop. His 6.1 second stop didn't make sense either, surely Michael couldn't run to the end on so little fuel?
But his pace after the stop gave the game away. The first lap was half a second quicker than Mika's best, and everyone thought that was so quick, and he was well faster than last year's 3-groove best lap. Driving on the ragged edge, Schumacher was clearly up to something, taking chunks out of David's pre-stop lead every lap. "We left ourselves the option of a one or two stop race depending on the circumstances," Schumacher later explained. "I could tell David was on a one stop race but the final decision was up to Ross Brawn."
Then Coulthard pitted, and emerged as Michael flashed past into the lead to the delight of Italy. He continued piling on the pressure, building up to a safe 22 second lead before his second stop, when he once again confused his critics by coming in on an odd lap. He rejoined in the lead, to race home to win Ferrari's first race at the circuit named after Enzo and Dino in sixteen years.
Coulthard had an awful time while the Ferrari made its biggest strides. He battled to pass Panis and Fisichella, and once he did, he fell off a little and was forced to pass Olivier all over again.
Michael was naturally delighted. "To take Ferrari's first win in Imola in sixteen years and my first win of the season is of course something very special. What made it even better was seeing the enthusiasm of the tifosi here in Italy. My compliments go to the team, which did a fantastic job over the last few weeks and made this victory possible.
"We have been on the pace all weekend, so it seems we have managed to close the gap we saw at the first two races. But we still need further development to be really quicker than the rest. We are leading both championships, which is a much better situation than last year, so I am looking forward to Monaco. Our car should perform very well there also and once again a big thank you to our great team and all our supporters."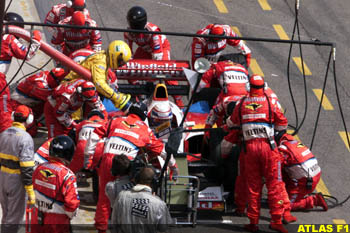 Schumacher went on saying, "It is always a good feeling to win and always good to race in a Ferrari in Italy. But this result today is very special for me and for the fans. I looked in their faces from the podium at the finish. They have waited a long time for this and there was a lot of emotion."
Ferrari's Jean Todt too was delighted and relieved. "This was a fantastic race," he said. "The only way to win was to go for a slightly risky strategy, but in the end it worked perfectly. I am very happy for the whole team, who have worked so hard both in the factory and here at the track."
Coulthard was magnanimous in defeat, although clearly uncomfortable to stand on the podium in front of a delirious Italy. "Because of factors other than the performance of the car and my driving, we didn't win," he said. "That doesn't take anything away from the achievements of Michael or Ferrari, but we had the correct strategy and a quick enough package to have won. Not to have come away with a win in those circumstances is disappointing. I have to thank Michael for persuading the fans not to boo when I received my trophy, because they obviously remember Spa last year."
As for the reigning World Champion - he blamed himself for his accident. "We are crazy us drivers, we never want to blame ourselves but in reality it looks like it was my mistake. I have to try and put this behind me," admitted Hakkinen.
As for the rest, it was a race of mixed fortunes.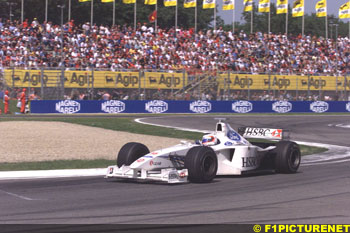 An emotional Rubens Barrichello was ecstatic in third, dedicating his podium finish "to my friend Ayrton Senna, wherever he may be." He went on to say, "I am obviously delighted, not just for me but for the mechanics and the whole Stewart Ford team. The car ran faultlessly all weekend, and proves what progress we have made. We may not be a match for the McLarens and the Ferraris just yet, but I think we are proving ourselves the best of the rest."
Eddie Irvine was philosophical about his Ferrari's demise from third, "I felt the engine tighten about 100 metres before it failed. It's a pity because this is the second consecutive race where I have missed out on an almost certain podium finish. However, I'm still second in the championship and we are looking in good shape for the next race." Heinz-Harald Frentzen, the victim of the result of the exploded Ferrari, reflected on what could have been. "I had a very good chance to finish on the podium again or at least to win more points. But I spun on the oil from Eddie's engine - these accidents happen and it was just unfortunate that the marshals did not react quickly enough."
His teammate though, was relieved to be in the points, let alone finish a race. "This is the first race I have completed since Suzuka last year and it felt great," said Hill. "The results keep coming for the team and our race performance is very impressive." Delighted to remain third in the constructors' chase, Eddie Jordan echoed Damon's sentiments by saying, "I'm really proud of the team, everyone did a fabulous job. Overall I feel it has been a very positive day for the team."
Giancarlo Fisichella was almost surprised with fifth - "Considering I started in 16th place, this race with this result is 100% satisfying. We really didn't expect to earn any points at all." Jean Alesi, too, was happy to be in the points.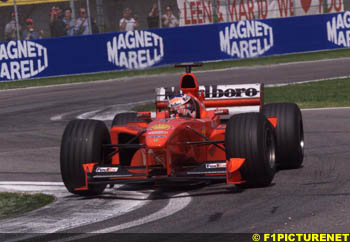 But their gain was as a result of the misfortune of others close to the end of the race.
"It was a shame I was unable to finish the race. Everything had been going well until then and we had no indication that the engine was about to fail," mused Johnny Herbert, who dropped out of a certain fifth with two laps to run. Alex Zanardi, who's plight must have been worsened on hearing his CART rookie replacement, Juan Montoya, had won his second race on a trot later on Sunday, was clearly upset. "I did not expect that much oil to be on the track and when I hit it, I couldn't avoid spinning off," he said.
Mika Salo, who just missed out on a bonus point as a result of the action ahead of him, ended in the pit lane with a dead engine. "Although the car stopped on the last lap, we were classified seventh so that's great," said the Finn.
Another man who's shown well so far this year and was let down by a problem while again in a strong position, was Ralf Schumacher. "I thought I could score a very good result, finishing once again in the points. But I suddenly felt a dramatic loss of power and had to stop."
Alex Wurz was philosophical about his demise when he tagged de la Rosa and both retired after 5 laps. "Pedro was in front of me, he slipped wide and I tried to go past on the inside and we collided. It was the end of a very difficult weekend." De la Rosa wasn't too happy with Alex though, saying "I was rear-ended by Wurz, which I really think was unnecessary."
Tora Takagi lost fuel pressure and retired on lap 29, after an eventful race, as did Olivier Panis when the Prost's throttle broke on lap 48. Pedro Diniz crashed out after 50 laps.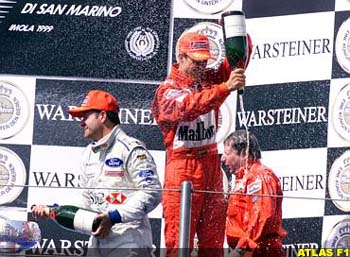 But Jacque Villeneuve was perhaps the most frustrated man at Imola after the BAR failed on the startline. "It's enormously frustrating especially as the car proved on Saturday that it was fast and able run well. We had a good qualifying and high hopes for the race," said the Canadian, who once again showed up with bleached hair.
So the San Marino Grand Prix will be remembered not only as a great day for Italy, but as another race which was wrested by Ferrari, when for all intents and purposes, it should have yet again been a McLaren whitewash.
Ten years ago, Ferrari used to be called the Winter World Champions - a phrase coined, apparently, by a certain Mr. Ron Dennis. Could the Schu be on the other foot in 1999?
Final Race Results


CLASSIFIED

 1  M.Schumacher  Ferrari            1h 33:44:792               
 2  Coulthard     Mclaren Mercedes    + 4.2secs 
 3  Barrichello   Stewart Ford        + 1 Lap               
 4  Hill          Jordan Mugen-Honda  + 1 Lap              
 5  Fisichella    Benetton Playlife   + 1 Lap           
 6  Alesi         Sauber Petronas     + 1 Lap           
 7  Salo          BAR Supertec        + 3 Laps               
 8  Badoer        Minardi Ford        + 3 Laps               
 9  Gene          Minardi Ford        + 3 Laps               
10  Herbert       Stewart Ford        + 4 Laps               
11  Zanardi       Williams Supertec   + 4 Laps               

Fastest Lap: Michael Schumacher, 1:28.547, lap 42

NOT CLASSIFIED

    Diniz         Sauber Petronas     50  Crash             
    Panis         Prost Peugeot       48  Throttle            
    Frentzen      Jordan Mugen-Honda  46  Spun off           
    Irvine        Ferrari             46  Engine             
    Takagi        Arrows TWR          29  Fuel            
    R.Schumacher  Williams Supertec   28  Throttle             
    Hakkinen      Mclaren Mercedes    17  Crash             
    de la Rosa    Arrows TWR           5  Crash           
    Wurz          Benetton Playlife    5  Crash             
    Trulli        Prost Peugeot        0  Spun off         
    Villeneuve    BAR Supertec         0  Gearbox      


The San Marino Grand Prix, Lap by Lap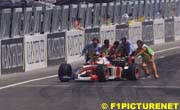 Start: The cars are sent on their way, Hakkinen into the lead from Coulthard, then Michael Schumacher, Irvine and then Barrichello because Villeneuve is stationary on the grid as he can't get any gears, and he will go no further. Behind Barrichello comes Frentzen and then Ralf Schumacher.
At Tamburello, Trulli goes off, making contact with de la Rosa and damaging his front suspension while the Prost goes no further.
Lap 1: Hakkinen, almost certainly on a two stop strategy, leads by 1.7s ahead of Coulthard on a one stop who is a second ahead of Michael Schumacher. Irvine and Barrichello are close behind, then there's a gap to Frentzen, Ralf Schumacher, Hill, Alesi, Herbert, Zanardi, Fisichella and Diniz
Lap 3: the lead gap instantly increases by fairly large amounts: half a second on lap two, 0.7s on lap three, while Coulthard is also leaving Michael Schumacher behind. A gap is opening up between the Ferraris, and Barrichello is being left behind by Irvine. There's another gap to Frentzen who has Ralf Schumacher, Hill and Alesi close behind.
Lap 4: Frentzen eases away from the bunch behind while further back, Diniz gets ahead of Fisichella for 12th
Lap 5: De la Rosa, who finds his Arrows nervous after its earlier suspension damage, is hit by Wurz at Tosa and the pair go out
Lap 7: the lead gap is now 5.4s between the two McLarens, and 3.3s between second placed Coulthard and third placed Michael Schumacher. Then there's six seconds back to Irvine, 2.9s to Barrichello, 3.2s to Frentzen and 1.4s back to Ralf Schumacher, who still has Hill and Alesi close behind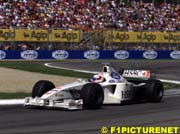 Lap 10: the lead gap is now 8.3s and there's 3.5s still back to Michael Schumacher, the gap coming down on this lap for the first time so far. Further back, Ralf Schumacher has pulled away from Hill
Lap 11: Panis has a spin at the Variante Bassa, but rejoins
Lap 14: the lead gap is suddenly 12s; Coulthard has been suffering understeer and locks up his brakes into Rivazza and slides wide, losing time. The gap to Michael Schumacher, which had been up to 4.7s, shrinks to 3.2s. Irvine is still fourth from Barrichello, then Frentzen, Ralf Schumacher, Hill still coping with Alesi, then Herbert followed by Zanardi now pushed by Diniz
Lap 15: Alesi comes in, trying a three stop strategy, and stopping for 10.4s before rejoining
Lap 17: Hakkinen's lead over Coulthard has pretty much stabilised at 12s but further back, Takagi pits for quite a long stop, unable to get first gear on rejoining
Lap 18: after completing the previous lap, Hakkinen gets onto the power too early as he comes out of the final corner. The car jinxes right and then suddenly snaps hard left and into the barrier; he admits driver error.
Coulthard leads by 3.7s from Michael Schumacher but Irvine is 9.7s back in third place, 8.2s ahead of Barrichello who is 7.0s ahead of Frentzen. Then there's just 3.2s to Ralf Schumacher, 2.7s back to Hill and then comes Herbert from Zanardi, being caught by Diniz, Fisichella and then Alesi just ahead of Salo who will say later that his engine wasn't perfect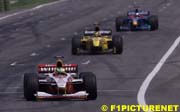 Lap 20: Diniz continues his charge, overtaking Zanardi for ninth
Lap 21: Badoer pits
Lap 23: there are still just 3.3s between Coulthard and Michael Schumacher, but Irvine has been held up by backmarkers, Badoer and Takagi, but they both go off which allows him to get through, but he has lost some three seconds and that allows Barrichello a little closer. Further back, Fisichella has been caught by Alesi. Takagi pit and so does Gene
Lap 24: Barrichello comes in for a 8.1s stop and Salo pits for 11s on the same lap
Lap 25: now Diniz comes in but the filler cap doesn't open immediately and it's a longish stop at 12.8s
Lap 26: Panis comes in for 7.5s
Lap 27: Alesi gets past Fisichella at Tosa for tenth place. At the same time, Frentzen pits for 8.1s from fourth place
Lap 28: Ralf Schumacher, inheriting fourth from Frentzen, comes in for 8.8s as the lead gap shrinks to 3.0s
Lap 29: it's 2.5s now, as Irvine comes in for 8.3s from third place and Hill comes in for 7.6s from fourth. Further back, Zanardi comes in for 8.4s
Ralf Schumacher retires with a fire in the airbox from fourth place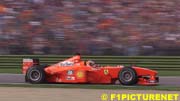 Lap 30: Alesi comes in for his second stop. Takagi retires with lack of fuel pressure
Lap 31: nearing half distance, those on a one-stop come in, lead by Michael Schumacher with a 6.9s stop while Herbert comes in for a long 13s stop, taking on a full fuel load
Lap 32: Coulthard still hasn't stopped, of course, so is quite naturally 19s ahead of Michael Schumacher who is 25s ahead of Irvine, then there's 15s to Barrichello, 6.7s back to fifth placed Frentzen, then 4.9s back to Hill and 8.9s to Fisichella. the rest, 11s back, are lapped, lead by Herbert, then Zanardi, Alesi and Diniz just ahead of Panis
Lap 33: Alesi gets on Zanardi's tail for ninth place; Michael Schumacher, so soon after his pit stop, sets fastest lap of the race
Lap 35: Coulthard finally comes in for 9.2s and fullish fuel load while further back Fisichella also stops for the first time, the Benetton for 11.4s. When Coulthard rejoins, he is behind Michael Schumacher, but the Ferrari is due for another stop. Diniz makes a long stop due to gearchange problems, eventually cured by a change of steering wheel
Lap 37: the gap between Michael Schumacher and Coulthard goes up, but then the McLaren is held up by backmarkers and the gap rises from 6.8s on this lap, to 19s four laps later!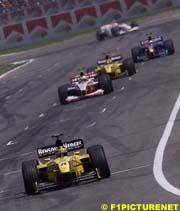 Lap 40: Diniz comes in for fuel and tyres
Lap 41: Panis makes a long stop, having tyres and nose changed, suspension checked and refuelled. Gene also pits
Lap 42: finally Coulthard has got past the backmarkers, but the gap between Ferrari and McLaren is up to 20s, while Irvine is now 16s behind in third place. Barrichello is another 22s further back in fourth, then there's 5.5s back to Frentzen in fifth, the Jordan driver just ahead of his teammate. One lap down is a developing battle between Herbert, Zanardi and Alesi. Badoer pits
Lap 43: Barrichello pits from fourth place on this lap
Lap 45: and perhaps a bit surprisingly, Michael Schumacher comes in from first place for a quick stop but he should have a big enough gap at 23s. Alesi comes in for his third stop in 8.1s and Salo also stops in 8.9s
Lap 46: Michael Schumacher is indeed ahead of his teammate by 4.7s while Irvine is still 16s further back. Frentzen is next, a long way down and 7.9s ahead of teammate Hill. Zanardi pits on this lap
Lap 47: Irvine retires from a safe third place on this lap with an engine failure, and Frentzen goes off on his spilt oil, which suddenly promotes Hill to third place ahead of Barrichello, then Herbert a lap down, Fisichella, Zanardi and then Alesi close behind
Lap 48: Panis retires with an engine problem
Lap 49: the gap from Michael Schumacher to Coulthard reaches 7.1s but now it will start to shrink again. Hill pits on this lap for 6.6s dropping to fourth. Diniz goes off the circuit and is out of the race.
Lap 55: once again, Coulthard is held up by backmarkers and the gap rises by 0.8s to 5.7s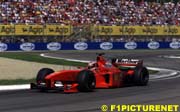 Lap 59: Herbert's engine suddenly fails, robbing the Briton of fifth place and Zanardi is robbed of sixth as he goes off on the liquid from the Ford. At the same time, Hill gets onto Barrichello's tail but can he pass' Salo pits after his engine, already flat from earlier in the race, dies. He is classified seventh.
Lap 62: Michael Schumacher becomes the first Ferrari winner at Imola since Patrick Tambay in 1983. Coulthard is 4.2s behind and the rest, lead by Barrichello, are lapped. Rubens dedicates his third place to the memory of Ayrton Senna, whose death at Imola in 1994, he says, changed his life. For the third race in succession, just eight cars take the chequered flag, a record low for a full entry at Imola.