Same story, different day.
One of the fascinations of Grand Prix motor racing is watching as a story unfolds. Each race is like a fresh chapter, sometimes the plot is developed, sometimes it takes an unexpected twist, sometimes it ends in horror.
The cast of characters is mostly the same at each race. Only their expectations before it vary and always their views on a race just finished are different. Winners, as they say, can smile; losers can make their own arrangements.
Ferrari's Michael Schumacher won and smiled. McLaren's David Coulthard lost and made excuses.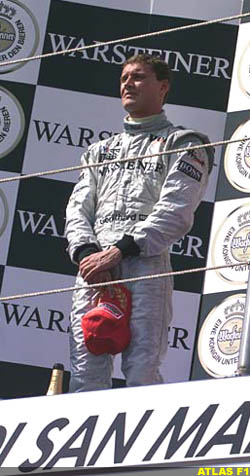 Mostly it has always been this way. Schumacher after a victory is quick to pay tribute to all in-sundry. Why not? It costs him nothing and makes him look a better winner. At Imola he even apologized for not doing a better job in Australia and Brasil, asking humbly for "forgiveness."
For Coulthard it was just another chapter in a career that is rapidly becoming a book full of excuses. Losing when you should have won is bad enough, blaming everyone but yourself soon becomes tiresome, and worse - earns you no respect in the pitlane.
To be fair, he is not alone in trying to put a brave face on being out-driven by Michael Schumacher. It is not a very exclusive club. Just about the whole grid have at some time been subject to the "Schumacher Experience" at least once. Some seem to have spent their whole driving career in his shadow.
Mika Hakkinen showed how it should be done. He claimed his third straight pole in '99 and was walking the race when he made a very unusual driving error. Obviously no one was more surprised than Mika. But he quickly owned up and at least started the process of putting it behind him. A winner lost but he was not a "loser". Perhaps he had learnt his lesson watching Schumacher's performance with the press after throwing his Ferrari off the road on the opening lap of the '96 Monaco Grand Prix, just moments after being out-dragged from pole by his arch-rival Damon Hill.
Grin and however painful it might be - bear it.
One reason that Mika Hakkinen is now World Champion, is the fact that so far Michael Schumacher has not discovered a way to undermine him. It helps of course that he has the total and complete support of his team. You can be sure that McLaren boss Ron Dennis would have not allowed one word of criticism to be uttered against Hakkinen when he returned to the McLaren pit.
David Coulthard has seen both sides of this particular coin. At McLaren he has the same equipment as his team mate, but is under no illusions about his place in the order of things. He is the teammate of the driver taking a championship fight to Michael Schumacher. McLaren's biggest loss in Imola was not Coulthard's victory, but the four points that they failed to deny Schumacher.
For part of '94 and all of '95 David Coulthard was the teammate of Damon Hill, the driver taking the title fight to Schumacher, then at Benetton. Team owner Frank Williams just let his drivers get on with it. Damon Hill had his hands full fighting with both of them. No Ron Dennis to whisper the importance of the team in either ear. Hill fought and lost, Coulthard was let go and the story continued, race by race, page by page.
At Jerez in '97 it was made plain for all to see that Coulthard was not Ron Dennis' favoured one, his body language said it all. If it wasn't a knife in the back then it was for sure a kick in the guts. At Melbourne in '98 it got worse and by mid-season he was playing the supporting role as a good number two should.
This year it was supposed to be all so different. "Next year will be your turn," Mika Hakkinen was reported to have whispered in David's ear just moments after becoming World Champion. But World Championships are never won by "turns" or favours, but rather by taking your chances when they are offered and by dealing with race situations as they develop, which includes lapping dueling back-markers. David Coulthard ended Saturday complaining about Jacques Villeneuve costing him pole, and Sunday assorted drivers costing him the race. Both may have been true, but nothing was to be gained by sharing it with half the world.
Last year, this was the only race Coulthard won driving the best car in the field by far. He desperately needed to win at Imola again to give some credibility to his '99 Championship ambitions. When Hakkinen hit the wall Ron Dennis needed him to deliver and he failed him.
David Coulthard is a highly talented racing driver who on his day is as fast as anyone over a Grand Prix distance. But there are 16 or so "days" in a Grand Prix year and to win a Championship demands that chances are taken when they appear. So far in his career Coulthard has been unable to do this consistently. It is not easy to do, and most never master it. One reason, after all, why there are many drivers who take part in Grand Prix racing and so few Champions.