Mika Hakkinen turns model for the day to show the world who's the Boss
Formula One drivers are used to being photographed. They have to be – it comes with the territory. When they aren't shrouded by fast-moving carbon fibre, or in bed, they are forever staring into the lens of somebody's Nikon or sheltering from the fierce glare of flashguns. This, as they say, is the price of fame – and F1 drivers generally accept it with equanimity.
So it's strange to see Mika Hakkinen looking nervous in a photography studio in Munich. It's just another day in front of a camera, after all. What's so unusual? "Ah, well, this is the first time that we've ever used an F1 driver in a proper fashion shoot," says Rolf Beisswanger, sports sponsoring manager for fashion company Boss. "If we can get some good pictures here, we'll use them in all our publicity – magazine ads and billboards and so on. It will be very big."
No wonder Mika's nervous. As the stylist fusses around him applying make-up, there is little of the jovial back-chat common in the pitlane. Mika takes his role seriously, carefully turning his head to right and left as the stylist brushes his hair and deftly touches up his features. As she dabs extra make-up around his eyes, she remarks that they seem tired. "Oh, that's probably all the wind," laughs Mika. "When you're heading into it at over 300km/h, it does tend to dry out the skin a bit."
The relationship between McLaren and Boss goes back to 1984, making it one of the oldest and closest partnerships in F1. There's a special understanding between the two, and using the F1 World Champion to sell suits is, in a sense, only natural. The Boss marketing brand – "young, international, dynamic, fast" – could have been written to describe Formula One.
Mika is photographed wearing a brown jacket and trousers and a top-of-the-range Baldessarini overcoat. Minor adjustments have to be made to get a perfect fit with the trousers, in particular: this 'model' has an extremely narrow waist, honed by hours spent in the gym. "F1 drivers tend to be an unusual shape, but we can still clothe them easily without special tailoring," says Rolf. "Everything Mika wears today is straight off the peg."
Photographer Tom Lemke snaps away for about an hour, but nothing seems to achieve the precise look that everyone's after. The clock is ticking and we still have to do some outside shots in a nearby park.
It's only when Mika dons a smart grey suit that the Boss advertising people get excited: this is the look that they want. One special shot of Mika glancing over his shoulder at the camera turns out to be particularly successful. "Mean and moody – that's it," somebody says. "We want the look that says 'Come and get me, girls'."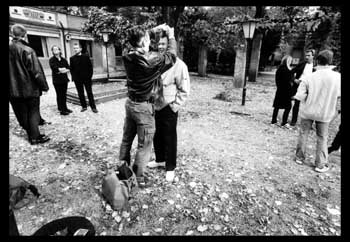 That done, the cortège moves out to the park, where Tom snaps Mika in some casual slacks and a blue raincoat. Surprisingly, the job is completed without attracting hordes of spectators. Out of his racing overalls, Mika could be any young citizen of Munich out enjoying the autumn sunshine, and few people stop to realise who he is.
As a thank-you present for taking time out of his busy schedule, Mika is given a cuddly toy – a large green turtle, to be precise. He's delighted, because he has a special fondness for tortoises and is rumoured to keep one at his Monaco home. As he strolls off, turtle tucked under one arm, everyone breathes a sigh of relief that they have got the job done within the time allowed.
"We had a lot to do, but I knew it wouldn't be too hard because everybody in McLaren likes Boss clothes and the drivers don't have to be persuaded to wear them," says Rolf. "And McLaren drivers aren't the only ones…"
What's this? Are we suggesting that other F1 drivers secretly avail themselves of Boss's clothing ideas – even though their teams may have connections with rival fashion houses?
"Well, there's a German driver in one of the well-known F1 team who's a big Boss fan and he buys loads of his clothes from us," twinkles Rolf. "I won't name names, but Michael thinks our stuff is wonderful."