Ever since its inception, Formula One and Grand Prix Racing inspired many artists to capture a special moment, a special car or a driver in their works. Paintings, sculptures and photographs are as much a part of the sport as Spa Francorchamps or Jimmy Clark are. Sadly, however, with modern times and technology advancement abreast, less artists have a chance to present their work and be appreciated for their artistic achievements. Atlas F1 would like to rectify this, offering artists, novices and professional alike, a chance to present their work to the public. So, if you would like your work presented here, please e-mail goren@atlasf1.com.
The first artist to present his work in the Atlas F1 Gallery is Bruce Thomson from Canada. He has just recently received the good news that his painting, "Banking on a win", has been accepted as a finalist in the "Grand Prix Sportique" international art competition and will be displayed at the "Air Gallery" in London. But, if you are not in the neighbourhood, no need to fly all the way to England - here is Bruce's work, presented exclusively on the Net at the Atlas F1 Gallery.
"Banking on a win" (Fangio at Monza, 1955)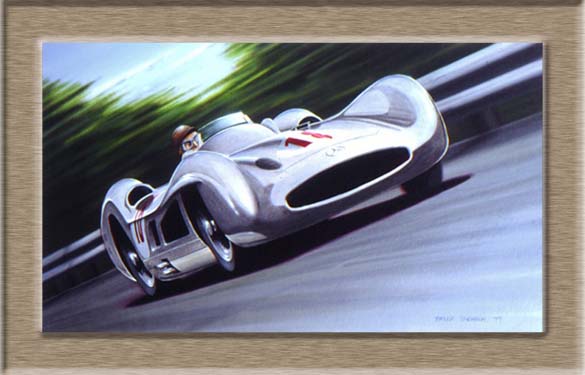 I'd been interested in doing a painting of the Mercedes Benz W196 "stromlinienwagen" ever since I saw one displayed at an automotive exhibit called "Moving Beauty" in Montreal. The car was being displayed in an Art Museum, and I thought that this was fitting, as it had all the hallmarks of a great work of art. I didn't get started on a painting of the car though, until a good two years after having first seen it.
I was reading an account of the 1955 Italian GP at Monza and thought that mating the W196 to the Monza banking in a painting would be good fun. This is the second of two paintings, as I drew the banking with too much of a "dish" in it in the first one. I was about 3/4 finished the first painting when I realized my mistake. After much cursing and pencil throwing, I redrew it, and began again.
I think that this is far more successful than the first, the drawing has been redrafted and the car has a better angle of "attack." The actual car turned out better too - I was using a different technique than usual, painting thin transparent layers to build a reflective looking surface - and this took a bit of time to get right. Thanks to Don Capps, Dennis David and others for providing answers to difficult-to-ascertain facts regarding the W196 as it ran in that particular race.
"First Second"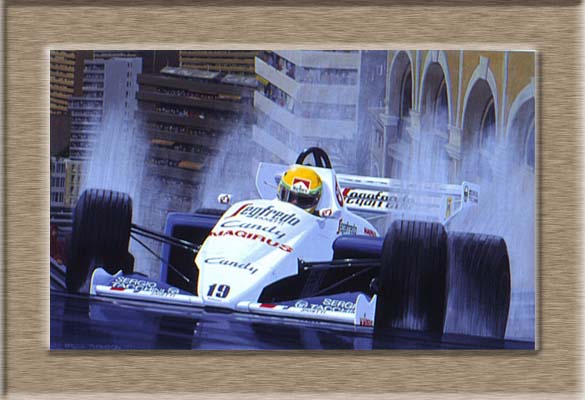 One of the difficulties of painting racing subjects is the question of originality. Everybody and their brother have painted Schumacher winning this or Senna winning that. Finding a subject that is worthy of note that hasn't already been portrayed by other artists ad nauseum can be a challenge. I was surprised, therefore, when I twigged to the fact that as far as I know, I'd never seen a painting of what was a very memorable 1984 Monaco GP, and in particular Senna, in what was very nearly his first win.
What made me think of this was seeing a picture in "F1 Racing" of Rory Byrne underneath a drawing of Senna in the Toleman. Once again, finding photographs and information to substantiate details of the painting proved difficult, but I got around some of the difficulties posed by painting the car from nearly dead on, as opposed to the more difficult 3/4 view. The painting depicts Senna in a bit of a powerslide, coming up toward Massenet. Don't look with too critical eye at the background - I have employed a fair amount of artistic licence in my rendering of Monaco.
"Lotus First" (Jim Clark in the 38 at Indy, 1965)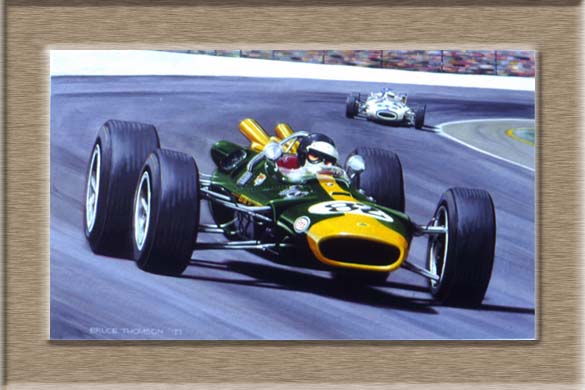 I painted this because the Gallery at which I sell some of my work in Toronto requested it for a client who is collecting Jim Clark paintings and paraphernalia. It was a tricky painting to do - The Indy Lotus 38 was "fatter" looking than the cigar shaped Lotus 25s and 45s I'm used to painting. Also, the inside wheels have shorter suspension arms, giving the car an ungainly look from certain angles. I hit on this view after about 12 very rough rafts as the car looked "natural" in this position and it also allowed me to insert Mario Andretti (who finished third in that race) in the background. Was Mario ever this close to Jim? No idea - I hadn't even been born when the race took place! Once again, I plead artistic licence (artists plead that a lot!).
I finished the painting and the prospective buyer decided - without seeing the painting - that he wanted Jim Clark gloves, helmets, steering wheels, or signatures - not another painting. Nice. Thanks again to Don Capps for providing me with some of the finer details required to complete this painting.