Throughout the 1999 season, Atlas F1 has kept an eye on the battle between teammates by comparing the intra-team difference in seconds on Saturday. Some may say compensation must be given in the favouritism between the number one and two seats within the team. We, on the other hand, did not grant that pardon. For better or worse, our analyses was on the perfect world of egalitarian status in intra-team rivalry.
So who goes away with the Qualifying Differentials crown of the season? Which driver was the most outqualified by his teammate? The battle was close, we must admit, and the results are... well, why don't you have a look for yourself...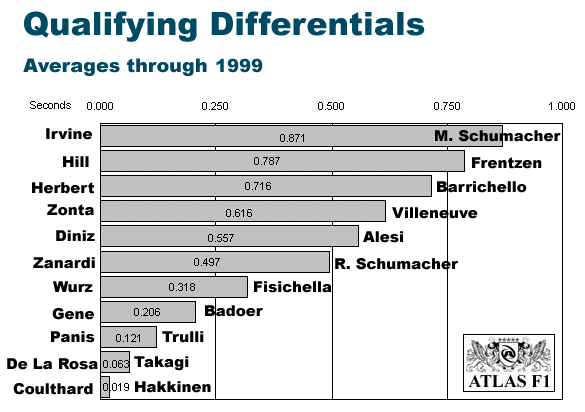 Now, wait a minute Michael, don't go rushing to that Moet bottle just yet. You've outqualified Irvine - even crushed him - on many occasions, but your main gain comes from the French Grand Prix qualifying, where positions where more down to a lottery of who comes out when. In fact, have a look at how vastly different the French Grand Prix's average qualifying difference between teammates was, compared to other Grands Prix: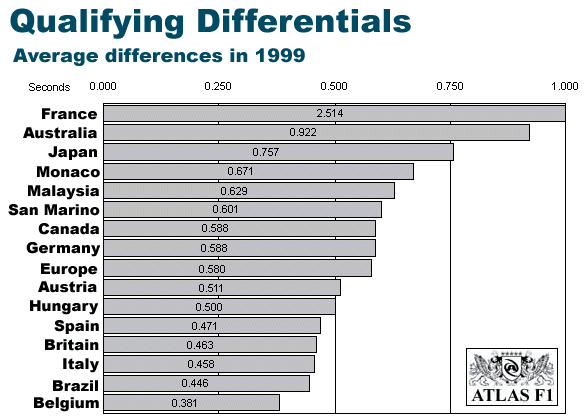 So just to be safe, here's the way things are looking without the French qualifying sessions: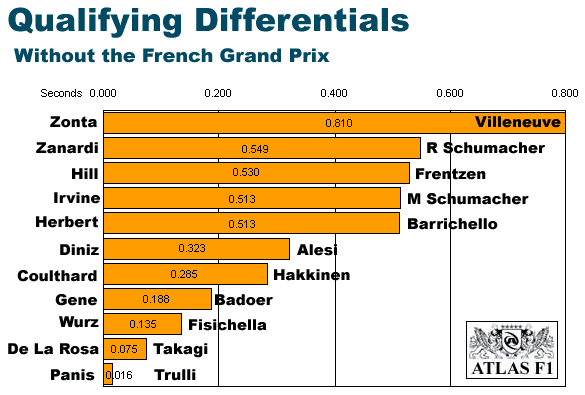 Hold your horses, Jacques! You ain't touching the bubbly either. With all due respect, you and Zonta weren't dicing it out for a full season, have you. In fact, you might like to know that, when comparing those team pairs who diced it out for a partial time of the season, you're even better off...
So who gets the true and real crown? Who is the Champion of Qualifying? Which driver got his butt serious kicked this year? Well... folks... for a whole year we said the Qualifying Championship will go down to the wire. Without any need for politics, barge boards or impartial stewards, we delivered to the Tee! The battle was close. Two Britons fought it out, each trying his best to escape the fate of this title. But one drive just did not try hard enough...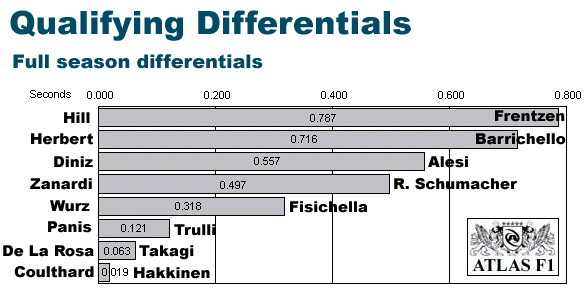 Yes, ladies and gentlemen! Damon Hill has parted the Formula One scene with yet another title to his tally. And we say - good for you, Damon. Better leave your mark on the history books any which way you can, than fade away quietly. But, seeing as the battle between Hill and Johnny Herbert was so close, we thought you'd like to see exactly where it was that Hill locked down his title: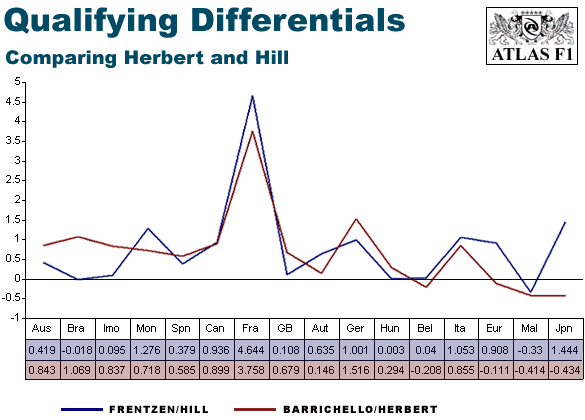 Well done Herbert, well done Hill. Well done Jacques, Michael, Ralf, Barrichello, Alesi, Trulli, Fisichella and Badoer - you have made our season truly inspiring. Oh, and in case you wondered? The Qualifying Differentials will again await you with the stopwatch and graphs in 2000... Good Luck!