The 1998 Monaco Grand Prix was, arguably, one of Mika Hakkinen's most impressive wins as of yet. But, shortly before he fastened his seatbelt in his McLaren MP13, Hakkinen - notebook in hand - turned a journalist for one day, as he went interviewing Prince Albert of Monaco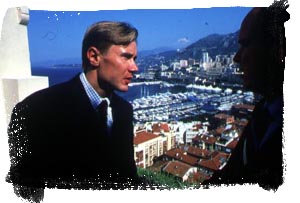 Seven hundred years ago the Grimaldi family were little more than marauding pirates. Chased out of their native Genoa many times by the Ghibellines in the Italian civil wars of the time, they retreated to Provence where head of the family Rainier Grimaldi prepared his fleet to retaliate.
At the time, Monaco was just a fortress on a rock with a small harbour. On the night of January 8th, 1297 Franiois Grimaldi, dressed as a simple monk, was innocently let into the fort by unsuspecting guards. His troops, in a clear act of war, then stormed the fort and took control.
Over Seven hundred years on, the Grimaldis are one of the world's favourite royal families and preside over the most glamorous 'kingdom' in the world. They work hard for their people, are often misunderstood by the media, and rarely give interviews. So it was a considerable honour when, five days before the Monaco Grand Prix of 1998, McLaren's 'Racing Line' - an inner factory magazine - was granted a private audience with Prince Albert, Monaco's heir apparent. To interview an international celebrity and accomplished sportsman, who better to send than fellow athlete and Monaco resident Mika Hakkinen?
Mika Hakkinen: Many people may not realise that you're a successful sportsman yourself, competing in many disciplines. Which have you enjoyed most?
Prince Albert: I've done about 15 sports at various levels. The closest to my heart, because I have done it longest, is football. But the sport that's given me most thrills is bobsleighing, in which I've competed in five world championships, five European championships and four Olympic games. I did my first run down a track in 1984, but my first week of training, learning exactly how to drive the bobsleigh, was back in '86.
MH: Did you enjoy the Paris-Dakar? [Prince Albert drove a Mitsubishi Pajero in '85 and '86]
PA: Yes, except when we retired! It was eerie: both years we went out on the same day - January 13th - at about the same time, pretty much in the same spot. I decided not to do it again - it was as if someone was trying to tell me something! The first year, the timing chain broke, and our supply vehicle was too far back, so that put us out. The second year, we tried a shortcut near the river Niger. There was this little pond which turned out to be deeper than we had expected! We got out, but lost too much time drying everything, and our support vehicle didn't see us. It was a great experience - quite an adventure.
MH: Did you ever want to be a racing driver?
PA: When you're a kid, you think about it, then your parents say 'Maybe not!' I did some driver training at Le Castellet and Le Luc. That was fun. The instructors were very good, but if you'd like to teach me, Mika... especially if I could get a ride in that two-seater!
MH: So you're a big GP fan, then?
PA: Yes, I used to attend several races during the season - Italy, Spain, France and Britain. I went to Brands Hatch a couple of times and I've been to the Canadian GP twice.
MH: What's your earliest memory of motor racing in Monaco?
PA: The first time I saw the cars up close was when I was seven, in 1965. Graham Hill won. My mother took me the following year, when they filmed the movie "Grand Prix" with James Garner. I watched while they were shooting the scene where the car went into the harbour. Richie Ginther was there, and Dan Gurney - you're too young to remember them!
MH: Have you been at all the races since then?
PA: No, I've missed four. In 1970 [perhaps the greatest Monaco GP of all, when Rindt's Lotus 49 caught Jack Brabham, pressuring him into a mistake at the final corner], I was doing my retreat for communion. In '78 I was in the States, in '81 I was graduating from college, and in '96 I had to go to Atlanta. All those years I watched practice.
MH: You're obviously a busy man. How do you find time for holidays?
PA: In a good year, I take a couple of weeks off. Last year I managed only a long weekend in the summer. Thirty years ago, Monaco was very seasonal, but now it's pretty active throughout the year. There is always some conference or event which a member of the family must attend. Having a private life becomes a luxury.
MH: I know what you mean. Do you spend much time in Monaco, with your family?
PA: I see my father pretty much every day, and my sisters regularly, probably every fortnight. We come together here for major holidays - Christmas, Easter and so on.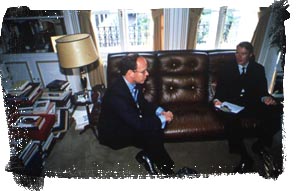 MH: Does the press treat your family unfairly?
PA: Yes, sometimes. They often invent things about us, and it's hard to come to terms with that. When it's too derogatory, we fight it. All the suits I've won against magazines and newspapers have benefited my favourite charities. To that extent, it's an incentive to sue, but I don't like going to that extreme; you try to understand the motivation of the press - they have to sell papers - but it shouldn't be to the detriment of someone's private life.
MH: When you and your father get together, do you talk about cars a lot? I know you're a fellow vintage car enthusiast!
PA: Yes! There's no room for another private car collection, so I just enjoy his. He has some beautiful cars. My favourite is his 1938 Packard.
MH: When it comes to the Grand Prix itself, how do you see your role?
PA: As public relations, really. I usually visit not only the pits, but the entire organisation, to make sure everything is OK. One year I was in the control room, during a Formula Renault race, and I noticed on one of the monitors that a flag marshal near Mirabeau was smoking. I said to one of the officials, 'Is anyone supposed to be smoking near the track?' He said it wasn't possible. So he wound the tape back, and there it was, quite clearly. I think the man was a fire marshal! They removed him.
MH: How important is the GP to Monaco?
PA: On a scale of 1 to 10, it's about 12! Clearly Formula One is at the heart of it, but also socially it's hugely important. It has enormous economic impact, and media coverage is amazing. It's our greatest showcase.
MH: Are the residents in favour of the race?
PA: Well, there are about 20 present and former grand prix drivers living in Monaco, and I know they're not complaining! As for everybody else, there's a small minority who complain that there's too much noise, too many people; they tend to leave town and rent out their homes. We estimate that between 100,000 and 130,000 people attend the Grand Prix.
MH: Which was your most memorable race?
PA: The strangest must have been in '82. There were several lead changes. Riccardo Patrese spun at Loews hairpin and Didier Pironi passed him, then ran out of fuel in the tunnel, and Patrese got by again. An impressive and controversial race was '84, when it was stopped early because it was raining so hard, when Ayrton Senna was about to pass Alain Prost.
MH: I have to ask: who have been your favourite drivers of all time?
PA: How can you not mention Graham Hill? He was an incredible driver and a wonderful gentleman - my first idol. Then I'd have to say Jackie Stewart, because he dominated GP racing in his era, and became a family friend. I admired Senna because his driving ability was incredible. However, we have a dinner at the Sporting Club after the race, and the first year that Senna won [1987, with Lotus - his five other Monaco victories were with McLaren] he obviously had other things on his mind. He arrived late, with a girlfriend. We didn't know she was coming, and we had to find space for her at the last minute - he absolutely insisted she sit next to him. Then they left, halfway through the show, right after dinner. It was kind of an interesting time.