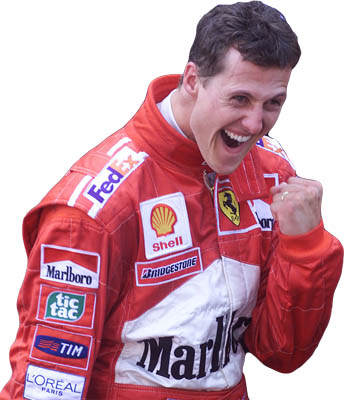 Michael Schumacher tightened his grip on the 1999 Formula One World Championship with a stunning victory at Monte Carlo on Sunday. And to make it a total Ferrari victory, Eddie Irvine brought his Ferrari home second, defeating Mika Hakkinen and humbling McLaren totally in the process. To top off a fine weekend, the German is now the most successful Ferrari Formula One driver, Monaco being his sixteenth victory for the greatest team in racing, surpassing Niki Lauda's fifteen Grand Prix wins.

Not only does Michael now lead Irvine in the drivers' title chase and is twenty points clear of third placed Hakkinen, but Ferrari have more than double the points of McLaren-Mercedes in the manufacturers title - the Italian outfit leading the Anglo-German team 44 points to 20.

Hakkinen and McLaren did have one thing to remember in Monaco, with a stunning, if controversial lap to snatch pole from under Schumacher and Ferrari's noses, in a weekend which otherwise saw the red cars doing what McLaren has done so well in the past year or so: Dominate.

When those five red lights extinguished just after lunch on Sunday, it was the red cars that got the drop of the silver ones that had surprised them so in qualifying. Michael had the better of Mika, Eddie of David, as the entire grid was away without any drama. Michael commented later, "I saw that Mika had too much wheelspin, so I was alongside him almost immediately." Mika agreed, "I got too much wheel spin from the start and Michael was able to accelerate out of the first bend in front of me."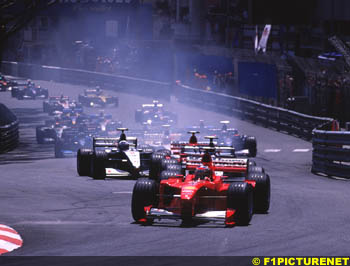 Michael Schumacher quickly opened up an advantage, opening up his lead by almost a second a lap. Behind the top four, Barrichello headed Frentzen, Fisichella, and a charging Trulli. The incident-free trend was broken when Damon Hill pulled an improbable move on Ralf Schumacher for fifteenth, ending his race on the spot and wrecking Ralf's early on. "The accident was my fault. I was simply being too ambitious," Damon admitted. Ralf concurred, "He wanted to overtake me on the inside but this wasn't possible."
Michael continued to open up his lead at around a second or so a lap, with the three behind remaining static. Marc Gene's demise must have pleased Minardi as much as it did Monaco's track builders, both Minardi's remaining serviceable parts and Monte Carlo's armco now at considerably less risk. His teammate's race never even lasted that long.
By the time the first round of pitstops started, with Prost's Jarno Trulli coming in earlier than expected to try and get the jump on the gang ahead of him, Schumacher was close to twenty seconds ahead. But there was action as Hakkinen was being harried by Irvine, who was in turn enjoying close attention from Coulthard. Sadly for David, who was having a strong run, his impending fate was clear, the McLaren smoking increasingly badly each time he exited the Loews hairpin, before it eventually expired, unable to select gear, the result of a terminal lack of transmission fluid.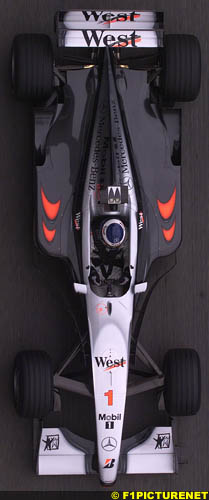 With Schumacher scything through backmarkers somewhat better than Hakkinen, Irvine managed to edge right up onto his tail, now without any pressure himself. As they approached a particularly difficult bunch of customers for passing, including a legendary Prost, Ferrari's Ross Brawn called Eddie in for an early stop.
That left Mika in a lonely second, but he was a little unlucky as he was among the first to pass over the result of Takagi's Arrows' lunched engine. He lost the back of the MP4/14 on the slippery surface and chose to drive down the escape road, rather than risk the result of a spin. He kept the Mercedes running, reversing back onto the track before racing off, but now with Irvine's recently refuelled Ferrari breathing down his neck
Mika, well behind Schumacher, had taken the pressure off the German, who now had enough of a window to pit at his leisure and still return with a massive lead. "I was able to take advantage of my strategy, which was obviously to get clear and build up the gap that I needed for the pit stop, to make everything safe," said Michael. But Irvine had pitted already, albeit for a quick stop, while Mika had to wait for a longer stop for a big fuel load. So Eddie was was in a position where he could splash-and-dash later and still be ahead. "I was a lot faster than Mika was all through the race, but when you're behind another driver here at Monaco it is impossible to overtake, especially a McLaren. We therefore had to do it on strategy, which we achieved," Said Irvine.
Johnny Herbert had a scary moment when the Stewart's right rear suspension broke, Johnny doing well to control the dual-steering runaway Stewart. Pedro Diniz and Jean Alesi appeared to retire the Saubers in tandem, the Brazilian bashing into the runoff area barriers at the end of the pit straight. Alesi had a confusing end to a confusing race – pitting twice on consecutive laps and stopping out on the circuit on the next. Jacques Villeneuve exited in a smoky BAR.
Hakkinen pitted late, rejoining behind Irvine, like his leading teammate, in a lonely second. Schumacher was cruising up front - lapping easily, but occasionally putting in a good lap or section.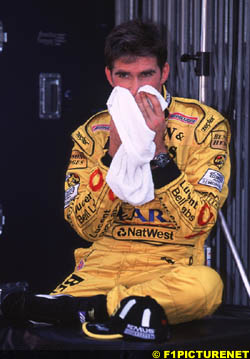 His rather erratic pace, along with some indefinite tooing-and-froing into position by the Ferrari crew with tyres and hoses, caused some speculation as to Michael's Ferrari's health. But when Irvine duly made his splash and dash stop, easily rejoining ahead of Mika who toured on behind the Ferrari, it became apparent that they were preparing for the best opportunity to bring Eddie in.
Ralf Schumacher and Mika Salo both exited straight at the hairpin, Olivier Panis at ste Devote. Rubens Barrichello, driving a fine race behind the Ferraris and McLarens in a race-long battle with Heinz-Harald Frentzen and Giancarlo Fisichella, lost it into the Swimming Pool, finding the barriers on the way out of it while under pressure from Fisichella.
Meanwhile, Hakkinen caused Mercedes' Norbert Haug to do a little soul searching, when the Finn pulled a new lap record out of the blue, after some rather uninspirational laps.
But the Ferraris were never in trouble, as they headed to a popular - and unprecedented in Monaco - 1-2 whitewash. Michael was clearly happy: "I made a good start, so I was able to stick to my one-stop strategy. It was a hard race up to my pit stop because I was pushing very hard to make it safe. I must also pay a compliment to the other drivers who moved over when I came up behind them and fair play to them."
Hakkinen was a lonely third, from an again-impressive Frentzen, Keeping Jordan Mugen-Honda uncomfortably close to McLaren Mercedes in the constructor's race, and Frentzen himself even closer to the reigning World Champion in the drivers championship. "I am very happy with the team and myself," said Heinz-Harald, "This is another good result. The car and engine showed that we are competitive, and reliable."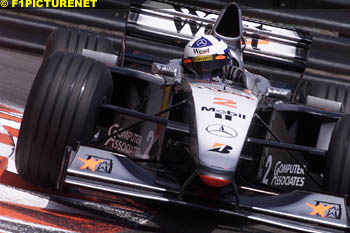 The Benettons rounded off the points positions, Fisichella ahead of Wurz. "I am pretty happy with this result," said Giancarlo, "I have been in the points three times out of four and this really underlines the reliability of our team." Alex too was content. "I am happy with sixth place," he simply said.
Trulli ended seventh, from Alex Zanardi - finishing his first race since his Formula One return, in spite of an eventful race. He had the better of histeammatee most of the weekend, "The car definitely needs to be improved," confirming the Williams can be fingered as the source of Alex' allegedly lacking form.
Although the McLarens did not come to grips with Monte Carlo (with the exception of that blinding Hakkinen pole surprise), they have been the class of the field everywhere else this year. But they now have less than half the constructors' points than Ferrari, and both Ferrari's drivers head Hakkinen in the drivers championship.
Michael Schumacher is the only driver to have finished every race this year, albeit once out of the points. Eddie's retired once, but scored points in the rest. McLaren has three finishes from eight starts.
Has Ferrari turned the tables?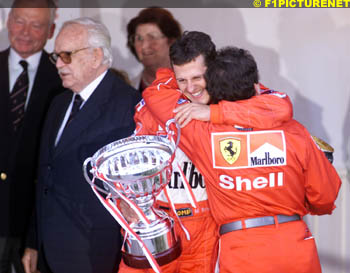 Yes, Monte Carlo clearly points to that. But it would be foolish to base any conclusions on the results of so hybrid a circuit. We'll have to wait and see what Barcelona offers in less than a fortnight, to know if Ferrari really has re-established the Formula One pecking order.
Schumacher commented after the race that, "It might be the case in Barcelona, that we are not as competitive, or as quick, as we have been here. If you look at the nature of the different cars then you might say that a circuit like Monaco favours the Ferrari a bit more than a faster circuit like Barcelona, which better suits, say a McLaren. But we also plan an intensive testing programme up to Barcelona. Let's see what happens, because naturally we want to have a car, which can beat the others on all types of circuit. I think we are already going in the right direction."
If that is so, McLaren will be hard-pressed to stop Michael Schumacher from giving Ferrari their first World Drivers Champion in twenty years. However, even with their speed advantage before Monte Carlo, McLaren have been unable to prevent Michael Schumacher from gaining a firm grip on the last World Drivers championship of the twentieth century. Could this year finally be IT for Italy's favourite horse?
Final Race Results