The Monaco Grand Prix is a massive event, seen by millions on TV, and attracting a huge crowd from all over the world. But what's it like for the drivers, the men at the centre of the action? In fact it's one of the toughest weekends of the year.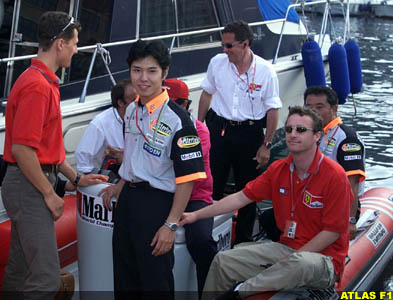 Some drivers at least get a chance to stay in their own apartments, but even for those who live in the Principality, the Monaco Grand Prix can be hard work. The place is always crowded, and getting around town is difficult. And because teams play host to so many sponsors and VIP guests, there are always functions to attend. Everything eats into the one commodity drivers never have enough of - time.
For Ferrari driver Eddie Irvine, Monaco is a race of contrasts. On the one hand he loves the sensation of actually driving around the track, shaving ever closer to the unyielding barriers, but on the other his job out of the car is much harder than usual. But he agrees that the race is the highlight of the year.
"It's what Formula One should be all about, which is glamour," says Eddie. "Normally it isn't very glamorous, although everyone thinks it is. Monaco is great for Formula One."
At Monaco the public gets much closer to the paddock, and there are always fans requesting autographs. If a driver takes time to answer every request, he won't be able to do anything else. "It can be very difficult," says Eddie, "because you can't stop and sign autographs all the time. You feel you're annoying people, but you can't please everybody."
Logistics are a huge problem at Monaco. The paddock is some distance from the pits, so everyone is always moving back and forth before and after each session on the track. "At least I have just to walk over there; the guys have got to take the cars and equipment back and forwards! It's very time consuming," says Irvine.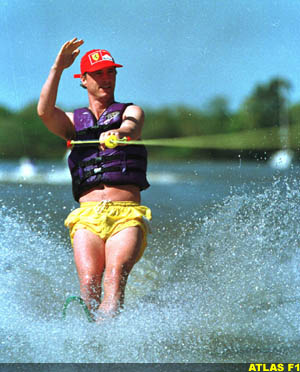 Last year Eddie bought himself a boat, and for the first time he's parked it in the Monaco harbour, not far from the Ferrari motorhome. It's just back from a winter overhaul, and he's delighted to be able to relax on it. However, he can't actually stay on it at night during the race weekend; if the sea was rough it would bob up and down so much that it would affect his balance. Not the ideal preparation for driving a Grand Prix car!
"It's nice to be back on the boat after being so long away from it," he says. "My hotel is on the other side of town, but at least I can take a speedboat across the harbour in the evening!"
An unusual feature of Monaco is that there is no practice on Friday. This year Eddie's idea of a day off was jet skiing, one of his favourite ways to relax. "It's good to get away and take some time off. It's always so busy, and there's always so much noise from the other races. You have to take a break," he says.
However, what every driver really enjoys is getting behind the wheel. "The circuit is mega. You're just fighting the car the whole way round the track. At most circuits you get sideways, and the lap is finished. Here you've almost got to get it sideways to go quickly. For sure it's more of a challenge, but I don't crash a lot."
Like all the other drivers, Eddie has a job to do. But how does he feel when he sees everyone else enjoying a relaxed weekend?
"If I wasn't a racing driver I couldn't afford to be here in the first place," he smiles. "There's always a sacrifice - and at least I can enjoy Sunday night!"