The news that Honda could be about to launch a five year assault on Formula One with a budget close to one billion US$ has sent more than a few shock-waves through the F1 establishment. Though Honda themselves refuse to confirm the exact amount, they have confirmed that they are, indeed, in the final stages of evaluating their F1 return and just which of the various options open to them to pursue.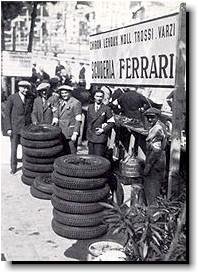 The Formula One establishment of course, well understands huge sums of money. They have no trouble at all with millions, or hundreds of millions, especially when the money is to be paid to them. In return they will gracefully allow the man with the cheque to put their company's name on the side of the car - and all over the pit-garage should they pay enough. Money makes the world go around and in Formula One it greases the wheels too.
This time, however, it is a little different. This huge sum is to be spent against them. Honda is respected greatly, both as a hi-tech company and a racing rival. Should they unleash all that money and expertise on a full-blown assault on Formula One, it is sure to get the attention of men like Ron Dennis and Frank Williams, "garagistes" par excellance.
For a while now there have been rumblings, that growing manufacturer involvement in F1 will change the face of the sport and the way racing teams have operated since the early sixties.
It was Enzo Ferrari himself that coined the term "garagistes," to scornfully describe the small back-yard racing teams like Cooper and Lotus that dared to challenge a grand Constructor like himself. The fact that these small operations were able to buy an off the shelf Coventry-Climax engine, a Hewland gearbox, build a simple chassis, arrange a tyre deal with Dunlop, a fuel deal with Esso, and then go racing, was a shock to the great man's system.
When these upstarts beat him year after year because they could develop new ideas quicker than he could, then even Ferrari was forced to change his thinking. 'Test it on monday and race it on sunday' became a way of life to generations of these "small" racing teams and this attitude continues to this day.
Renault was the last major manufacturer who attempted the do-it-alone route and whilst the whole effort cannot be described as a failure, it was not nearly as successful as it might have been, given the resources and budget at their disposal. They pioneered the turbo engine technology that was eventually to totally dominate Grand Prix racing until it was phased out in the late eighties. Renault, though, suffered from the "big company" syndrome of management by committee, which together with restrictive French labour laws, meant that they were unable to respond quickly enough when the challengers came.
When Renault returned as an engine supplier to the Williams team the results were very different and the Williams-Renault combination dominated throughout much of the nineties. But even this type of partnership arrangement could be set for a subtle change with rumours that when BMW join forces with Williams next year the team will be known as BMW-Williams, indicating perhaps that it will be the German engine supplier that will be calling more of the shots.
Currently, under the FIA's rules, it is the chassis supplier that must be given prominence in the name, signifying just who is the senior partner in the alliance. It is believed that there is growing manufacturer pressure to change this around.
Now even Honda are hedging their bets. The Honda car that has been testing extensively in recent months was designed and constructed by a group of mainly ex Tyrrell employees headed by Dr Harvey Postlethwaite. The choice for Honda is whether to expand this effort into its full race team, or to run a team of entirely its own personnel and to truly do it alone. Should budget constraints demand it, it is still possible that they will follow the path they have trodden before and just be an engine supplier, most likely with Jordan.
With Daimler-Chrysler (Mercedes) refusing to rule out buying a controlling stake in McLaren and Ford's well known interest in having a bigger say at Stewart, the possibility of a major shake-up has never been higher, especially as many of these team will soon be looking to replace the huge sums currently being paid to them by the tobacco companies in the not too distant future.
These corporate giants are, however, treading cautiously and with good reason. Success in Formula One just cannot be simply bought. The management techniques that work so well in the business world, even in highly successful companies like Mercedes and Ford, are very different from the skills required to run racing teams. The example of Fiat and their attempts to run Ferrari in the late eighties and early nineties are an object lesson of just how not to run a racing team in this modern technological era.
Change of course must come. Even men like Frank Williams, Ron Dennis, Eddie Jordan and Tom Walkinshaw cannot go on for ever. These men are born racers and it is in their blood. Perhaps the future team owner will be more of an entrepreneur businessman in the Craig Pollock, Flavio Briatore mold. Adept at wheeling and dealing with the big corporate players.
One thing though is for certain. As Formula One moves towards the new century, the decision that Honda takes and the progress it makes on the race tracks of the world will concentrate many minds. If Honda does it alone and is successful, then others will surely follow. Maybe Enzo Ferrari will have the last laugh after all, over the once despised "Garagistes."