This week's Grapevine brings you
information fresh from the paddock on:

Honda Wakes Up
Digital TV Coverage
TV Coverage in New Zealand
Picked from the Bunch
Honda Wakes Up
It seems that more than Ferrari and Mercedes are worried by the power Ford have given the Stewart team to play with, Honda is the one worried most, now trying to accelerate their development program for Jordan too.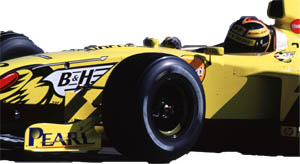 For the Brazilian Grand Prix, everything will remain the same - the next evolution engine is expected to produce 12bhp more for qualifying, but will probably run the same as Australia for the race itself. The big issue is what's going to happen in Europe, as the Japanese giant is concerned about lagging behind Ford through the mid season.
With Ford announcing the major weight savings they have managed for Stewart, Honda are starting to consider tightening the tolerances in their engine for Jordan. It would save upwards of 5kg (optimistic estimates say over 10kg) in the engine mass that could be redistributed to assist car balance, but these savings could be at the expense of reliability.
The preferred approach is to find weight savings only where reliability would not be risked, whilst further developing the power from the engine. The Research and Development team is confident they can keep their program ahead of Ford... which - if Ford live up to their aims - would put them alongside Mercedes around the mid season.
Digital TV Coverage
Keith Findlay writes us:
"The coverage shown from Melbourne was bloody awful (I watched a tape later.)
"I was at the Grand Prix myself, and not only watched the cars live, but had excellent access to both a small local TV and one of the giant screen, both carrying the coverage from the race itself. Presumably this is the basis of the digital coverage, but it was really good. It carried heaps of on-board stuff, and dashed up and down the field looking for action.
"There was plenty of it too - lots of overtaking and real excitement until the last ten laps or so. I couldn't believe how good it was, having spent the last twenty years watching terrestrial coverage. I was about ready to pack F1 in altogether because the coverage and racing seemed so boring but I now see that the coverage itself is the thing that's bad, not the Grand Prix."
As you can see, the push towards digital is at a serious price for terrestrial viewers. In many places, the digital channel is not even available, yet the coverage is being mangled to move those that can pick it up onto digital. When it was originally touted as 'the next step forward' by Bernie Ecclestone, there was talk of providing multiple channels to the viewers, allowing them to pick their own favourite shots, ride with the drivers via in-car camera and so on. At no point did anyone say that the terrestrial coverage would intentionally be dropped to a low standard to provide the shift - from a personal perspective, coverage seems to be poorer than it was several years ago, when on-board cameras were first introduced.
This paints a very poor picture of the sport's guardians - those that are supposed to be promoting the sport to make it popular worldwide, taking it into new markets, and building it for the future. Instead, it seems they are lining their pockets by charging the few who can afford it, whilst charging extortionate rates to TV stations for sub-standard coverage to the masses.
TV Coverage in New Zealand
Again, from Keith Findlay's input:
"If I was a terrestrial station and knew the difference in [digital and terrestrial] coverage quality, I'd tell Bernie to go sing for his supper, which leads me to what appears to be happening to F1 coverage in New Zealand.
"For the past few years Sky has picked up the BBC, then ITV coverage live and we had a truly excellent service. Last year however, Sky could not come to terms over the costs involved, and declined to show the GPs. Fortunately for the viewers this impasse was worked through just in time for us to see the Melbourne Grand Prix.
"This year the same impasse again occurred, but we have no solution, and no live Grand Prix on TV at all. There seem to be two sides to the story, and I am not in a position to say that the following are facts:
"Sky's position appears to be that the price was again hiked this year for what is quite frankly sub standard coverage. This they declined to pay, and after what I have seen, who can blame them?
"The FOA's version of events is that the same deal as last year was offered and declined. One school of thought is that there is a rugby world cup coming up, and that Sky would rather focus its resources on things like that which have a huge audience in New Zealand, and felt it couldn't do justice to both. In other words the expense of F1 is a good excuse to get out of their dilemma.
"The last rumour going around is that when a station signs up to show F1, there is pressure applied to stop the station covering any other single seater race category.
"Lastly, to put the costs involved into some sort of perspective, TV3 is a local channel that often covers (extremely well I might add) important motorsport events such as Bathurst etc. They were approached regards covering Melbourne at least, as it is the closest thing we have to a local Grand Prix. They said that even with maximum advertising (which would stuff the coverage anyway) they couldn't break even, let alone make a profit..."
Picked from the Bunch
Reynard has opened up concerning his relationship with BAR, stating that he was not in Melbourne, as he had to deal with the car failing its rear end crash test... which was passed literally the morning before the event. He further stated that the relationship with Pollock was still going well, and he has bought a house next door to him. He is not expected to attend Brazil either, and has cited concerns over the Supertec engine.
BMW could follow the V12 trend as Gerhard Berger admitting it is under consideration. Should the format work for Honda, Ferrari or Arrows then BMW will have some catching up to do, as it is too late to change plans for the V10 debut in 2000.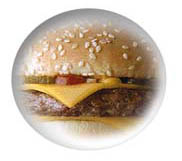 Toyota are back in the rumour mill with speculation that they could link up with Benetton. The story is that Toyota are the mystery Arrows sponsor, and will provide power for both teams in 2000. No-one at Toyota was available for comment.
McDonalds' name has been tied to Jordan in one of the more likely rumours this week. It seems the fast food multinational are keen to go with the bright image Jordan offers, and should the team be in a position to take a realistic shot at next year's title, we could see McJordans on the grid for 2000!
Prost's secret weapon for Brazil is Olivier Panis, who has always gone well there. They believe the work at Magny Cours searching for the best setup should show the progress they have made since Melbourne - the team is eager to show that Stewart is not the only one making progress this year.