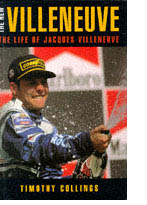 If I was to write a biography of a current Formula One driver, I'm not sure that Jacques Villeneuve would be my first choice. I'm a big fan of Jacques, don't get me wrong. In an era when drivers are becoming increasingly reluctant to say anything which might rock the boat, Villeneuve is a welcome breeze of fresh air. Pretty handy with a racing car, too. But he is a complicated character even by F1 standards; an endless source of contradictions in both his words and his actions. Timothy Collings is obviously a braver man than me, for he has taken upon himself the task of trying to unravel the mysteries of the man behind the technicolour helmet. A book which could provide some clues about how Villeneuve's mind works and what makes him tick would make fascinating reading. Does Collings manage to pull it off? The answer is, well...sort of.

'The New Villeneuve' relates Jacques' life chronologically, describing his early years living in a mobile home while his father was off racing snowmobiles, through to his successful 1997 Formula One Championship campaign. Collings was forced to write this work with virtually no cooperation from Villeneuve, his family, or the Williams team, and this creates a few problems. Firstly, it is impossible to gain any real understanding of a person without a great deal of personal interaction. To his credit, Collings recognizes this, and is not dissuaded from trying to draw some conclusions about Villeneuve as a person. The absence of any input from Jacques or Williams, however, prevent these ideas from rising above the status of 'informed speculation'. Sometimes he might be right on the mark, but there are occasions where the author appears to miss the target completely. For instance, he relates his encounter with Villeneuve and the Williams team at Hockenheim in 1996, when he asked for and was refused assistance with the biography. Collings put it all down to Villeneuve's complex nature, coupled with the stress of trying to learn an unfamiliar circuit, and the presence of his friends and family at the race. The reality, as stated by Jacques himself in another interview some time ago, was apparently much simpler. Villeneuve had his own book coming out at the end of the year, and didn't want to jeopardize it's sales potential.

Furthermore, the secondary sources from which much of the information in this book is drawn are all very widely available. In particular, they include other biographies (particularly those written by Nigel Roebuck and Gerald Donaldson about Gilles Villeneuve), and articles from magazines such as Autosport and F1 Racing. As a result, anybody who is even remotely up to date with Formula One journalism will often find themselves being overcome with a sense of deja vu as they read this book, for they will frequently encounter large extracts of work which they have read elsewhere, reproduced verbatim. This began to irritate me as I progressed through the biography, and it is a flaw that could have been easily overcome if Collings had paraphrased the work he was drawing upon, rather than reproducing large chunks of it.

Collings goes to admirable lengths to track down people who may have played some part in shaping Jacques' life, and some of the results are genuinely interesting and insightful. The interview with Villeneuve's uncle was particularly revealing, as was Bernie Ecclestone expressing his concerns about Jacques' management team. Occasionally, however, some of these encounters are given more space in the book than is really warranted, and what should be a reasonably succinct passage starts to feel more like it is just there to pad the whole thing out a bit. This criticism is not limited to interviews, either. Turning to page 70, for instance, we find large chunks of a brochure for Beau Soleil (the school in Villars, Switzerland, that Villeneuve attended for a few years) being recited. This is probably great if you are looking for an expensive boarding school for your kids, but does not offer much information about a racing car driver.

Throughout the work, Collings frequently refers to Jacques' desire to be recognized in his own right, rather than as the son of Gilles. Yet this is a concept that the author himself occasionally struggles to come to terms with. When Collings attempts to draw a conclusion about some aspect of Villeneuve's life or personality, he often does so in terms of Jacques' father. This is further reflected in the later sections of the work, once Villeneuve has left the USA to race in F1, when the author starts referring to him as 'the boy' or 'the kid'. It seems unlikely that this would be a reference to Jacques' age - he must have been 23 or 24 when he started in F1, which is not particularly unusual. The only other reason for using these sorts of terms, then, would be if he was being regarded as 'Gilles' son', rather than just Jacques. Even the title of the book: "The New Villeneuve", seems to imply this. There cannot be a 'new' Villeneuve unless there was an 'old' one. Naturally, Jacques' heritage shouldn't be ignored, but it should be kept in the correct context.

A final problem with this biography is that it is sometimes hard to ascertain exactly who it is targeted at. In the introduction, Collings says: "Let us hope he (Jacques) finds that hero in himself and mellows afterwards to become one of us, another man in the paddock sharing the crack, the buzz, the jokes and gossip and thrills of Formula One" (p. 5). I am not sure who the 'us' is that the author is referring to here, but I bet that the overwhelming majority of this book's readers will never even get close to the Formula One paddock. At other times, Collings seems to almost talk down to his audience. Describing Villeneuve's appearance on the David Letterman's show, he states that Jacques "brought the house down. Not literally, only metaphorically" (p. 164). Well, that's lucky for Mr. Letterman, I guess. Similarly, when Tom Kristensen is describing the night life that he, Jacques, and the other European drivers enjoyed while they were in Japan, he says "for sure, we tried a few kamikazes!". I doubt that many readers would have any great difficulty understanding what Kristensen was talking about, but Collings still felt the need to explain it: "This meant, in normal terms, that these young men went out and tried to join in the fun of the local night scene, sometimes consuming drinks which may have had a strong effect on their behaviour" (p. 126).

Collings tries to be fair when talking about both Jacques and other drivers. For instance, he refrains from painting Schumacher in a bad light when describing the collusion at Jerez in 1997 that handed Villeneuve the World Championship. This makes the book a far more enjoyable read - there is nothing worse than a biography in which the subject is deified, and it also makes it more accessible to readers who might not be avid supporters of Jacques. If you are a Villeneuve fan, and you don't mind occasionally running into passages that you have read before in other places, then you will probably enjoy this book. It does go into a fair amount of detail when describing Villeneuve's early years and his rise through the ranks of motor sport, and most of the interviews help provide some insight into Jacques as a person. Even if you are not a huge fan of the Canadian, this biography would probably make a pleasant enough companion on the morning train to work, or as a distraction from the agony of these inhumane 5 week breaks between races. Those who read a lot of F1 related publications, however, might not find enough new information between its covers to make it a worthwhile purchase.